Chelsea are playing Portsmouth in the 2010 FA Cup final, and the game has just passed the half-hour mark. The Blues' Michael Ballack challenges Pompey's Ivorian midfielder Aruna Dindane for the ball, a challenge that results in a flurry of flailing arms. Dindane retreats holding his face, and team mate Kevin-Prince Boateng joins the fray. Ballack waves a silly hand in Boateng's direction, more Portsmouth players join in the melée, and amidst these comedic scenes Ballack is booked. Playtime over, one might have thought.
Wembley, 15th May 2010
Some ten minutes later, Ballack is on the ball in the Portsmouth half. From out of nowhere Boateng comes sliding in, taking out his victim with both feet. Ballack collapses and stays down. Boateng is booked.
That horrible moment would mark the end of Michael Ballack's FA Cup final, and also his dream to lead Germany in the World Cup finals in South Africa. Didier Drogba would score the winning goal for Chelsea to give the German midfielder his winner's medal, but on that day he lost something much bigger. Ballack had led the German team out in a friendly against Argentina in Munich in March; he would never wear the Nationaltrikot again.
The story of the long-running feud between Ballack and the controversial German-turned-Ghanaian Boateng was churned out by the press and there were claims that the tackle had been malicious and deliberate, but in the wider scheme of things this was all peripheral nonsense. In the space of those few insane minutes at Wembley, Ballack's dreams of finally being a winner on the international stage had been shattered.
It was just one more chapter in the story of a player who would travel so far on the road to greatness, but never quite get there. Another chapter in the story of the Nearly Man.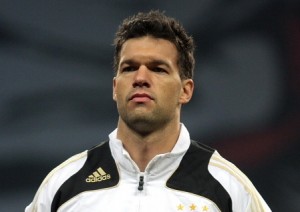 Born in eastern border town of Görlitz in Saxony in September 1976, Ballack had always been seen as a potential champion. He stood out at youth level, and made his debut for local side Chemnitzer FC at the age of eighteen before being signed by Bundesliga side 1. FC Kaiserslautern in 1997. Ballack's move to the west reaped immediate rewards: in his first season with the Roter Teufeln, he won the Bundesliga title. Having played for Germany at youth level, in April 1999 the talented midfielder was soon pulling on the famous white Trikot of the Nationalmannschaft for the first time in a friendly match against Scotland.
The Mannschaft's shining light
Things would get better for Ballack as the millennium came to an end. By the beginning of 2000 he had signed for Bayer 04 Leverkusen, and after settling quickly at the BayArena had become an established fixture in their championship-chasing side. He would play only a peripheral role for the national team in their disastrous Euro 2000 campaign, but if anything this proved to be a benefit rather than a hindrance. Following the raft of retirements and the purge that took place in the wake of the events that had taken place in Belgium and the Netherlands, Ballack was reinvented as the the Mannschaft's shining light, the saviour of German football.
At a time when young German talent was worryingly scarce, the excellent Ballack stood head and shoulders above his contemporaries. His potential was finally being realised, and by 2002 he had become the central figure for both his club and the national team under coach Rudi Völler – the man who was instrumental in reinventing Ballack as a midfield general, playmaker and goalscorer.
2001/02 was a defining season for Michael Ballack. It could so very easily have propelled him to the stratospheric levels of footballing superstardom, but instead cast him forever as the man who would never quite make it to the summit.
Neverkusen's nearly man
In the late spring of 2002, Ballack was on the golden path to glory. His stylish Leverkusen side were gunning for their maiden Bundesliga title, and had reached the finals of both the Champions' League and DFB-Pokal with some stunning displays. The team known as the Werkself were looking at an unprecedented treble – something that hadn't been achieved by the likes of FC Bayern München, Borussia Dortmund or Hamburger SV during their pomp.
Slowly, it all started to unravel. Having topped the Bundesliga table from mid-February, Bayer slipped up horribly. A five-match winning streak would come to an end with a 1-1 draw in Hamburg, but a disappointing defeat at home to Werder Bremen where Hans-Jörg Butt missed a penalty saw their lead over second-placed Borussia Dortmund cut to two points. A week later, the wheels came off completely as they slumped to a 1-0 loss at relegation-threatened 1. FC Nürnberg. Suddenly, Leverkusen were a point behind Dortmund and the destination of the Meisterschale was longer in their hands.
The heroic Ballack scored twice as Leverkusen returned to winning ways in their final fixture against Hertha BSC Berlin, but it was all in vain as some eighty miles up the road at the Westfalenstadion Dortmund would come from behind against Bremen to claim the title. Leverkusen had been denied the championship in heart-breaking fashion in 2000 where Ballack had been the central tragic figure; two years later he emerged more heroically, but the end result was the same.
The Bundesliga blowout was followed by a week of further heartbreak for the Werkself. They were first overrun 4-2 by a rampant Schalke 04 in the final of the DFB-Pokal, and just four days later in Glasgow they fought like Trojans in the Champions' League final – only to be undone by a combination of awful luck and one of the competition's most memorable goals by Real's French star Zinedine Zidane.
Ballack had shown himself to be one of the best players in Europe, but with three runners-up medals it all counted for nothing. It is a sad observation, but the nearly man was the perfect personification of the club that had come to be known as "Neverkusen" or "Vizekusen".
2002: World Cup heartbreak
The misery of 2002 did not end there. A German team slowly recovering from the humiliation of Euro 2000 made solid progress in the World Cup finals in Japan and South Korea, and Ballack was right in the middle of it. After striker Miroslav Klose had blown away the opposition in the early stages, two men would lead the Mannschaft as they battled through the knockout phase: Goalkeeper Oliver Kahn bolted the door firmly shut at one end, and the heroic Ballack would almost single-handedly take the team to the final – a feat that before the tournament would have been barely imaginable.
Ballack scored the winner in a tight quarter-final against the United States, and in the semi-final against co-hosts South Korea he would show just how valuable he was to the tea – and how much he cared. After scoring what would turn out to be the winning goal, he then made a crucial tackle to deny the Koreans an equaliser. Ballack knew that such a risky challenge carried the threat of a yellow card and with it a place in the final, but the thought of personal glory had never crossed his mind.
Forced to watch the final from the stands, Ballack saw his team mates put up a spirited fight against favourites Brazil, only to be undone by two second-half goals from Ronaldo. Nobody could have written such a horrific script: following his three runners-up medals for Leverkusen, Ballack was going to get a fourth to complete the collection.
Ballack's quest for glory saw him leave Leverkusen for FC Bayern München for just under thirteen million Euros, and domestically he would achieve some level of success. He was part of the Bayern side that secured domestic league and cup doubles in 2003, 2005 and 2006, but the highest accolade in European club football continued to elude him. While Bayern were supremely dominant domestically, they failed to make an adequate challenge in the Champions' League. Meanwhile, Ballack and Germany suffered yet another embarrassing campaign in the 2004 European Championships, where they were eliminated at the group stage.
A move to England, but still no winner's medal
By the time of the World Cup finals on German soil in 2006, Ballack was firmly established as the captain of the Nationalmannschaft. Nobody had expected Jürgen Klinsmann's side to go far in the compeititon, but Ballack once again proved to be a solid motivator, driven by his desire to finally get his hands on some major international silverware. Germany's glorious run would eventually hit the buffers in the semi-final against old foes Italy, and Ballack had to be content with a bronze medal to add to his silver collection.
Despite his success with Bayern, Ballack had never really settled in Bavaria. His quest for European silverware continued with a lucrative move to Chelsea in 2006, but his first season in England had more than a familiar ring to it. Chelsea would finish second behind Manchester United in the Premier League, and while they would win the FA Cup final an ankle injury would meant that the German could only watch from the stands. He did actually win a League Cup winners' medal earlier in the season, but with that competition having turned into something of a joke it hardly mattered.
The four runners-up medals collected by Ballack in 2002 was not an unique collection; the feat – if it can be described as such – had also been achieved by former Leverkusen team mates Hans-Jörg Butt, Oliver Neuville, Carsten Ramelow and Bernd Schneider. Six years later however, Ballack would amass an almost identical collection – putting him in the unenviable position of being the only player to have received four domestic, European club and international runners-up medals on two separate occasions.
Chelsea first missed out on the League Cup following a dramatic extra-time defeat against London rivals Spurs, with Ballack coming on as a late substitute. Manchester United then pipped the Blues to the Premier League title, and the third heartbreaking chapter saw Avram Grant's side beaten on penalties by their domestic rivals on a rainy night in Moscow in the Champions' League final. Ballack scored his spot-kick, but once again missed out that elusive international winner's medal.
As had been the case in 2002, Ballack's fourth runners-up medal would come playing for Germany, this time at Euro 2008. The German skipper had scored a spectacular free-kick against hosts Austria and a header in the quarter-final against Portugal as the Mannschaft reached the final; having missed out on playing in the final in Yokohama, Ballack would lead the German team out against Spain in Vienna.
But there was no happy ending. Ballack suffered a cut above his left eye and was also shown a yellow card, as the Germans turned in a flat and uninspired display against a superior and hungrier opponent. It was a patently unfair assessment, but as the camera panned to a dejected Ballack BBC commentator John Motson would suggest that his record was "getting embarrassing".
Of course, Motson would choose to forget that despite the presence of talented individuals football is and always will be a team game – and as a supreme team player, Ballack had always given his all. He had over the years acquired something of a reputation as something of a moody prima donna, but on the pitch he had always been committed to the cause.
Living on borrowed time
So we return to Wembley in 2010, and what was the sorry end to Michael Ballack's last major final. Ruled out with another ankle injury, Germany's captain was never going to make it to South Africa. His number thirteen shirt was given to FC Bayern youngster Thomas Müller, and a largely untested German team made their way to the semi-finals playing some sparkling football with a new-found sense of style. Ballack was there on the bench supporting the team, but he would have exchanged all of that for just ten minutes on the pitch.
The free-flowing play of the young side that thrashed England 4-1 and pummelled a much-fancied Argentina 4-0 marked the beginning a new stage in the development of the German game, and it quickly became apparent that the more physical approach favoured by the likes of Michael Ballack was living on borrowed time.
The midfield axis role had been inherited with little fuss by the promising Sami Khedira, and it also didn't help that Müller, the twenty year old now wearing Ballack's shirt, would go on to win the golden boot as the tournament's top goalscorer. Ballack remained optimistic and hopeful for a return to the international football, but the signs coming from coach Joachim Löw were far from promising.
There was much media speculation about Ballack's return to the Nationalmannschaft after the World Cup, but this was hampered by yet more injury problems. Meanwhile the German youth system conveyor belt continued to churn out talented youngsters, and while the German coach wouldn't make a statement outright, it was clear to everybody that he was simply waiting for Ballack to retire and take voluntarily remove himself from what had become an imbalanced and slightly awkward equation.
The end of an era
In the summer of 2011, the Nationaltrainer finally made the formal announcement that the former skipper was no longer part of the national squad – leaving Ballack stranded on ninety-eight international caps. Ballack had finished at number two throughout his career, and by quirk of fate would also finish that number short of achieving the magical century in the Schwarz und Weiß.
In a rather bizarre back-tracking move Löw would offer Ballack the opportunity to close off his international career by selecting him for two friendly "farewell" matches, but being a proud man of principle Ballack flatly turned the offer down. Having been told his time was over, partaking in what he himself described as "hypocrisy" (Scheinheiligkeit) and a "farce" would have devalued not only himself but the Nationaltrikot as well.
Ballack had once again finished just short – but with his pride intact. I don't think he would have wanted it any other way. In his ninety-eight games for Germany, the midfield general had scored a staggering forty-two goals – right up there with the likes of specialist strikers such as Oliver Bierhoff, Karl-Heinz Rummenigge and Uwe Seeler. Over the course of his international career, Ballack's contribution had been immense.
After returning to Leverkusen after his spell in England "Balla" retired from the game in October 2012, signing off in a friendly match between a World XI and a team comprised of his friends and former team-mates. Having been alienated by Löw and the DFB, this was a true farewell, surrounded by people who wanted to be there. Coaching the two teams were the two men who had cared the most during Ballack's career: Jose Mourinho and Rudi Völler.
Pundit? Commentator?
Since his retirement, Ballack has frequently popped up as a pundit for a number of television channels including ESPN – forming an interesting partnership with former US international Alexi Lalas – and on Sky Sports in the UK, where he has shown himself to be a forthright and knowledgeable studio guest. It remains to be seen whether he will move into coaching, but I'd love to see him in the BBC studios during this summer's World Cup to provide an intelligent foil for the cliche-churning triumvirate of Lineker, Hansen and Shearer.
In the course of his career Michael Ballack had given so much to football; surely it wouldn't be too much to ask him for a little bit more.