Friendly International
Olympiastadion, Berlin, 19.11.2008


1-2 (0-1)
Helmes 63. / Upson 23., Terry 84.
Germany: Adler (46. Wiese) – A. Friedrich (68. Taşçı), Mertesacker, Westermann, Compper (77. Ma. Schäfer) – Schweinsteiger, Jones (46. Marin), Rolfes, Trochowski – Klose (c) (46. Helmes), Gómez (57. Podolski)
England: James (46. Carson) – Johnson, Terry (c), Upson, Bridge – Wright-Phillips (90. Crouch), Carrick, Barry, Downing – Defoe (46. Bent), Agbonlahor (77. Young)
Colours: Germany – white shirts, black shorts, white socks; England – red shirts, white shorts, red socks
Referee: Massimo Busacca (Switzerland)
Assistants: Stéphane Cuhat, Francesco Buragina (Switzerland)
Fourth Official: Felix Zwayer (Germany)
Yellow Cards: – / Wright-Phillips
Red Cards: – / –
Attendance: 74,244
Match Programme Details
The A4-sized edition of Aktuell – the official DFB match programme – for the 2008 fixture against England in Berlin contains ninety-eight pages, and is excellent value for money at one Euro. On the cover is fullback Arne Friedrich.
There is an introduction by DFB President Dr. Theo Zwanziger, features on the long-serving team physio Adolf Katzenmeier and the upcoming 2011 women's World Cup being held in Germany, and an update on the ongoing World Cup qualification campaign. The programme also contains an A2-sized poster of the Nationalmannschaft.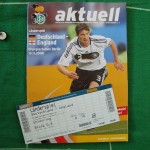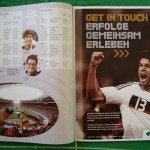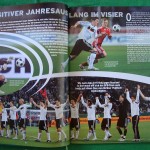 Aspect: Portrait
Dimensions: 297 x 210 mm (Standard A4)
Numbered Pages: 98
Language(s): German
Match Report
In August 2007 Germany secured their fifth win in succession at Wembley; just over a year later England would visit Berlin, a city where they had not lost to the Nationalmannschaft since 1930. While Germany appeared to have adopted Wembley as a second home, the same could be said for England in Berlin: their four previous visits to the German capital had produced two wins (6-3, 1938 and 3-1, 1956) and two draws (3-3, 1930 and 0-0, 1972).
Following their 1-0 defeat by Spain in the European Championship final in Vienna, Germany had made a decent start to the 2008-09 season with a 2-0 friendly win over Belgium, which was followed four World Cup qualifying games which saw them pick up ten out of the available twelve points. Performances had been steady rather than spectacular: while the Mannschaft had been lucky against Finland in Helsinki in coming from behind on three occasions to secure a point with a 3-3 draw, they had looked good in securing a home win against their most dangerous group rivals Russia. Having beaten both Liechtenstein and Wales with varying degrees of difficulty, Löw's side found themselves sitting comfortably at the top of their qualifying group.
While Germany had gone all the way to the European Championship final and slipped back into gear for the World Cup qualifiers, England has spent much of 2008 in a state of transition. The failure to qualify for the European Championship finals had resulted in the inevitable jettisoning of Steve McClaren, who was replaced by England's second foreign coach – the Italian Fabio Capello. With an excellent track record at domestic level, the taciturn Capello was almost immediately expected to perform miracles – though it was clear that it would take more than just a gentle tinkering to turn around the fortunes of a team that had looked truly desperate in what had been their final game under McClaren, a 3-2 home defeat by Croatia.
Capello's first couple of games as England coach had not been particularly convincing – a flattering 2-1 win over Switzerland followed by a single-goal defeat in France – but over the course of the next seven games his team had started to put something of a run together. They had engineered an injury-time equaliser to deny an unlucky Czech Republic side in a Wembley friendly, but the World Cup qualifying campaign had got underway in spectucular fashion with four wins from four, including a resounding 4-1 thrashing of McClaren's bêtes noires Croatia in Zagreb.
The two teams that lined up in Berlin in November 2008 bore almost no resemblance to the twenty-two players that had walked out onto the Wembley turf just over a year earlier. Injuries and recent retirements led to Nationaltainer Joachim Löw picking what was essentially a second-string German side: goalkeeper Jens Lehmann and midfield maestro Bernd Schneider had both retired after Euro 2008, while skipper Michael Ballack, Lukas Podolski and Philipp Lahm also were missing from the visiting squad alongside the two Wembley goalscorers Christian Pander and Kevin Kurányi.
While the unfortunate Pander's career had come to a sudden halt on account of a number of potentially career-threatening injuries, Kurányi's international future had been thrown into serious doubt for a completely different set of reasons. Having been considered not even good enough for a place on the subs' bench for the previous month's World Cup qualifying match against Russia, the Schalke 04 striker had simply decided that enough was enough by leaving the ground, bypassing the team hotel and going straight home – a stroppy stomp-off that led to Löw banning him indefinitely from the national side.
Of the German team that had started at Wembley in the autumn of 2007, only three would make the starting eleven in Berlin fifteen months later: defenders Arne Friedrich and Per Mertesacker, and midfielder Piotr Trochowski. Maintaining his tradition of experimenting in friendlies, Löw also took the opportunity to bring a number of fringe players into the side as well as a fresh face in the form of left-back Marvin Compper, who had impressed many with Bundesliga newcomers TSG 1899 Hoffenheim.
England meanwhile had only two players who had featured in the 2007 fixture – skipper John Terry and midfielder Michael Carrick – as Fabio Capello also set about taking the opportunity to experiment with a new line-up. With the likes of Frank Lampard, David Beckham, Rio Ferdinand, Wayne Rooney, Steven Gerard, and both Ashley and Joe Cole being rested, Capello instead looked to brighter young talents such as the twenty year old Aston Villa striker Gabriel Agbonlahor, who was making his first appearance for the senior England side.
With Germany playing in their traditional white and black and England in red and white, Swiss referee Massimo Busacca got the match underway on what was a slightly damp Berlin evening. England almost immediately were into their stride, making the first forays into the German half. Both Jermaine Defoe and Shaun Wright-Phillips were testing the the static German defence before through the centre and down the flanks, and it was no surprise when after twenty-three minutes the visitors took the lead.
Having won two corners in quick succession, Stewart Downing's left-footed kick was curved into the German box. René Adler came out to meet the ball, but only succeeded in flapping wildly at thin air. With the 'keeper flat on his back and before Marvin Compper could locate the loose ball, it had bounced off Agbonlahor and been stabbed into the back of the net by full-back Matthew Upson. Germany's Berlin jinx against England looked set to continue, as the visitors went into a lead that reflected the early balance of play.
Germany's best moves had been initiated down the left by the sprightly Piotr Trochowski, who tested England 'keeper David James with a couple of well-directed crosses, while a looping free-kick from the versatile Hamburger SV man found Klose whose header flew high over the crossbar. Germany's best chance arrived just after the thirty-minute mark, when Bastian Schweinsteiger's free-kick found Heiko Westermann who had worked himself into space. The floated ball was just about perfect, and Westermann was unable to keep his header down as once again the ball flew harmlessly over the bar.
The play quickly moved to the other end of the pitch where the dangerous Wright-Phillips fed Agbonlahor with a superbly-timed pass, and the Aston Villa man finished off the move by calmly sliding the ball across Adler and into the back of the net – only for the nearside referee's assistant to raise his flag for offside. While Jermain Defoe may have been slightly ahead of the last man Agbonlahor was clearly not, and England were clearly unlucky not to have found themselves two goals in front before half-time.
As the break approached, it was all England. First Stewart Downing tested Adler with a stinging shot from distance that the Leverkusen stopper managed to fist away, before Wright-Phillips shot narrowly over the bar. When the teams marched into their respective dressing rooms, the home side found themselves being assailed by a volley of boos and whistles from what had become an increasingly irate Berlin crowd.
Changes had to be made, and Joachim Löw immediately turned to the bench. The out-of-sorts Klose was replaced by Leverkusen's Patrick Helmes, while speedy Bremen winger Marko Marin came on for the somewhat anonymous Jermaine Jones; it was clear that the Nationaltrainer had decided to fight pace with pace in order to get his side back into the game. In what was a somewhat bold move, a change was also made in goal, where Werder Bremen's Tim Wiese replaced Adler for his first international appearance. England also switched 'keepers as Scott Carson came on for James, while up front Jermaine Defoe gave way to Darren Bent.
England started the second half where they had left off at the end of the first, and continued to press forward. The chances soon came: first Downing shot wide after dispossessing an uncharacteristically casual Schweinsteiger, and left-back Glenn Johnson's hard work set up Gareth Barry, whose superbly-timed pass beat the offside trap to send substitute Bent towards goal with only Wiese to beat. The Spurs man rounded the advancing Wiese, but with the empty goal at his mercy he stumbled slightly and placed his shot just wide of the left post. Meanwhile, Jogi Löw made another change, bringing on Lukas Podolski for the extremely disappointing Mario Gómez.
With just over an hour gone the Mannschaft could very easily have been three goals down, but somehow they were still in the contest. On sixty-three minutes – almost unbelievably – they were right back in the game. It all came out of nothing: a long and rather hopeful punt forward by Trochowski from deep inside his own half, a catastrophic mix-up involving John Terry and substitute 'keeper Scott Carson – who for all of his eighteen minutes on the pitch had been little more than a spectator – and the easiest of finishes. Neither Terry nor Carson called for the ball and both appeared to leave it for each other, allowing the alert Patrick Helmes to steal in ahead of the England skipper and nutmeg the unfortunate Carson before rolling the ball into the empty net.
It was Helmes' first goal for the Nationalelf, and it may as well have been handed to him on a plate. For all England's dominance, the scores were level at 1-1. Meanwhile, the rain had started to come down.
Germany's equaliser had come completely against the run of play, but the home side couldn't use it to change the overall momentum of the match. The visitors continued to move forward almost at will, and were creating chances against a static German defence that didn't appear to have an answers to the pace and movement of Agbonlahor and Wright-Phillips. On sixty-seven minutes Agbonlahor hit the side netting after yet another swift break engineered from midfield, and four minutes later Wiese reacted well to a neatly-struck Downing free-kick. One of the home side's few sparks of inspiration was the sprightly Marko Marin who injected some pace of his own as Germany attempted to turn the game on its head, but in one of Germany's few threatening moves the young Werder Bremen winger's shot was excellently dealt with by Carson.
With just over ten minutes remaining the excellent Agbonlahor made way for Ashley Young, who simply continued where the Aston Villa man left off. Germany also made another change, as VfL Wolfsburg's Marcel Schäfer came on for his first cap at the expense of fellow debutant Marvin Compper. England continued to press, and could very well have settled the issue on seventy-nine minutes when Wright-Phillips yet again found space to create a shooting opportunity. Having picked the ball up just inside the German half, the Manchester City man jinked past at least two defenders before unleashing a stunning right-footed shot that swerved viciouly and crashed against the upright. It was in fact a brilliant save by Tim Wiese, who had leapt to to his left and got the finest of fingertip touches to deflect the ball onto the post.
The Werder Bremen 'keeper had impressed since replacing René Adler at half-time, but there was nothing he could do to prevent what would be England's winner in the eighty-fourth minute. After Ashley Young had been upended by Simon Rolfes out on the right, Stewart Downing – whose crosses had caused considerable consternation for the German defence all evening – floated the free-kick into the box where it was superbly met by John Terry. Once again the defensive positioning from the Germans for the set piece was poor, and the 6'1″ Terry was easily able to beat the much taller Heiko Westermann to the ball and guide it past the helpless Wiese to put the visitors 2-1 in front.
When the final whistle blew, yet another Berlin game had gone by and once again Germany had failed to break their duck against England which was now stretched to five matches. Despite this poor record, Germany had in fact not actually lost to England at the venue since the 3-1 loss in 1956, and it was in fact their first defeat at the Olympiastadion since being beaten 1-0 by Brazil in June 1973. There was no reason to question the final result: England had clearly been the better team over the ninety minutes, and it had been the men in red who had provided the pace and energy. That said, all three goals had come from errors: René Adler's flap at thin air had presented England with a soft opening goal, a comical lack of communication and resulting defensive foul-up had given Patrick Helmes the softest of opportunities to level the scores and open his international account, while the combination of a complete absence of positional awareness and Heiko Westermann's sloth allowed allowed England to snatch what was ultimately a deserved win.
In previous matches a wobbly German defence had most of the time been compensated by the performance of the offensive unit, but on this occasion there was little to speak of going forward. The Ballack-less midfield was sluggish, lacked penetration and was guilty of a string of mistimed passes, while up front Miroslav Klose looked both isolated and subdued and Mario Gómez was still struggling to get over what had been a poor run of form at international level.
While German supporters would have clearly been disappointed at both the team's overall performance and the final result, it is highly unlikely that the Nationaltrainer would have lost any sleep over it: England's young guns may well have impressed, but only against what was an even more experimental German B-team missing a number of key personnel. Even so, some English journalists such as the New Statesman's William Cook allowed themselves to be convinced that the Euro 2008 runners-up had once more been reduced to a team of also-rans:
"Germany have won three World Cups and three European Championships. England have won only one World Cup, in 1966. But after that recent win in Berlin, something changed. For the first time since 1966, England look like the team of the future. Germany look like a team whose time has passed … This is now Germany's longest run without a major trophy since 1972, and, on present form, the fallow period will continue long into the future." [1]
Cook's prediction couldn't have been more off beam: while both Germany and England would easily progress to the 2010 World Cup finals, their next encounter in Bloemfontein – their fourth meeting in World Cup finals tournaments after 1966, 1970 and 1990 – would very clearly determine which of the two teams could rightly claim to be the "team of the future".
Cumulative Record
Home: played 13, won 3, drawn 3, lost 7. Goals for 18, goals against 32.
Away: played 12, won 6, drawn 0, lost 6. Goals for 13, goals against 26.
Neutral: played 6, won 3, drawn 1, lost 2. Goals for 6, goals against 8.
Overall: played 31, won 12, drawn 4, lost 15. Goals for 37, goals against 66.