Friendly International
Empire Stadium, Wembley, 01.12.1954


1-3 (0-1)
Beck 77. / Bentley 28., Allen 48., Shackleton 79.
England: Williams – Staniforth, Byrne – Philipps, Wright (c), Slater – Matthews, Bentley, Allen, Shackleton, Finney
Germany: Herkenrath – Posipal (c), Kohlmeyer – Erhardt, Liebrich, Harpers – Kaufhold, Pfeiffer, Seeler, Derwall, Al. Beck
Colours: Germany – white shirts, black shorts, black socks; England – red shirts, white shorts, red socks
Referee: Vincenzo Orlandini (Italy)
Assistants: Mervyn Griffiths (Wales), Charlie Faultless (Scotland)
Attendance: 100,000
Match Programme Details
The official match programme for the first England v Germany international at Wembley was slightly larger than A5 in size with eighteen printed pages, and was sold at a price of one shilling – five pence in today's money. The cover is a photograph of the Empire Stadium with its then incomplete roof – this was added in 1963 in time for the 1966 World Cup.
The programme contains a welcome to then Foreign Secretary Sir Anthony Eden, as well as an introduction in both English and German. There are the usual team lineups, pen-portraits of both sets of players and interesting articles on the German side that had won the World Cup less than six months earlier.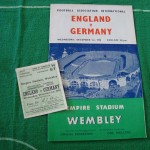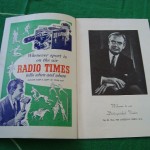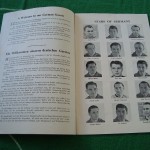 Aspect: Portrait
Dimensions: 236 x 151 mm
Numbered Pages: 18
Language(s): English, welcome text in German
Match Report
In December 1954 Germany made their first postwar visit to England – and their first visit to the then Empire Stadium at Wembley. They were also returning to England as World Champions, having secured the title six months earlier in Switzerland with their astonishing 3-2 victory over the legendary Hungarian side that had been unbeaten for four years. The legendary "Magical Magyars" had in 1953 been the first-ever side from outside the British Isles to defeat the England team on its home turf, and Germany's triumph in Bern had certainly made an impact amongst English experts – best summed up by Bernard Joy:
"Give the Germans credit … for fighting back after being two goals down in eight minutes, for inflicting the first defeat on Hungary for four years and for reducing the formidable Hungarian machine to a bedraggled combination in the last stages of the game.

I was particularly glad to see Germany win because they adopted what I consider a typically English type of game.

Even when the Hungarians cut us to ribbons here a year ago I maintained that if our defenders had covered better, stuck close to their men and tackled quickly, we should have stopped their brilliant attack, while long passes flung ahead of speedy wingers would have created gaps in their defence.

These were precisely the tactics Germany used." [1]
Unfortunately for both Germany and the watching public, the team put together by Sepp Herberger for this winter fixture was far from the side that had engineered Der Wunder von Bern – destroyed by illness and injury, it was something of a shadow German side that took to the Wembley turf. In the months after the victory in Switzerland the Nationalmannschaft had played two games, losing 2-0 in Brussels to an ordinary Belgian side before being beaten 3-1 in Hannover by France.
It was difficult to even describe them as a B-team, as the starting eleven featured only four players who had made the World Cup squad; of these four, a mere three of them had actually been in the starting line up in Bern – defenders Werner Liebrich, Werner Kohlmeyer and Josef Posipal, who took the captain's armband in the place of the injured Fritz Walter.
Joining Fritz Walter among the casualties were his brother Ottmar, goalkeeping hero Toni Turek, goalscorers Max Morlock and Helmut Rahn, and the creator of the winning goal, Hans Schäfer; leading the forward line would be Uwe Seeler – who had just turned eighteen – supported by a four-man midfield consisting of debutants Alfred Beck, Jupp Derwall, Gerhard Kaufhold and Michael Pfeiffer. The only international cap between these front five had been earned by the then seventeen year old Seeler two months earlier against the French – and this as a twenty-second minute substitute for the unfortunate Karlsruhe SC striker Berni Termath, whose international career came to an end despite a record of four goals in seven games.
The very nature of this skeleton squad was summed up by the fact of that none of the four debutants would wear the Schwarz und Weiß again, with the exception of Jupp Derwall who would win his second and final cap in Germany's following fixture against Portugal. Derwall of course would return to the national setup just over twenty years later as Nationaltrainer.
With only fifty-eight international appearances between them – fifty-one of which were shared between Bern veterans Kohlmeyer, Liebrich and Posipal – one might have expected Herberger's scratch side to roll over in the face of an England side with the likes of Stanley Matthews and Tom Finney, but they managed to put up a decent showing. The inexperienced front line started brightly but failed to hit the target, while England seemed more content to concentrate on how they were going to score without actually scoring. The home side went into a 1-0 lead at half time however, courtesy of a twenty-eighth minute header from Chelsea's Roy Bentley created by the ageless Matthews.
Six minutes into the second half England had doubled their lead, with West Brom's Ronnie Allen tucking the ball past Fritz Herkenrath. The home side were not able to turn their dominance into goals however, and somewhat out of the blue the energetic Seeler found space to set up Alfred Beck who rounded his marker before scoring a well-taken goal with some thirteen minutes left on the clock. It was to be the St. Pauli man's first and last international goal in what would be his first and final international appearance.
Beck's goal seemed to pull England out of their self-imposed slumber, and within two minutes they had put the ball in at the other end to make the game safe. The goal was beautifully taken by playmaker Len Shackleton, who deftly chipped the ball over the advancing Herkenrath. England were supreme over the last ten minutes – with Matthews dominating a tiring Kohlmeyer down the right flank – but they could not add to the 3-1 scoreline.
In truth, not much could actually be gleaned from the result: the German team were obviously a patchwork unit while England were an ageing team that were still far too reliant on the thirty-nine year old wing wizard Matthews. Both squads were clearly in transition.
Perhaps the best illustration of this would be the two teams that were to line up less then two years later in Berlin: for Germany, the only man from the Wembley lineup to make the starting eleven would be goalkeeper Herkenrath; for England only two men from the 1954 would take the field in Berlin – skipper Billy Wright and Manchester United's young left-back Roger Byrne.
Cumulative Record
Home: played 5, won 0, drawn 2, lost 3. Goals for 9, goals against 19.
Away: played 3, won 0, drawn 0, lost 3. Goals for 1, goals against 15.
Overall: played 8, won 0, drawn 2, lost 6. Goals for 10, goals against 34.