Friendly International
Wembley Stadium, Wembley, 22.08.2007


2-1 (2-1)
Kurányi 26., Pander 40. / Lampard 9.
England: Robinson (46. James) – Richards, Ferdinand (46. Brown), Terry (c), Shorey – Beckham, Lampard, Carrick (55. Barry), J. Cole (70. Wright-Phillips) – Smith (57. Crouch), Owen (57. Dyer)
Germany: Lehmann – A. Friedrich, Mertesacker, Metzelder, Pander – Lahm – Odonkor (54. Hilbert), B. Schneider (c) (90. Castro), Trochowski (72. Rolfes), Hitzlsperger – Kurányi
Colours: Germany – red shirts, white shorts, red socks; England – white shirts, blue shorts, white socks
Referee: Massimo Busacca (Switzerland)
Assistants: Stéphane Cuhat, Francesco Buragina (Switzerland)
Fourth Official: Mike Dean (England)
Yellow Cards: – / J. Cole
Red Cards: – / –
Attendance: 86,133
Match Programme Details
Measuring up at seventy-four pages, the American A4-sized Wembley Stadium match programme cost six pounds – slightly expensive perhaps when compared to the slightly larger German equivalent.
Featuring striker Michael Owen on the cover, the programme includes features on England's opening game at the new Wembley against Brazil, Germany's midfield engine Bastian Schweinsteiger and the country's most famous game in the long-running rivalry with Germany – the 1966 World Cup final. Disappointingly for the Mannschaft, the injured Schweinsteiger wouldn't play a part in the match.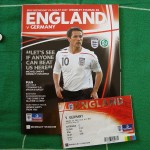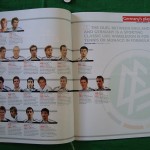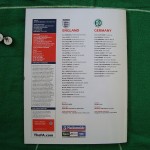 Aspect: Portrait
Dimensions: 275 x 210 mm (American A4)
Numbered Pages: 74
Language(s): English
Match Report
Some seven years after their previous visit and the final match at the old Wembley Stadium, Germany would return to take on England at what had been revamped as a fantastic twenty-first century venue accommodating up to ninety thousand spectators – the second largest stadium in Europe after the 97,354-capacity Camp Nou in Barcelona. Opened for use in 2007 – four years later than originally planned – the new Wembley featured a semi-retractable roof and a striking 133-metre high arch that lit up the night sky, replacing the famous twin towers as the venue's most prominent and iconic landmark.
It would be England's second match at the new ground, having drawn 1-1 with Brazil in June. Coached by Steve McClaren who had taken over from Sven-Göran Eriksson after the 2006 World Cup finals, the home side were looking for what would be a morale-boosting win to gear them up for the remainder of what had been an fairly ordinary European Championship qualifying campaign, where they had found themselves locked in a three-way struggle for the two qualifying spots with Russia and Croatia. McClaren's side came into the game with a look of a side that were seriously struggling for form: in their previous eight games they had only registered just two wins and a eight goals, with these two wins and six of the goals coming against minnows Andorra and Estonia. Germany on the other hand – now coached by Joachim "Jogi" Löw – were well on the way to securing their place at Europe's showpiece event having secured nineteen points from seven games and scored twenty-nine goals, which included a record 13-0 thumping of group whipping-boys San Marino.
While the home side lined up with an eleven that featured a number of first-choice selections – only Owen Hargreaves and Steven Gerrard were absent – the German squad had been heavily weakened by a number of injuries to key players. The entire midfield engine room that had carried the Mannschaft to the World Cup semi-finals the previous year – Torsten Frings, Lukas Podolski, Bastian Schweinsteiger and skipper Michael Ballack – were all out injured, and the attacking potency of Jogi Löw's squad was reduced even further due to the unavailability of leading goalscorer Miroslav Klose. As both sides took to the field – with England in white and Germany in red, like 1966 in reverse – the opportunity was definitely there for McClaren's side to register their first win at Wembley against Germany for thirty-two years.
England started off the brighter of the two sides, and the opening period of the match saw McClaren's side streaming forward while the Germans were stuggling to find their feet. After a number of attacks that had broken down without threatening Jens Lehmann in the German goal, the men in white finally made the breaktrough with nine minutes on the clock.
Micah Richards jinked his way down the right flank, skipping past debutant Christian Pander and stand-in German skipper Bernd "Schnix" Schneider to find Frank Lampard – who beat Lehmann at his near post with a rasping right-footed effort. Four minutes later the Mannschaft would have a lucky escape as Michael Owen – their tormentor six years before in Munich – was put through with a neat through-ball only to be wrongly called back for offside. The goal had sparked the home side's confidence and they continued to press forward, not allowing Joachim Löw's side to get a footing in the game. With twenty minutes gone there was only one side playing football; England goalkeeper Paul Robinson could have gone to sleep and nobody would have noticed.
With twenty-two minutes gone the Germans had their first real opportunity as Pander's corner was placed narrowly wide by defender Christoph Metzelder as he rose above the English defence, and not long afterwards Thomas Hitzlsperger found space before unleashing a shot that went well wide of the upright. Löw's team had finally started to put a few moves together, and after Robinson had parried another long-distance Hitzlsperger effort the ball fell to Schnix who lofted a high cross into the box from the right touchline. Whether he was unsighted or simply unable to gauge the flight of the cross, Robinson found himself backpedalling before flailing desperately at the ball at touching it onto his own crossbar; with the goalkeeper now on his back in his own net, Kevin Kurányi stole in ahead of his marker to level the scores from not even two yards out.
It was probably the easiest goal of the Schalke 04 striker's international career, and although the Germans had started to come back into the game on the balance of play the equaliser was clearly undeserved. Despite being under the cosh for the best part of the first half an hour, Löw's side were somehow still in the game at 1-1.
As the rain started to come down, both sides started to pick up the pace: first Lampard created an opportunity before his shot was parried by Lehmann, and after Joe Cole had been booked for a tackle from behind on Piotr Trochowski the resulting free kick saw Robinson come charging out yet again only to be saved by the offside flag as Christoph Metzelder put his header narrowly over the bar.
With renewed confidence the Germans finally started to string a few decent passes together, and in a flash they were in front. Having picked up a loose defensive clearance in the middle of the park, Pander found Hitzlsperger, who played a short pass to Philipp Lahm who returned it to Pander who had worked his way into space some thirty yards out from the England goal. The Schalke full-back took a step outside and steadied himself before launching into a ferocious left-footed drive. On this occasion 'keeper Robinson was completely helpless as the ball picked up speed and flew past his outstretched left hand, hitting the top corner of the net.
The action was now swinging from end to end, and no sooner had Germany taken the lead the home side could have twice levelled the scores through Michael Owen. The first chance came almost straight from the restart when Owen latched onto Alan Smith's pinpoint cross to force a brilliant parry from Lehmann, and the second saw the Liverpool striker hit the ball narrowly over the bar from a tight angle with the German 'keeper beaten having failed to deal to Frank Lampard's initial pass into the box.
Although they had conceded a stunning goal to fall behind, the 2-1 half-time scoreline offered scant justice to an England side that had looked far sharper than their German opponents; Germany had ruined England's farewell party at the old Wembley on what had been a wet Saturday afternoon, and now they threatened to inflict the home side's first defeat in what was only their second game at the new stadium.
England came out for the second half having made two changes, with Wes Brown replacing Rio Ferdinand and David James – not surprisingly, perhaps – coming on for the unfortunate Robinson. The unplanned departure of Ferdinand's meant that Brown was slotted into the right-back position, with Micah Richards – who had been a constant danger down the right flank – being shifted infield. It was a major tactical error by Steve McClaren, one that allowed the German back line – particularly Christian Pander – far more breathing space. Apart from a glut of substitutions there was little in the way of excitement for the first twenty minutes; Germany were far more comfortable in midfield than they had been in the first half and the busy Kevin Kurányi was on a number of occasions able to lose his marker and find space, but the absence of the quality playmakers meant that the final ball was continually misdirected or mistimed.
Just as the game threatened to stagnate England had two decent opportunities to level the scores, both falling to substitute Kieron Dyer. The first had seen Lehmann charge out and luckily get his body in the way with Dyer bearing down on the target, but the second should really have been put away as the West Ham man pushed his shot narrowly wide after some great work down the right by David Beckham. There were also a number of half-chances: Philipp Lahm was forced into a goal-line clearance, Kurányi was called offside even though the ball had come off an England player, and then Shaun Wright-Phillips showed great skill to skip past two defenders before having his shot was comfortably held by Lehmann.
As the game drew to a close Kurányi made good ground but once again was unable to find any support, and a Thomas Hitzlsperger effort flew high over the target before Kurányi – who might very easily have scored a hattrick had there been a Schweinsteiger or Ballack on the field – managed to get one more shot on goal deep into added time which was tipped over the bar by James. There was just enough time to take the corner, and when the final whistle came it was accompanied by the inevitable chorus of jeers from the disappointed home crowd.
The second half had seen a much better performance from Jogi Löw's side, and after what had been an encouraging first half the home team had been unable to threaten Jens Lehmann in the German goal. England had as always shown great heart and ambition, but once again it was German professionalism that won the day. The first goal may have been a gift from England 'keeper Robinson, but Pander's winning strike had surely been sent straight down from football heaven. Unfortunely for the Schalke man his memorable debut would not signal the beginning of a glittering international career: constantly burdened with injury, he was only able to add one further cap before disappearing from the ever-growing – and increasingly young – pool of German talent. Former England goalscoring legend Gary Lineker, now a presenter for the BBC's Match of the Day, coolly signed things off with a play on a now oft-repeated joke: "Pander. Eats, shoots and leaves". Given Lineker's usual misdirected efforts at humour – in marked contrast to his sharpness in front of goal – it was an inspired moment, more so because he managed to say it whilst keeping a straight face.
Thanks to Pander's fortieth-minute winner Germany's unbeaten record at Wembley saw itself being stretched to five games, with their last defeat at the ground coming in 1975. Germany had been the last team to beat England at the old Wembley in October 2001, and in August 2007 they became the first team to win at the new revamped stadium. Whether it was under the twin towers or the new glittering arch, Wembley remained a happy hunting ground for the Mannschaft and a continued source of misery for the home team; one wonders if England might have played any better had the game been held at Old Trafford, Anfield or Villa Park.
The following months would see both teams move in opposite directions; while Germany were able to take their foot off the pedal having qualified early for Euro 2008, England would suffer a catastrophic collapse in form that would see them miss out on the finals altogether. Needing only a draw in their final game at Wembley against Croatia to secure second spot behind Russia, Steve McClaren's side would come back from two goals down only to be cruelly killed off by a long-range Mladen Petrić goal with thirteen minutes left on the clock. With England watching the tournament from home and looking for a new manager following McClaren's dismissal, Germany would advance to their sixth European Championship final where they would narrowly lose to Spain.
Germany and England would lock horns again at the start of the following season in Berlin, a venue that had interestingly over the years been the mirror image of Wembley: going to back to the first match played at the Grunewald-Stadion in 1930 which had seen an entertaining 3-3 draw, England had visited Berlin four times, winning two and drawing two – though the last of these wins had come in 1956. While the ever-improving German side would be looking forward to another season under Joachim Löw, a new-look England team would be in Berlin with a new coach – Italian Fabio Capello.
Cumulative Record
Home: played 12, won 3, drawn 3, lost 6. Goals for 17, goals against 30.
Away: played 12, won 6, drawn 0, lost 6. Goals for 13, goals against 26.
Neutral: played 6, won 3, drawn 1, lost 2. Goals for 6, goals against 8.
Overall: played 30, won 12, drawn 4, lost 14. Goals for 36, goals against 64.