UEFA European Championship Semi-Final
Wembley Stadium, Wembley, 26.06.1996


6-5 PSO (1-1, 1-1, 1-1 aet)
Kuntz 16. / Shearer 3.
Penalties: Shearer 0-1; Häßler 1-1; Platt 1-2; Strunz 2-2; Pearce 2-3; Reuter 3-3; Gascoigne 3-4; Ziege 4-4; Sheringham 4-5; Kuntz 5-5; Southgate SAVED; Möller 6-5.
England: Seaman – Adams (c), Southgate, Pearce – Anderton, Platt, Ince, Gascoigne, McManaman – Shearer, Sheringham
Germany: Köpke – Sammer – Babbel, Helmer (110. Bode) – Reuter, Freund (119. Strunz), Eilts, Ziege – Möller (c), Scholl (77. Häßler) – Kuntz
Colours: Germany – white shirts, black shorts, white socks; England – grey shirts, grey shorts, grey socks
Referee: Sándor Puhl (Hungary)
Assistants: Laszlo Hamar (Hungary), Imre Bozóky (Hungary)
Fourth Official: Sándor Piller (Hungary)
Yellow Cards: Reuter, Möller / Gascoigne
Red Cards: – / –
Attendance: 75,862
Match Programme Details
Apart from the final and England's group games, there were no actual individual match programmes printed for Euro '96 – each of the four first phase group had its own programme, there were two programmes for the quarter-finals (the four games were played over two match days) and there was one programme for the semi-finals, both of which were played on 26th June. The cover of the semi-final programme features images of players from the four participating teams, with David Seaman for England and Matthias Sammer and Steffen Freund for Germany.
Containing sixty-four pages and priced at four pounds, the programme includes an introduction by UEFA supremo Lennart Johansson and FA chairman Sir Bert Millichip, complete squad lists for all four semi-finalists, photos from the quarter-finals and an up to date tournament schedule with completed results.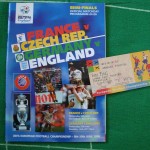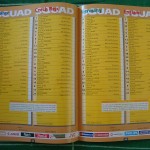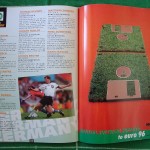 Aspect: Portrait
Dimensions: 297 x 210 mm (Standard A4)
Numbered Pages: 64
Language(s): English
Match Report
The build-up to the 1996 European Championship semi-final had taken on a rather familiar form: pointlessly inflammatory remarks from the English yellow press, painfully tedious media hype, the usual. On this occasion the biggests culprits were not the likes of the Sun or the Daily Star but the Daily Mirror and its then editor Piers Morgan: declaring "Achtung! Surrender!" (yawn) and featuring hastily (and very badly) photoshopped images of Stuart Pearce and Paul Gascoigne wearing Second World War era tin helmets, readers were encouraged to cut this nonsense out and place it in their windows.
The media had adopted this attitude not long after England had presented themselves as genuine contenders: after an ordinary start, they had clinically dismantled 1988 champions Holland with a display that was arguably their best display in a major tournament game since 1966. With the confident mood came the arrogance – as the team prepared to meet Spain in the quarter-finals, the media were soon churning out nonsensical articles on "twenty horrible things that happen to be Spanish" or commenting on such irrelevancies as the supposed unattractiveness of Spanish women. It was low-grade journalism for a lower-grade audience – the sort of people for whom Spain was little more than a cheap and tacky hotel in Benidorm.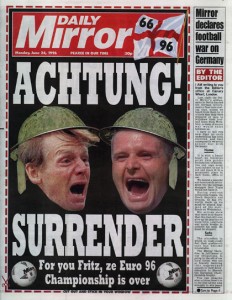 The ghosts of 1966 came back to Wembley to foil the Spaniards, who had a perfectly decent goal chalked off before they went on to make a complete pork paella of the penalty-shootout – with Stuart Pearce grabbing the headlines for his overly emotional reponse to hitting the target. Germany meanwhile had swept through the opening stage without conceding a goal, and had overcome an extremely physical Croatian side in the quarter-final by the odd goal in three.
On the day of the semi-final the Mirror – following much criticism – had toned things down slightly in opting instead for a rather amateurish images of Paul Gascoigne superimposed on a lion's head with extended canines, while the Daily Star served up a Page Three girl draped in the flag of St. George accompanied by the nonsensical banner headline Give 'em Heil! It was laughable in the extreme, and was far removed from the mutual respect that would be shown by both sets of players on the pitch.
While England were playing at home on the crest of a wave, the injury problems had started to mount for Berti Vogts' team: with defensive lynchpin Jürgen Kohler already out of the tournament, the Mannschaft lined up for their semi-final without their talismanic skipper and leading goalscorer Jürgen Klinsmann. Leading the side would the Borussia Dortmund stalwart Andreas Möller, with the half-fit Thomas Häßler on the bench.
The game could not have started off any worse for Germany. England stormed forward from the off, and within the first ninety seconds Torhuter Andy Köpke was being tested by Paul Ince, whose well-struck shot was turned over the bar. The resulting corner was swept in by Gascoigne, flicked on by Tony Adams, and met at the near post by the tournament's top scorer Alan Shearer. He got plenty on it, and powered the ball past the prostrate Köpke with his head. While the commentators geared up for a repeat of the 4-1 victory over the Netherlands, Berti Vogts' side quickly regained their composure – and started to work their way back into the game by applying that age-old tried and trusted German method: pass, pass, pass; probe, probe, probe.
On sixteen minutes came the equaliser. It was beautifully yet simply crafted: Thomas Helmer advanced smoothly out of defence, taking the ball to the edge of the opposition box where he found Andreas Möller. With Helmer continuing his run down the left, the languid Möller skipped past Paul Gascoigne before deftly dinking a left-footed return pass. Helmer took one neat touch before laying a neatly-angled ball that sliced through the England defence, where the unheralded Beşiktaş striker Stefan Kuntz ghosted past Stuart Pearce to stab the ball home past the helpless David Seaman.
At one goal apiece, both teams knuckled down to what was to become yet another classic clash, played with the usual mix of sportsmanship, skill and commitment; with their somewhat depleted side Germany adopted a more defensive approach than had been the case earlier in the tournament, but there was none of the sterility that had reduced the first semi-final between the Czech Republic and France to little more than a gentle afternoon amble in a neatly-manicured garden. After Germany's equaliser both teams seemed to cancel each other out: England, playing in front of an expectant home crowd, were slightly more adventurous but most of their moves were quickly snuffed out; Germany meanwhile continued to be patient and content to catch a chance on the break. Chances were few and far between as neither side gave an inch, and when the whistle blew after the end of the ninety minutes the score remained deadlocked at 1-1.
While the first semi-final had provided a poor advertisement for the "Golden Goal" method with one side clearly playing for a penalty shootout during the thirty minutes of extra time, it was at this point where what had been a tense but not overly exciting Germany-England encounter turned into yet another classic. Both sides set off in search of the winning goal as the game sparked into life, with opportunities coming at both ends. Darren Anderton hit the post for England, with the ball not rebounding back into open play but – expressed in woeful strains by BBC commentator Barry Davies – back into the arms of Andreas Köpke. Kuntz was close but not close enough, and a cracking shot from Möller called David Seaman into action as he tipped the ball over the bar.
From the resulting corner, Stefan Kuntz rose magnificently to head the ball into the back of the net – and in a blur it was all over. But no. Some waving of the arms, the shrill peep of the Schiri's whistle. No goal, and it was still 1-1. Kuntz had been penalised for a push, though for the life of me I could not see anything there. He had simply risen above the defender and buried the chance; at the very worst it was a fair fifty-fifty challenge. For a moment one got the distinctly stale whiff of 1966, but rather than remonstrating with the Hungarian official Vogts' side simply dusted themselves down and got on with it.
Then it was England's turn. Sheringham's long ball found his strike partner Shearer out on the right, and the Blackburn Rovers man's first time cross looked to be falling perfectly for the advancing Gascoigne. With Köpke rooted to the spot, Gazza came agonizingly close to sealing the win for the home side as he desperately swung out his right foot. He missed by mere centimetres, the ball went wide, and the chance had gone. Christian Ziege then should have done better in front of goal as he scuffed his shot wide with only Seaman to beat, but it was yet one more missed chance in a match that was always destined to go to the dreaded Elfmeterschießen.
The first nine penalties in the shootout were among the best one had seen in international competition for a long time. All were successfully converted, with only Stefan Reuter's shot coming anywhere near a goalkeepers' gloves. With Germany 5-4 down after Sheringham had emphatically slammed his kick home, it was effectively sudden death: Stefan Kuntz held his nerve, and found the top right-hand corner with what was arguably the best penalty of the night. Up then stepped Aston Villa's Gareth Southgate, whose only other spot-kick had resulted in a miss for his previous club Crystal Palace against Ipswich Town four years earlier; his weak shot was easily saved by Andy Köpke, who had been nowhere near any of the first five.
Germany were now one kick away from the final, with the responsibility given to stand-in skipper Andy Möller. Many Germany fans would have been sitting on their hands as Möller prepared himself: less than a month earlier he had taken a spot-kick in a friendly in Belfast against Northern Ireland, and had blasted the ball high into row Z. He lashed at the ball, which again flew high – but this time into the roof of the net.
Der Spiel war vorbei: and Möller charged off in celebration as only Möller could. It would be his last contribution to the Mannschaft's campaign; an earlier yellow card had already ruled him out of the final.
http://www.youtube.com/watch?v=izCKtubriis
While in hindsight it had been a rather silly thing to do, one can understand Möller's spur of the moment decision to charge to the touchline and perform his familiar – and admittedly very annoying – strutting cockerel pose. There was some sort of poetic justice to it all: both the equaliser and the first sudden-death penalty in the shoot-out had been scored by Stefan Kuntz – who had been victim of the brainless comedy duo Frank Skinner and David Baddiel – while the mulleted, pouting Möller – to many the personification of German arrogance and the sort of guy who'd leave the proverbial towel on the poolside sunbed – had slammed in the winning kick with aplomb. It would not have felt the same if a nice guy like Klinsi or Matthias Sammer had performed the coup de grâce.
The sadly inevitable assaults on foreigners that looked or sounded vaguely Germanic and the vandalism of German cars followed, no doubt inspired by the overspill of the bile generated by the tabloid press; what should have been yet another glorious failure became an excuse for morons masquerading as England supporters to indulge in the usual post-match shenanigans. It was doubly shameful as the players themselves had provided a truly positive picture of English football; Terry Venables' side had played like trojans, and had taken the defeat with good grace. After the dust had begun to settle there was even a pinch of self-deprecatory humour, with both Pearce and Southgate featuring in a Pizza Hut advert with Italia 1990 penalty-fluffer Chris Waddle.
On a more personal note, the result would guarantee my being able to get a ticket for the final. Quids in, win-win.
Cumulative Record
Home: played 11, won 3, drawn 3, lost 5. Goals for 16, goals against 25.
Away: played 10, won 4, drawn 0, lost 6. Goals for 10, goals against 25.
Neutral: played 5, won 3, drawn 1, lost 1. Goals for 6, goals against 7.
Overall: played 26, won 10, drawn 4, lost 12. Goals for 32, goals against 57.
Competitive: played 8, won 5, drawn 2, lost 1. Goals for 12, goals against 10.