Tournament Overview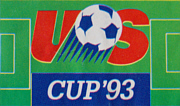 Billed as a precursor to the FIFA World Cup finals the following year, the 1993 US Cup tournament was a four-team, six-game mini competition organised by the United States Soccer Federation (USSF) that provided an excellent preview of some of the spectacular grounds that would be used in 1994.
The four teams that took part were the hosts the United States, Brazil, England, and Berti Vogts' German side. The competition was decided by a simple round-robin group method; all four teams played each other once, with the team that topping the table at the end being declared the winner.
Germany were the team of the tournament, scoring nine goals and finishing top of the table with seven points – two clear of second-placed Brazil – but things were a lot less clear-cut than the final group table suggested. In their opening match Vogts' side had come from 3-0 down to engineer an astonishing comeback against favourites Brazil to bring the score back to 3-3, while they themselves had to survive a brave rearguard action by the hosts the United States, who pulled the score back to 4-3 after the Germans had cruised into a 4-1 lead.
The Mannschaft's final match took place against old adversaries England, which saw Germany take a 2-1 win that propelled them to the top of the table. The game took place in Detroit's Pontiac Silverdome, which became the first fully-covered venue to host an international match indoors on grass.
Germany Tournament Squad List »
Germany Tournament Results and Overview »