Following the release of the new white "chevron" home kit late last year, this week would see the much-anticipated launch of the Nationalmannschaft's new Auswärtstrikot. Following months of speculation and gossip the black and red hooped design would not be any great surprise, but to finally see it on the DFB website would create a little ripple of pleasure.
Right from the start when the prototypes were doing the rounds on the web, I really liked this new look – a clear play on the shirt worn by Brazilian club Clube de Regatas do Flamengo, but also similar to the away colours sported by Queen's Park Rangers during the 1980s (one for those of us old enough to remember that FA Cup final replay against Spurs) and the shirt worn by the British comic character Dennis the Menace.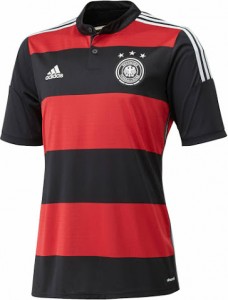 It would have been funny if the DFB had chosen Dennis Aogo as their poster boy rather than Sidney Sam.
While some have complained about this new design, I really do like the black and dark red horizontal stripes – a look that really works with the retro button-up neck. Teamed with black shorts and black socks, it is probably one of the best ensembles that will be seen in Brazil this summer. To make things better, with any luck someone in the team dressing room will think of putting these black shorts with the new white shirt to make the Mannschaft look more like the Mannschaft and less like Real Madrid.
If I do have any criticism at all, it would be the lack of gold in the design – completely absent apart from the blink-and-you'll-miss-it sliver on the shoulder line at the back. Rather than Schwarz, Rot, Gold we are getting Schwarz, Rot, Silber. The overall look is great, but it would have looked far more deutsch if the national eagle, three shoulder stripes and Adidas logo had been in the same old gold like the 2009-2011 design.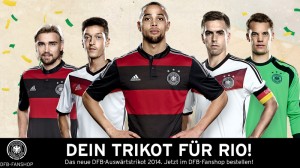 The new shirt will make its debut in next month's friendly against Chile in Stuttgart, and I have ordered mine already. As soon as it arrives I will of course take plenty of photographs and add it to the Trikots section.
Dennis the Menace? Flamengo? QPR circa 1983? Either way, I like it.