Friendly International
Frankenstadion, Nürnberg, 12.05.1965


0-1 (0-1)
– / Paine 36.
Germany: Tilkowski – Piontek, Höttges – W. Schulz (c), Sieloff, Lorenz (42. H. Steinmann) – Thielen, Krämer, Rodekamp, Overath, Hornig
England: Banks – Cohen, Wilson – Flowers, J. Charlton, Moore (c) – Paine, Ball, Jones, Eastham, Temple
Colours: Germany – white shirts, black shorts, black socks; England – red shirts, white shorts, red socks
Referee: István Zsolt (Hungary)
Assistants: Sándor Petry, Tibor Wottava (Hungary)
Attendance: 65,000
Match Programme Details
Priced at fifty Pfennig and containing thirty black and white pages, the A5-sized official match programme for the 1965 friendly in Nürnberg featurs a cover image of the 1956 fixture in Berlin – with skipper Fritz Walter greeting his English counterpart Billy Wright.
Following the welcome message from DFB President Hermann Gösmann in both German and English, the programme contains an overview of past matches and squad details for both sides.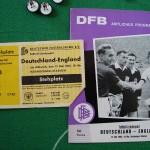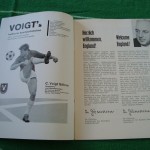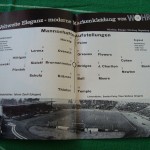 Aspect: Portrait
Dimensions: 210 x 148 mm (A5)
Numbered Pages: 30
Language(s): German, welcome text in English
Match Report
It had been nigh on a decade since the last meeting between the two sides, and plenty had changed in the intervening nine years. England had experienced two disappointing World Cups in 1958 and 1962, while Germany had performed beyond expectations in 1958 only to disappoint four years later with a quarter-final exit at the hands of Yugoslavia – which provided the catalyst for the introduction of professionalism into the German game.
While professionalism had been part of the game in many other countries, the DFB had clung firmly to the idea that football was an amateur game – often resulting in players being barred from playing for the national team if they chose to ply their trade for overseas clubs. While other countries had been welcoming so-called "mercenaries" into their ranks, the DFB stuck to their guns – and the success of the Germany team appeared to support their position.
In 1954 the German team had won the World Cup with an amateur team and had even managed to reach the semi-finals four years later, but the disappointing quarter-final exit in 1962 finally led the DFB into conceding that sticking to the strict code of amateurism in a game that was become increasingly professional was little more than an exercise in cutting of its nose to spite its own face. Within a year, professionalism had been introduced in the German game. While it was not exactly encouraged, German players were now allowed to earn a living by playing for foreign clubs: it was in the 1960s when Italy in particular became a popular and attractive destination for German players.
Naturally, in order to compete with the established foreign leagues Germany needed a unified professional league of its own – and the Bundesliga was formed in 1963, replacing the regional amateur Oberligen. Although the Bundesliga kicked off at the start of the 1963-64 season it had been born not even two months after Germany's World Cup exit – with the concept being formalised on 28 July 1962 by the DFB's newly-elected president, Hermann Gösmann. It was quite clearly a case of sweeping out the old and ushering in the new.
While the German side that had lined up against England in Berlin in 1956 had been for the most part ageing amateurs, the Nationalelf that took the field at Nürnberg's Frankenstadion nine years later represented a new breed of professional. The team also had a new Nationaltrainer in the shape of the forty-nine year old Helmut Schön, who in his previous role as assistant to Sepp Herberger had been perfectly primed for the task of taking the team forward into what was to be a whole new era.
While professionalism was starting to take root in Germany, England had firmly begun to focus the attention on the World Cup. The country was due to host the tournament the following year and much hope had been invested in the team and coach Alf Ramsey, an innovative tactician whose approach to the game was in stark contrast to his well-meaning but somewhat distant predecessor Walter Winterbottom. Moreover, Ramsey assumed complete control of team selection, allowing him to among other things appoint a young captain in West Ham's Bobby Moore.
The teams that lined up in Nürnberg however were far from being full-strength units. Germany were missing the promising young defender Wolfgang Weber and the ever-improving forward Uwe Seeler through injury, and in what was one of the ironies of the new professional setup had to make do without the services of Herbert Haller, Karl-Heinz Schnellinger and Horst Szymaniak, all of whom had been contracted to Italian club sides; England meanwhile were missing a swathe of players from both Liverpool and Manchester United, for whom an international friendly with nothing at stake was far less important that up and coming European club fixtures.
The match itself was something of a non-event, though it did show that the teams were getting closer – England pinching a narrow 1-0 win courtesy of a close-range effort after thirty-six minutes from Southampton's Terry Paine. Both sides had been guilty of some particularly profligate finishing, though Schön's side could well have scraped a draw were it not for the woodwork. As in both 1954 and 1956, nothing much of note could be gleaned from the game, which only served to extend England's unbeaten run against Germany by yet one more match.
Cumulative Record
Home: played 7, won 0, drawn 2, lost 5. Goals for 10, goals against 23.
Away: played 3, won 0, drawn 0, lost 3. Goals for 1, goals against 15.
Overall: played 10, won 0, drawn 2, lost 8. Goals for 11, goals against 38.