"There is only one possibility: victory, defeat or a draw."– Franz Beckenbauer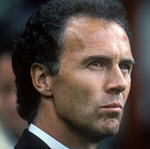 Franz Beckenbauer's appointment as the coach of the national team in 1984 broke what had been a long and established tradition, ending the continuity that had existed from the appointment back in 1923 of the DFB's first Nationaltrainer Professor Dr. Otto Nerz.
There had been a long-established lineage in the position since Professor Dr. Nerz, with each Nationaltrainer seamlessly handing the position over to their assistant. This had been the case for 61 years, until the firing of Jupp Derwall changed the dynamic. It had been the first time an incumbent Nationaltrainer had been involuntarily relieved of his position by the DFB; as such, it made the appointment of Derwall's successor Erich Ribbeck untenable – even though not even two years earlier he would have been seen as a guaranteed shoo-in for the job. It was not just Derwall himself who had been dismissed; his entire coaching team were cast out into the wilderness with him.
In looking for someone who was not only well-respected but also untainted by the Derwall years, the DFB took the unprecedented step of looking outside of the establishment; all eyes fell on Beckenbauer. The appointment of the man known as Der Kaiser was controversial; in addition to not being part of the established coaching set up, the 39 year old Beckenbauer had retired from playing only two years earlier, had zero coaching experience and did not even hold a coaching licence with the DFB. All that he had was the reputation and respect he had built up as a player – though this did count for a lot.
Der Kaiser
Born in 1945 in München, Franz Anton Beckenbauer was arguably the greatest German player of his generation, if not of all time. Stylish and articulate on and off the pitch, Der Kaiser was undoubtedly the poster boy for the Mannschaft but also a natural and gifted leader who provided the oil for the well-worked machine that was the German team of the 1970s.
Beckenbauer proved to be incredibly versatile on the field; he could play in both defence and midfield, and also had a keen eye for goal. Such was his versatility that he more or less invented the role of the modern libero, a position in which he will always be seen as the master.
Beckenbauer's playing career had started off at TSV 1860 München, but really took off at rivals FC Bayern, which had been slowly developing into a genuine European footballing power. Two years after signing for Bayern in 1964 Beckenbauer made his World Cup debut in the 1966 World Cup in England, and was part of the Germany side that went on to reach the final.
A young Beckenbauer in the 1966 World Cup final, leaving Bobby Charlton in his wake
During the tournament Beckenbauer also showed his prowess in front of goal, hitting the back of the net four times in six games. He was also on the scoresheet again in Mexico four years later, scoring the first of Germany's three goals in what proved to an astonishing quarter-final comeback against England that exacted some measure of revenge for 1966.
The man who had won everything
Both Beckenbauer and Bayern München had found each other at just the right time. The Bayern squad dominated German and then European club football during the first half of the 1970s, a period that coincided with what had been seen as the finest period for the Nationalmannschaft.
The lord and master of all he surveyed, Beckenbauer won almost every trophy, medal and award available. With the national side he won both the European Championship in 1972 and the World Cup in 1974, and with Bayern four Bundesliga titles, four German cup titles, three European Champions' Cups, one European Cup Winners' Cup and one Intercontinental Cup. The one European trophy he did not win as a player with Bayern – the UEFA Cup – he would eventually claim in 1996 as coach.
European Footballer of the Year on two occasions, Beckenbauer was the man who had won everything there was to win.
After a dozen seasons in Munich, Beckenbauer moved to the lucrative North American Soccer League and the New York Cosmos, where he won three titles; this move however coincided with the end of his career with the national side, when perhaps he might have had a few more years to give. It is perhaps pointless discussing things that might have been, but it is difficult to tell if Germany's campaign in Argentina in 1978 might have turned out differently had the legendary Kaiser been leading the side.
Beckenbauer's four years in the US were followed by a season at Hamburger SV – where he won another Bundesliga title – and a final year in New York after which he finally retired from club football. In a senior professional career spanning some 19 years, Germany's greatest player had scored 81 goals in 587 games at club level, and 14 goals in what was a then record 103 games for the Nationalmannschaft.
The knives are drawn
Der Kaiser's first years as Nationaltrainer could best be described as painful, as he set about rebuilding the side in preparation for the 1986 World Cup in Mexico. Beckenbauer's record was far from great, and his statistical record paled into comparison when measured up against his predecessor Derwall.
In Beckenbauer's first full year in charge, the team produced their first negative win-loss record in 21 years, winning only four and losing five of eleven games played. This included a 1-0 home defeat against Portugal, the Mannschaft's first ever defeat in a World Cup qualifying match.
Having started off with five straight wins the team had stuttered through the latter part of the year – losing five and drawing one (and that courtesy of a last-minute equaliser) of their last six games. Beckenbauer had fulfilled the minimum remit of taking his side to the World Cup finals in Mexico, but in some quarters the knives had already been drawn. After Derwall's sacking, the scrutiny of the Nationaltrainer by the media had become far more pronounced.
Perhaps the biggest problem Beckenbauer had to overcome, was his transition from the role of star player in what had been a truly talented side to the coach of a squad where there were very few exceptional players. In the words of goalkeeper Toni Schumacher,
"[Beckenbauer] has to work with people who are a lot less single-minded about football than he is and a lot less talented. So he gets in a rage, or falls into a state of despair. In Mexico [1986] he saw players treat the ball as though it were a foreign body. Franz, who was himself an absolute genius on the field, hasn't yet got used to the idea that he hasn't got a single player of his calibre in the national side." [1]
This heady mixture of rage and despair often manifested itself in strongly-worded team talks, and occasionally in press conferences where Beckenbauer would often put his foot in it – which was somewhat ironic given his legendary fleet-footedness as a player.
Teamwork and application
Der Kaiser was clearly determined to do away with the laissez-faire methodology that had defined the latter part of the Derwall era, adopting an approach that built on the respect he had earned as a player. Meanwhile, Beckenbauer's tactical deficiencies were made up by the presence of his leading assistant Horst Köppel, himself a German international and team-mate in the late 1960s and early 1970s.
Thankfully for Beckenbauer things improved massively in the early part of 1986, as his team put together a decent string of results leading up to the World Cup. They won four out of their five friendlies, which included victories over defending world champions Italy and perennial pre-tournament favourites Brazil.
The tournament itself didn't witness the greatest German side ever, but what the class of '86 lacked in individual skill and innovation they made up with teamwork and application – and somehow made their second World Cup final in a row while other more fancied teams had long since fallen by the wayside.
After a tough group phase where they finished a distant second behind northern neighbours Denmark, Beckenbauer's team would see off Morocco in extra time before overcoming hosts Mexico in a tense penalty shoot out. Then, in what was arguably their best performance of the tournament, they saw off European rivals France, the conquerors of the talented Brazilians, in the semi-final.
Looking like a Scottish lord on holiday, der Kaiser with Rudi Völler in Mexico in 1986
The final was lost to favourites Argentina in a boiling Azteca Stadium in Mexico City, but it was by no means a disgrace. Having looked down and out at two goals down in the energy-sapping heat, Beckenbauer's team drew on every ounce of grit, spirit and determination to pull themselves level at 2-2, only to have things snatched away from them with six minutes remaining.
Having guided the team to the final of his first major tournament, a great weight had been removed from the shoulders of the coach, giving him the space he needed to guide the team towards the 1988 European Championships which would be held on German soil.
Beckenbauer had slowly started to put together the nucleus of a championship-winning outfit, but Euro 1988 would come a little too soon. The Nationalmannschaft were bundled out of their own tournament in the semi-finals by arch-rivals the Netherlands, who were deserving champions. Despite the obvious disappointment, the DFB maintained their faith in the Nationaltrainer. Beckenbauer for his part was firm in the belief that things would click in Italy in two years time; he finally had a team with a core of talented players at his disposal.
Full circle
Germany qualified for the World Cup finals after a qualifying group tussle with the Netherlands – yes, them again – and slowly picked up momentum as the tournament approached. The team that had just fallen short of the mark in 1988 had now been fine-tuned, and started the competition in blistering form. After destroying Yugoslavia 4-1, there was no looking back. A smooth path into the knockout round set up a match up with the Dutch, and revenge for the defeat in Hamburg in 1988 was exacted in fine style.
When Germany reached the final for the third time in a row after beating England on penalties after another classic encounter, everything had come full circle: Beckenbauer's first match in charge of the national team in 1984 had been against Argentina, a disappointing evening in Düsseldorf that had seen Germany slump to a 3-1 defeat.
Der Kaiser surveys his empire. Beckenbauer at the opening tie of the 1990 World Cup against Yugoslavia in Milan
The final was an exact repeat of 1986. The same teams, Germany and Argentina, and the the same coaches, Beckenbauer and Carlos Bilardo. In Mexico 1986, Bilardo would win the battle and his star man Diego Maradona would get to lift the famous golden trophy. Four years later in Italy, it was the turn of Beckenbauer and his dynamic captain Lothar Matthäus.
A rather scratchy final in Rome's Olympic Stadium was arguably not the best way to end the tournament, but there was plenty of drama. There were two red cards for the increasingly cranky Argentinians as things threatened to boil over completely, and the game was decided by a controversial penalty converted five minutes from time by Andreas Brehme. The right team had won, as had been the case in 1986.
Bilardo had had his day in the sun. Now it was Der Kaiser's turn. Having made the decision to step down after the tournament, der Kaiser could retire on a high, having become the first man to captain and coach World Cup winning sides.
Widely-respected figure
After his retirement as Nationaltrainer Beckenbauer went on to coach both French side Olympique Marseille and his former club FC Bayern München, where in 1994 he was made club president. By now a widely-respected figure in the German football establishment, it was Beckenbauer's well-organised campaign that led to his country winning its bid to host the FIFA World Cup finals in 2006.
In spite of an overall statistical record that was perhaps not the best when compared to those that went before and came afterwards, Beckenbauer seemed to get things right when they really mattered. His record in friendly matches bordered on the awful, but when it came to the ultimately more important competitive fixtures the statistics were outstanding. During his tenure Germany played 34 competitive games, losing only five.
International Career Record as Player (1965-1977)
Total matches: 103
Total goals: 14
Tournament Record as Player
FIFA World Cup England 1966 – Runners-up (4 goals)
FIFA World Cup Mexico 1970 – Third Place (1 goal)
UEFA European Championship Belgium 1972 – Champions
FIFA World Cup Germany 1974 – Champions
UEFA European Championship Yugoslavia 1976 – Runners-up
Career Record as Coach
First match as coach: 12.09.1984 1-3 (0-2) v Argentina, Düsseldorf (Jakobs 78. / Ponce 5., 36., Burruchaga 58.)
Last match as coach: 08.07.1990 1-0 (0-0) v Argentina, Roma (Brehme pen 85. / –)
Total matches: 66
Wins: 36* (54.5%)
Draws: 17 (25.8%)
Defeats: 13** (19.7%)
Goals For (goals scored per game): 107 (1.62)
Goals Against (goals conceded per game): 61 (0.92)
Competitive matches: 36§
Wins: 21* (58.3%)
Draws: 8 (22.2%)
Defeats: 7** (19.5%)
Goals For (goals scored per game): 66 (1.83)
Goals Against (goals conceded per game): 33 (0.92)
Friendly matches: 30
Wins: 15 (50.0%)
Draws: 9 (30.0%)
Defeats: 6 (20.0%)
Goals For (goals scored per game): 41 (1.37)
Goals Against (goals conceded per game): 28 (0.93)
Results Breakdown by Year
*matches listed as wins include penalty shootout victories against Mexico (FIFA World Cup Quarter-Final, 1986) and England (FIFA World Cup Semi-Final, 1990)
**matches listed as defeats include the penalty shootout loss against Sweden (Berlin Four-Team Tournament, 1988)
§includes the 1985 Azteca 2000 and 1988 Berlin tournaments
Tournament Record as Coach
FIFA World Cup Mexico 1986 – Runners-up
UEFA European Championship Germany 1988 – Semi-finalists
FIFA World Cup Italy 1990 – Champions