Azteca 2000 Mini Tournament
Estadio Azteca, Mexico City (MEX), 12.06.1985


0-3 (0-1)
Brehme pen 41. / Robson 34., Dixon 54., 67.
Germany: Schumacher (c) – Th. Berthold, Herget, D. Jakobs, Augenthaler, Brehme – Matthäus, Magath (60. Thon), U. Rahn – Littbarski (73. Waas), Mill
England: Shilton – Stevens, Butcher, Sansom, Wright – Hoddle, Robson (c) (72. Bracewell), Waddle, Reid – Lineker (60. Barnes), Dixon
Colours: Germany – white shirts, black shorts, white socks; England – red shirts, white shorts, red socks
Referee: Jorge Alberto Leanza Sansone (Mexico)
Assistants: not known
Yellow Cards: – / –
Red Cards: – / –
Attendance: 8,000
Match Programme Details
There was a small programme for the 1985 mini-tournament played at Mexico City's Stadio Azteca in the summer of 1985. Costing 300 Mexican Pesos, the twenty-page A5-sized publication feature the national flags and players from the four competing nations – with Karl-Heinz Rummenigge featuring for Germany and Bryan Robson for England. The front cover also features a fold-out photo of the Mexican squad.
The contents of the programme are concise and to the point – after the introduction by Dr. Rafael Castillo Ruiz there are statistical details of past matches played between Mexico and the three guest teams and plenty of Mexicocentric statistical details – including all of their past World Cup finals squads. In fact, the only page that does not have anything to do with the host country is an otherwise out of place undated photograph of the German side on the last page.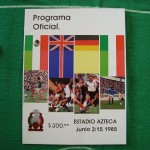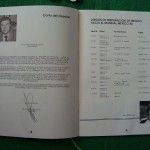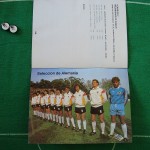 Aspect: Portrait
Dimensions: 218 x 164 mm
Numbered Pages: 20
Language(s): Spanish
Match Report
When Germany met England in Mexico City in the summer of 1985 almost three years had passed since their previous encounter. During this time, Germany had failed to defend its European title the previous year in France by falling at the group stage courtesy of a cruel last-minute Spanish goal, while England hadn't even made it past the qualifiers, losing out to an up and coming Denmark side. In qualifying for the World Cup finals – for which this "Azteca 2000" gathering would be something of a taster – Franz Beckenbauer's side had up to that point put together a series of five wins from their five games, while Bobby Robson's England had also managed to go five games unbeaten, with three wins and two draws.
The games being played in Mexico City were actually two overlapping mini-tournaments in one: while hosts Mexico and guests Italy and England would play in the Ciudad de Mexico Cup, the result of the game between Mexico and England would be carried over into the Azteca 2000 mini-tournament, which would feature a late-arriving German side.
On account of their participation in the first half of this footballing fiesta, England had been in Mexico for the best part of two weeks, which had given them more than enough time to familiarise themselves with the heat of Mexico City – and the rarefied altitude. They had also played 180 minutes of football, losing to both the hosts and Italy. The already weakened German team that arrived in Mexico on the other found themselves running out onto the field in baking sunshine less almost as soon as they had arrived: they had little chance to even recover from any jetlag, let alone acclimatise.
The German squad had a very unfamiliar look about it, and had been massively weakened by the absence of a number of key personnel. Skipper Karl-Heinz Rummenigge and Hans-Peter Briegel had both been required by their Italian club sides, defensive stalwart Karl-Heinz Förster was injured, while the Bundesliga's two top goalscorers Rudi Völler and Klaus Allofs had travelled to Mexico but were far from match-fit. The two forwards who would start against England – Borussia Mönchengladbach's duo of Uwe Rahn and Frank Mill – were decent enough but clearly not of the same calibre: Mill had scored 16 goals in 31 Bundesliga games and Rahn 14 in 32; Allofs meanwhile had netted 26 goals in 32 games for 1. FC Köln and Völler 25 in 32 for Werder Bremen.
With the relative weakness of the German side and England having had the advantage of having the best part of two weeks to get accustomed to the altitude and heat, never was there a better opportunity to get one up on the "old enemy". Indeed, even ITV commentator Brian Moore suggested that were England to lose it would be a "calamity" – not the sort of turn of phrase that would usually be associated with losing a match against Germany.
It was Germany however that looked like the more relaxed team in the opening stages. Led by 'keeper Toni Schumacher who was winning his fiftieth cap, the Mannschaft had the better of the early exchanges although their continual overhitting of the long and crossed ball showed that they had not got to grips with the conditions. After Schumacher had met a Glenn Hoddle snapshot after nine minutes, left-back Andy Brehme was able to find enough space and time in midfield to launch a thunderbolt for at least thirty yards. The ball swerved wickedly, forcing England 'keeper Peter Shilton into an excellent save.
With the ball swerving about in the thin air, the German players clearly thought that shooting from distance was the best policy; no more than two minutes after Brehme's first long-range effort, Shilton quickly found himself being called into action again as Pierre Littbarski's shot was turned around for a corner.
Despite the heat both sides were playing fairly positively: Gary Lineker twice forced Schumacher into making a save and Hoddle hit a long range effort over the bar, before a fantastic move engineered by Lothar Matthäus that saw the play move swiftly one from one end of the field to the other saw Shilton make his third sharp parry of the half from Littbarski's well-struck shot. Within a minute Littbarski was trying his luck again, firing in another long-range effort that went narrowly wide.
Just as Franz Beckenbauer's side appeared to have grasped the initiative, England came right back at them. Moments after Littbarski had shot wide, Kenny Sansom made a fine run down the left. With Gary Lineker drawing in the German defenders Bryan Robson was left in space to meet Sansom's cross, only to arrive too late and put the ball over the bar with only Schumacher to beat. The England captain was not to dwell on his miss however, as within minutes Hoddle had set up another move, playing a long ball into the box. The ball was nodded on by Chelsea's Kerry Dixon, finding Robson who made no mistake in beating Schumacher from close range with his left foot.
For a short while it looked as though the stuffing had been knocked out of the German side, but four minutes from half-time they had their best chance to draw level. Littbarski had found Uwe Rahn in the box with a sharp pass, but with the Mönchengladbach man going nowhere, Mark Wright lunged in to bring him down. Rahn made the most of the challenge, but it was a clear penalty. Andy Brehme's kick was placed well to the right, but at the perfect height for Shilton to turn it around the post – and the chance to go into the dressing room level was lost.
When both sides came out for the second half, the momentum was clearly with the men in red. The German team had done well to keep up the tempo during the first forty-five minutes but the heat, altitude and Brehme's first-half penalty miss were clearly starting to show. The Mannschaft were finding it increasingly hard to retain possession, while England appeared to be getting stronger. Some eight minutes into the half, their tiredness showed in the worst possible way as Klaus Augenthaler was caught dawdling by his defensive counterpart Terry Butcher. The last man to have been expected to lead a move forward, Butcher charged past the diving Schumacher and almost accidentally found Kerry Dixon in front of the empty German goal. Dixon almost made a mess of the chance in hitting the inside of the post, but the ball bounced back into the net. At 2-0, there was no way back for Beckenbauer's side.
But even then they were still able to show sparks of fight. Minutes after Dixon's goal sweeper Matthias Herget found Matthäus, whose defence-splitting ball found Frank Mill at the edge of the box. Mill cracked a right-footed shot with Shilton beaten, but the ball cannoned off the upright and away. It is was pretty clear that there would be no repeat of 1970 in León.
As the Germans started to fade, England upped the ante. Youngster Olaf Thon came on for Felix Magath and was almost immediately booked for a mis-timed tackle on Peter Reid, and England substitute John Barnes had started to impose himself on the left side of midfield. It didn't take long for the third goal to come: having picked up an accurate long ball from Sansom, Barnes played a neat one-two with Reid before playing a perfect cross into the German box. The cross was met by Dixon, who beat Ditmar Jakobs and looped his header over the helpless Schumacher.
The German defence had by now lost all their shape and were all over the place, and were lucky not to concede a fourth goal as Schumacher made a save at Barnes' feet after some great skill by Chris Waddle. Robson then had a chance to score his second after picking up another Sansom long ball, but once again Schumacher was alert enough to come to the rescue.
The last quarter of the game saw both sides going through the motions, but with nine minutes left Barnes' header went close for England before subsitute Herbert Waas made a great run down the right and played a neat cutback into the box. Frank Mill dummied to leave Rahn with the goal at his mercy, but his shot went wide of the target. It was clear that on top of everything else – the conditions, Shilton's fine saves, the penalty miss – they were missing Allofs and Völler.
The final whistle blew, and England had beaten Germany for the first time since Wembley in 1975, and by the biggest margin since their 6-3 win in Berlin in 1938. The game was largely forgotten however; Franz Beckenbauer was hardly fretting over the defeat, and his counterpart Bobby Robson was not making a big deal about it either. The resuly had flattered England slightly, and this against a shoestring German side that had been expected to wilt far sooner. Even the usually loud English press seemed to pay little attention, though in truth they were probably more concerned with the Ashes series that was due to start the following day than what was essentially a meaningless friendly played in an almost empty Azteca Stadium.
The World Cup the following year would see both England and Germany fall at the Azteca at the hands of eventual winners Argentina, England in the quarter-finals courtesy of the infamous "hand of God" and Germany in the final having come back from two goals down. The next time the two teams would cross swords would be in 1987 in Düsseldorf, when one man wearing the number seven would return to haunt Bobby Robson's side.
Cumulative Record
Home: played 10, won 2, drawn 3, lost 5. Goals for 13, goals against 24.
Away: played 8, won 2, drawn 0, lost 6. Goals for 8, goals against 24.
Neutral: played 3, won 1, drawn 1, lost 1. Goals for 3, goals against 5.
Overall: played 21, won 5, drawn 4, lost 12. Goals for 24, goals against 53.