Friendly International
Niedersachsenstadion, Hannover, 01.06.1968


1-0 (0-0)
Beckenbauer 82. / –
Germany: H. Wolter – Vogts, Lorenz – L. Müller, Fichtel, W. Weber – B. Dörfel, Beckenbauer, Löhr, Overath (c), Volkert
England: Banks – Newton, Knowles – Hunter, Labone, Moore (c) – Ball, Bell, Summerbee, Hurst, Thompson
Colours: Germany – white shirts, black shorts, white socks; England – red shirts, white shorts, red socks
Referee: Laurens van Ravens (Netherlands)
Assistants: Adrianus Boogaerts, Leonardus van der Kroft (Netherlands)
Attendance: 79,124
Match Programme Details
The A5-sized official match programme for the 1968 friendly in Hannover was priced at one Deutsche Mark, and contains thirty-four printed pages. The cover features an aerial battle from the 1966 World Cup final at Wembley with Uwe Seeler taking on Bobby Moore and Ray Wilson.
The programme includes a number of greetings to the visiting team and supporters, including one from DFB President Dr. Hermann Gösmann in both German and English; there is an illustrated article on previous Germany v England fixtures, as well as the obligatory pen-portraits of both sets of players.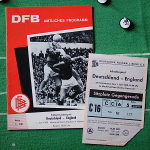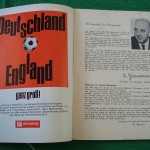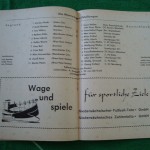 Aspect: Portrait
Dimensions: 210 x 148 mm (A5)
Numbered Pages: 34
Language(s): German, welcome text in English
Match Report
When Germany took on England in Hannover's Niedersachsenstadion in June 1968, nobody could tell that it would signal the moment when the balance of power would shift so markedly between the two sides. England had been reigning World Champions and all ready to line up four days later against Yugoslavia for a place in the European Championship final, while Germany had at the end of the previous year been eliminated at the qualifying group stage by the Yugoslavs on account of a painfully tame 0-0 draw in Albania; it arguably constituted England's highest point in the long and interesting history of the footballing relationship between the two sides, but it would be all downhill from there.
Helmut Schön's side would win the match and finally bring an end to England's sixty-year unbeaten record, and the 1968 European Championship would be the last time the England team would finish ahead of Germany in any major international tournament thereafter – with the sole exception of Euro 2000 when both teams would be eliminated at the final group phase.
As had been the case with the friendly fixtures in 1965 and February 1966, both sides found themselves without a number of key personnel. For Germany, the Hannover lineup included only three members of the team that had played in the World Cup Final two years earlier: Franz Beckenbauer, Wolfgang Weber and new skipper Wolfgang Overath; England meanwhile could only produce four members of their winning team in 'keeper Gordon Banks, Alan Ball, hat-trick hero Geoff Hurst and skipper Bobby Moore.
Much like the previous friendlies between the two sides, this June afternoon in Hannover had little in the way of drama or action: England's wingless wonders adopted what had now become a rather familiar defensive approach; Germany's wingers meanwhile were less than anonymous. However with just over eighty minutes gone, Franz Beckenbauer embarked on one of famous runs. After skipping past two leaden-footed defenders, he fired in a shot that took a nasty deflection off Everton central defender Brian Labone. The unfortunate Gordon Banks – who had been reduced to the role of a spectator for the almost the entire game – found himself watching the ball as it rolled past him and into the net.
Helmut Schön's men easily held out for the remaining eight minutes, and when the final whistle blew the sixty-year old monkey had finally been cast off their backs. The game may not have been a classic and Beckenbauer's goal may have been extremely fortunate, but a victory had at long last been achieved. In the wider scheme of things it was not such a big deal – OK, England had lost their long and proud unbeaten record but these things never last forever – but it was to have a major impact on the psyche of the German team. According to Ulrich Hesse-Lichtenberger, Franz Beckenbauer's recollection of his winning goal some years after the event summed things up succintly:
"It was the first time in history we had beaten the English. Guess who scored the goal? Yes, I did. It was a real piledriver. No, come to think of it, it was a crappy deflected shot with my left foot. That was when we first realised we could really beat the English and lost some of the respect we had had. And we just took it from there." [1]
Just four days after losing in Hannover, England would head on to the Italian city of Florence to be beaten at their own game by Yugoslavia in the Euro semi-final. Faced with a team prepared to bully and kick them off the pitch, the Yugoslavs gave as good as they got as they secured a 1-0 victory – with England being reduced to ten men as Alan Mullery became the first England player to be dismissed in a full international.
The next time Germany and England would meet would be in the heat of Mexico two years later in the World Cup quarter-final – and a game where Germany's new-found psychological edge and self-belief would come to the fore.
Cumulative Record
Home: played 8, won 1, drawn 2, lost 5. Goals for 11, goals against 23.
Away: played 5, won 0, drawn 0, lost 5. Goals for 3, goals against 20.
Overall: played 13, won 1, drawn 2, lost 10. Goals for 14, goals against 43.