"I am not responsible for an individual player, but for an entire team."– Joachim Löw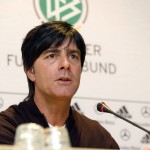 Like Berti Vogts in 1990, Joachim Löw would be appointed as Nationaltrainer on the crest of a wave. Having basked in the Klinsmann-inspired success of the 2006 World Cup there would be none of the intense public and media pressure that had plagued his three immediate predecessors, and the master tactician and strategist long seen as the real driving force behind the new approach in German football would continue to press on in making the changes.
"Jogi" Löw's professional career as a player would never reach the heights of the likes of a Völler or a Klinsmann, but had been solid enough. Having started off at SC Freiburg in 1977, Löw would experience disappointing spells with both VfB Stuttgart and Eintracht Frankfurt before returning to his first club for two years which saw him score twenty-five times in sixty-five games. After a season at Karlsruhe SC he moved back for his third stint at the Dreisamstadion before moving to Switzerland where he played for FC Schaffhausen, FC Winterthur and FC Frauenfeld. During his three spells in Freiburg the attacking midfielder cum striker would find the back of the net eight-one times in 252 games to become the club's highest goalscorer – a record he still holds.
After what had been a fairly successful if unspectacular playing career spanning some seventeen seasons, Jogi Löw would seamlessly move into coaching by taking up a player-coach role at Frauenfeld.
Löw returned to Germany in 1995 as assistant to Rolf Fringer at VfB Stuttgart, and would be appointed to the top post with Fringer appointment as coach of the Swiss national team the following year. In what would be a fairly successful two-year spell, Löw led VfB to the DFB-Pokal in 1997 and the final of the European Cup Winners' Cup the following year, where his side lost a close game to Chelsea.
After moving from Stuttgart Löw was coach at a number of clubs both in Germany and abroad; his first move was to Fenerbahçe in Turkey, followed by a short return to Karlsruhe before heading east again and a disappointing spell at Adanaspor. He then left Turkey for Austria, which saw his winning a second trophy as FC Tirol Innsbruck took the league title. Unfortunately for Löw what had looked set to become a promising coaching career at Innsbruck was cut short as the club was declared bankrupt, forcing him to change jobs again and take the helm at FK Austria Wien – after which came the call from Jürgen Klinsmann asking him to become part of the new-look national team setup.
Since turning to coaching at the age of thirty-five, Jogi Löw had quietly and effectively established a reputation as one of the finest tacticians in the game. This had not been lost on Jürgen Klinsmann, who was quick to get Löw on board as part of a hand-picked management team alongside 1996 golden goal hero Oliver Bierhoff. With Klinsmann's dynamism and Löw's tactical nouse, things would click perfectly into place for the Mannschaft in time for the 2006 World Cup finals on home soil; after much navel-gazing by the media, the team would slip into gear and sweep into the last four where they stumbled at the death against an Italian side that would go on to become world champions.
When Klinsmann resigned following the successful third-place playoff match against Portugal, it was an easy decision for the DFB to appoint Löw as his successor; while Klinsmann had been fêted by the media, it had been made clear from the start that his assistant had been the real architect of the team's new-found success. Like Klinsmann before him, Löw picked an unheralded but well-respected assistant in former Bayern München midfielder Hans-Dieter "Hansi" Flick, with whom he forged a formidable working relationship.
The new coach's start in the role was nothing short of magnificent. Picking up where he and Klinsmann had left off in Stuttgart against Portugal, Löw started as he meant to go on with five victories in his first five matches – the best-ever start for any new Nationaltrainer. The team went a record 418 minutes until they conceded their first goal under his tenure, and the first defeat against Denmark came only when Löw fielded a very young and inexperienced experimental side. Germany breezed through their qualifying group for Euro 2008 with games to spare, racking up thirty-give goals in their twelve games which included a record 13-0 destruction of minnows San Marino. With qualification assured and the future of German football looking bright again, the Mannschaft went into Euro 2008 in neighbouring Austria and Switzerland as one of the fancied teams.
After overcoming a surprise group stage defeat by Croatia, Germany made it into their first Euro knockout game since 1996 with wins over Poland and co-hosts Austria. It was in the game against the Austrians where the otherwise placid Löw had encountered his first brush with controversy: having become involved in a touchline argument with his Austrian opposite number Josef Hickersberger, both men were sent to the stands, with Löw being banned from the dugout for the quarter-final against the Portugal. Unable to communicate with the team, the coach devised a tactical plan which was expertly managed by his assistant Hansi Flick as the Portuguese were defeated 3-2 in a thrilling game.
It was the same result in the semi-final against surprise package Turkey with Löw back in control, as Phillipp Lahm took the Mannschaft to the final in Vienna with a glorious last-minute strike. They were ultimately defeated in the final by Spain – arguably the best team of the tournament – but could hold their heads up high after what had been yet another well-managed campaign.
Always the perfectionist, Löw then sought ways to fine-tune things even further in qualifying for the 2010 FIFA World Cup in South Africa. By picking the team based on form rather than reputation, a pool of competitive and highly motivated players began to develop; instead of seeing the coach turn to a reserve cadre of journeymen as has been the case ten years before, an injury would be seen as an opportunity by younger players champing at the bit to play in the Schwarz und Weiß. While friendly matches were often used to blood youngsters, the full tactical treatment was applied to the more serious competitive fixtures. In what might have been seen as a tough qualifying group that included a Russian side that had impressed at Euro 2008, Löw and Flick engineered a successful and undefeated campaign.
During the qualifying campaign Löw also displayed another side to his personality and management style: he had made his reputation as man who was open and receptive to ideas, but he soon showed that he also didn't take any nonsense from his players. While he was happy to provide his squad with more latitude in their thinking on and off the pitch, it was also clear that he was a boss who demanded complete respect from his charges. This was best illustrated by the case involving striker Kevin Kurányi, whose petulant stomp-off after being left on the bench against Russia was met with the ultimate sanction. It didn't matter to Löw if Kurányi was the Bundesliga's top goalscorer, the sponsors' favourite or even the King of Siam – he made it patently clear that there was no place for boat-rockers on his squad.
The World Cup finals in South Africa was to see yet another stunning chapter in this recent story of German football revival. As the tournament drew near and time was approaching for the squad of twenty-three players to be selected, injury struck. And again. And again. With less than a month to go, the squad were dropping like flies, culminating in the injury to midfield lynchpin and skipper Michael Ballack. In what was probably the biggest gamble in the history of German football, Jogi Löw did not look back to fading stars to fill the gaps and instead turned his eye to a raft of younger and less experienced players who previously had been on the fringe of the squad; in what proved to be an inspired piece of man-management, the dynamic Bayern München wingback Phillipp Lahm was named as Spielführer.
Germany would enter the tournament with its youngest tournament squad ever, and would respond to any fears that German media and public may have had about their chances with a fearlessness and craft that drew admirers from all parts. In the absence of Ballack, Bastian Schweinsteiger was now bossing the midfield, a role in which he revelled; Miro Klose, whose form had been poor in the Bundesliga, was revitalised by the younger players around him and repaid the coach's confidence in equalling Gerd Müller's all-time World Cup goalscoring record; little Philipp Lahm meanwhile would take to captaining the side like a duck to water.
Then there were the players who were playing their first tournament: playmaker Mesut Özil, who brought both pace and guile to the midfield; Sami Khedira, who would contribute a mix of intelligence and strength; and then the find of the tournament, Bayern München's twenty year old winger Thomas Müller, who had started the season on the bench for his club side and ended it by winning both the golden boot and the best young player award.
The team not only almost achieved the impossible, but more crucially displayed a level of spirit and commitment worthy of the great German teams of old; their being able to blend this with a new-found creativity would make Löw's young side the most watchable team in the tournament. When the opening 4-0 demolition of Australia was followed by an unlucky 1-0 defeat to Serbia, the team would bounce back with a disciplined display against Ghana to secure their place in the knockout stage; here they would truly come into their own, destroying England 4-1 in the second phase and then steamrollering the much-praised Argentinians 4-0 in a memorable quarter-final.
It was scarcely believeable, but just as in 2006 the end came in the semi-finals – where an impressive Spain side embarked on a successful campaign of strangulation and suffocation.
With sixteen goals from seven games and a second third-place finish in successive tournaments, the face of German football had undergone the second phase of its transformation. The process that had been started by Jürgen Klinsmann had been followed through with both enthusiasm and determination by Jogi Löw – the man in the blue cashmere sweater.
Following the success in South Africa the team went from strength to strength as Löw continued adding to a pool of highly talented young players. The qualifying campaign for the 2012 European Championships in Poland and the Ukraine would be a complete success, as the Mannschaft achieved a record ten wins from ten games – racking up thirty-four goals in the process. This was the first time the team had returned a perfect record in a major tournament qualifying group for thirty years, when Jupp Derwall's side would win eight games out of eight in qualifying for the World Cup in 1982.
The Euro 2012 campaign saw the Mannschaft start out as one of the tournament favourites, enhancing their reputation with three wins from three in the group phase – the first time any German side had achieved the feat. After an encouraging and emphatic 4-2 quarter-final victory against outsiders Greece, Löw's side would ultimately come unstuck in the semi-final against bogey side Italy – in a match that exposed some of the coach's frailties and ultimately his lack of confidence in his young side. The team had promised much and had look all set to deliver, but it proved to be one tactical rearrangement too far from the coach.
Many other countries would have looked positively on a coach that had reached one final and two semi-finals in three successive international tournaments, but for all Joachim Löw's success in moulding what is now seen as a fashionably good and dynamic young squad the fact is that a major trophy remained elusive. Going into the World Cup in Brazil in 2014 Germany would be one of the favoured teams, but with playing on Brazil home soil many would be looking at a semi-final place at best.
However it was in Brazil where Joachim Löw would finally break his tournament duck, and remove the label of "the nearly man".
Things would not start well. Pre-tournament form would be patchy at best as the coached look at implementing a more Spanish-style 4-3-3 with captain Philipp Lahm at the centre of the defensive midfield, and although the team would dispatch Armenia with a second-half goal fest in their final home game before flying out to Brazil, expectations would sink even further in some sections of the German media. To make matters even more complicated for the coach, the injury list would just keep on growing, culminating in the injury to key man Marco Reus during that final warm-up friendly.
The twenty-three man squad would arrive at the team's base camp in Brazil in good spirits however, and much of this would be down to the coach would would create and engender a feeling of genuine community and camaraderie. On the pitch things would start well with a 4-0 demolition of the group's danger team Portugal, but messy 2-2 draw with Ghana and a solid but inspiring 1-0 win over the United States would see the media once again start sharpening their knives as the team appeared to stagger into the knockout phase. The whetstones would remain on the workbench following the second phase match against Algeria, where despite a dreadful defensive display against an energetic but thankfully profligate opponent the Mannschaft would just about squeeze into the last eight after extra time.
Following the narrow win over the Algerians, Löw found himself standing at a crossroads. Earlier during the tournament he had made it clear that he would stick with his decision to play 4-3-3 with Philipp Lahm in midfield "to the end", and his continuing to hold onto this position would be the subject of much heated discussion in the German media. With Germany facing a far more dangerous French team in the last eight, the intransigent and bloody-minded Löw looked to be heading out onto the deck with his sword firmly in hand and ready to fall on it should things not go his way.
At this point, things turned around completely. When the team was announced ahead of the quarter-final, there was a far more familiar 4-2-3-1 with Lahm back at right back and both Sami Khedira and Bastian Schweinsteiger in the defensive midfield. Had the coach buckled and given in to media pressure? Judging by his actions over the previous eight years, this was clearly unlikely. As it turned out, the decision was the result of much thinking and discussion in the German camp. Löw was always going to end up in a Catch-22 situation: either way, defeat would see him either having to defend his intransigence on one hand or a weakness on the other. But Joachim Löw had always been his own man, and this time would make the right decision.
The 4-3-2-1 would hold firm against the dangerous French, and an old-fashioned set-piece goal from centre-back Mats Hummels settled the issue early on. Despite one scare right at the death it would be a solid display. Löw had guided Germany to a record-setting fourth successive World Cup semi-final, but the best was still yet to come. In a match that will probably be seen as the defining moment of his time in charge, Brazil would be subjected to a morale-shredding defeat that at times beggared belief. On what was a balmy – and barmy – evening in Belo Horizonte, the hosts – unbeaten at home in almost four decades – would fall victim to the a free-flowing, confident German team that oozed the coach's philosophy of stylish yet clinical football.
The happiest man on the pitch would be the coach, but from his demeanour nobody would have known it.
If the slicing and dicing of Brazil had been the game that would define the Löw era, the more hard-fought final against Argentina at the Estádio do Maracanã would deliver the trophy all of Germany had yearned for. The DFB's faith in the Löw and extend his contract to 2016 had been vindicated, and the quiet man from Freiburg joined Sepp Herberger, Helmut Schön and Franz Beckenbauer as a World Cup winning coach.
Following a sketchy qualifying campaign that was largely blamed on the hangover following the World Cup – as well as a number of significant player retirements including skipper Philipp Lahm – Germany made it to the finals in France. In the months approaching the tournament, things were not great. As well as injuries to key players, the poor form continued; the team had found it difficult to square goals, and following some patchy warmup performances the optimism the followed the triumph in Rio had largely been tempered.
Germany, however, were the ultimate tournament team. A 2-0 win over Ukraine in their opening game got things off to a winning start, but a lucky goalless draw against Poland forced the coach to do away with his "false nine" tactic and restore striker Mario Gómez to the starting lineup. The move worked, and a 1-0 win over Northern Ireland – a game that would have seen many more goals were it not for the opposition goalkeeper – was followed by a far more convincing 3-0 win over Slovakia – a team that had inflicted a 3-1 defeat on Jogi's Jungs in their penultimate warmup match in a soggy Augsburg.
The quarter-final pitted Germany again old rivals Italy, and finally the long years of hurt were cast aside. At the ninth attempt, the Azzurri were finally beaten in a major competitive international; it took a crazy and nerve-shredding penalty shootout to achieve the feat – in which Thomas Müller became the first German player to miss in a shootout since 1982 – but the Mannschaft were once again in the last four. It was Germany's fifth straight semi-final under Löw – a staggering achievement when one considers that England have only reached four major tournament semi-finals in their entire history – going through seventeen managers in the process.
Next up were hosts France in Marseille, a task that proved just too much of a hurdle for a German side that suddenly had to deal with a spate of injuries and the suspension for Mats Hummels – the scorer of the winner against Les Bleus in Brazil two years earlier. Germany dominated the game for long spells and looked as though they would overwhelm the French, but in the end a distinct lack of firepower up front proved to be their undoing. An unfortunate penalty for the home side turned the game completely on its head on the brink of half-time, and a second with just under twenty minutes remaining proved decisive.
Germany continued to fight, but it was one of those nights where everything conspired against them. Unlike in 2012 the coach had done little wrong, but was still left cutting a forlorn and frustrated figure on the touchline. The "Maharishi Jogi" has certainly had his fair share of detractors, but he could rightly be proud of himself and his team. With his contract set to run at least until the World Cup finals in Russia in 2018, Löw certainly deserves to have a crack at being at the first Nationaltrainer to retain the famous golden trophy.
Whichever way you look at the numbers, Löw's records are impressive. Following the 2-0 win in the World Cup qualifier against Northern Ireland in October 2016, he had won 94 of his 141 matches in charge – or 95 if you include the penalty shootout victory over Italy as I choose to do. Either way, it made "Jogi" the most successful coach in the long and rich history of the Nationalmannschaft.
Löw's winning percentage also puts him top of the pile. While Herberger took 167 matches to reach the figure of 94, he has taken just 141 (or 140, again, dependent on the penalty shootout as a win issue). In terms of winning percentages, Löw has a 67.4% winning record, 0.2% ahead of Jupp Derwall, who was in charge for less than half the number of matches between 1978 and 1984.
In competitive internationals, Löw's record stands at seventy-three wins, ten draws and just nine defeats – a winning rate of just under eighty percent, far and away ahead of his predecessors. On 19th June 2017 in the FIFA Confederations Cup 1st Phase match against Australia in Sochi, Löw registered his 100th victory as Nationaltrainer. (Including the penalty shootout victory against Italy at Euro 2016).
International Career Record as Player
n/a
Tournament Record as Player
n/a
Career Record as Coach
First match as coach: 16.08.2006 3-0 (3-0) v Sweden, Gelsenkirchen (B. Schneider 4., Klose 8., 44. / –)
Latest match as coach: 25.06.2017 3-1 (0-0) v Cameroon, Sochi (Demirbay 48., Werner 66., 81. / Aboubakar 79.)
Total matches: 150 (as of 25.06.2017)
Wins: 101* (67.3%)
Draws: 26 (17.4%)
Defeats: 23 (15.3%)
Goals For (goals scored per game): 364 (2.43)
Goals Against (goals conceded per game): 140 (0.93)
Competitive matches: 92
Wins: 73* (79.3%)
Draws: 10 (10.9%)
Defeats: 9 (9.8%)
Goals For (goals scored per game): 250 (2.72)
Goals Against (goals conceded per game): 68 (0.74)
Friendly matches: 58
Wins: 28 (48.3%)
Draws: 16 (27.6%)
Defeats: 14 (24.1%)
Goals For (goals scored per game): 114 (1.97)
Goals Against (goals conceded per game): 72 (1.24)
Results Breakdown by Year
*matches listed as wins include the penalty shootout victory against Italy (UEFA European Championship Semi-Final, 2016)
Tournament Record as Coach
UEFA European Championships Austria/Switzerland 2008 – Runners-up
FIFA World Cup South Africa 2010 – Third place
UEFA European Championships Poland/Ukraine 2012 – Semi-Finalists
FIFA World Cup Brazil 2014 – Champions
UEFA European Championships France 2016 – Semi-Finalists
FIFA Confederations Cup Russia 2017 – Ongoing
FIFA World Cup Russia 2018 – Ongoing