Tournament Overview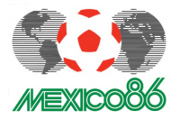 The thirteenth edition of the FIFA World Cup was originally to be held in Colombia, who pulled out in 1982 for economic reasons; it was instead awarded to nearby Mexico, making it the first country to host the tournament twice.
After all of the earlier problems, it appeared that the entire tournament had somehow been cursed – less than nine months before it was due to begin Mexico was struck by a severe earthquake that threatened to derail things entirely.
However the Mexican people picked themselves up, dusted themselves down and hosted what turned out to be a magnificent tournament, with Mexico City's impressive and refurbished Estadio Azteca packing in crowds of over 100,000. The tournament will forever be associated with Argentina's inspirational captain Diego Maradona, who showcased his abundance of talent and skill, yet still managed to find enough moments to show the watching world why he is both loved and loathed in equal measure.
The tournament itself, like that in Spain four years earlier, saw twenty-four teams split into six groups of four; however the second phase was changed, with the two top-placed teams in each group being joined by the four best third-place teams in a knock-out round of sixteen, as opposed to the rather curious three-team "mini group" system that had been employed in 1982.
A total of fifty-two matches were played between 31st May and 29th June 1986, with a total of 132 goals being scored at an average at 2.54 per match. Twelve venues in nine host cities were used.
Qualifying Campaign and pre-tournament build-up
Germany (at the time "West" Germany) easily qualified for the 1986 finals in Mexico, although they did stutter a little at the end of the campaign having won their first five games. They played five friendly internationals in the spring and summer of 1986 before heading off to Mexico – a 2-1 away defeat to Italy was followed by an impressive 2-0 win over Brazil in Frankfurt and a more workmanlike 1-0 victory against Switzerland in Basel.
The last two warm-up matches, both at home, produced something of a mixed bag: a 1-1 draw against Yugoslavia followed by an emphatic 3-1 victory over the Netherlands, with Rudi Völler scoring twice.
Germany's Tournament in brief
Despite the good run of results in the lead up to the World Cup, things had been far from rosy in the German camp. According to Harald Schumacher the atmosphere at the training facility at Kaiserau in Austria had been "miserable"; Nationaltrainer Franz Beckenbauer had been finding it difficult to keep the team in order without resorting to insults or foot-in-mouth comments, the squad had separated into a number of distinct cliques, and there had been a potentially morale-sapping spat between Schumacher and the then Nationalmannschaftskapitän Karl-Heinz Rummenigge. Even after the tournament had begun things were not helped by the divisive presence of reserve goalkeeper Uli Stein, who soon found himself on the plane back home after personally insulting the coach.
The tournament itself saw Beckenbauer's side start with a sluggish but well-deserved 1-1 draw against a highly defensive Uruguay side, before they came from behind to beat Scotland by the odd goal in three in what was a must-win game. With other results and the tournament format working out in Germany's favour, the third group game against Denmark proved to be of little significance even though they lost 2-0 and progressed to the second phase with a 1-1-1 record.
The knock-out stage of the tournament saw a Germany side that was clearly short on ideas but with strength of character in abundance. They were given a severe test by minnows Morocco in the second phase before a late free-kick from Lothar Matthäus settled matters, and were taken the distance by hosts Mexico where the tie was decided on a penalty shoot-out after a goalless stalemate. Perspiration overcame inspiration as a solid semi-final display saw off the much-fancied France, but even pulling the scores back level from being 2-0 down could not prevent the Mannschaft from overcoming an inspired Argentina in the final.
Germany's performance in Mexico was a display in good old-fashioned German values of solidity, professionalism and tactical nouse. The squad was from far from being a world beating one, but they reached the final when other more fancied nations had long since fallen by the wayside. They took each opponent as they came and played each game on merit – a tactic best illustrated in the semi-final against a French side that had disposed of hot favourites Brazil.
Beckenbauer's men saved their best football for the latter part of the final itself, and were perhaps unlucky to be caught flat-footed so soon after they had done all of the hard work in dragging themselves back into a game that even the most diehard supporter would have long since given up on.
Never was that old adage "don't discount the Germans" as true as it was in Mexico.
Tournament Matches
v Uruguay First Phase Group E, Querétaro, 04.06.1986 View Report »
v Scotland First Phase Group E, Querétaro, 08.06.1986 View Report »
v Denmark, First Phase Group E, Querétaro, 13.06.1986 View Report »
v Morocco, Second Phase, Monterrey, 17.06.1986 View Report »
v Mexico, Quarter-Final, Monterrey, 21.06.1986 View Report »
v France, Semi-Final, Guadalajara, 25.06.1986 View Report »
v Argentina, World Cup Final, Mexico City, 29.06.1986 View Report »