UEFA European Championship Second Qualifying Phase/Quarter-Final 1st Leg
Empire Stadium, Wembley, 29.04.1972


3-1 (1-0)
Hoeneß 26., Netzer pen 85., Müller 88. / Lee 77.
England: Banks – Madeley, Moore (c), Hunter, Hughes – Bell, Ball, Peters – Lee, Chivers, Hurst (Marsh)
Germany: Maier – Höttges, Breitner – Beckenbauer (c), Schwarzenbeck, Wimmer – U. Hoeneß, Netzer, Grabowski, G. Müller, Held
Colours: Germany – green shirts, white shorts, green socks; England – white shirts, blue shorts, white socks
Referee: Robert Héliès (France)
Assistants: Michel Kitabdjian, René Vigliani (France)
Yellow Cards: – / –
Red Cards: – / –
Attendance: 96,800
Match Programme Details
The official match programme for the first leg of the 1972 European Championship last-eight playoff at Wembley was a nineteen-page publication in full colour. Slightly larger than A5 size and costing ten pence, the cover features an image from the World Cup quarter-final played two years earlier in Mexico, with England skipper Bobby Moore taking on Hannes Löhr.
The programme contains the usual information – player pen-portraits, and a collection of facts and figures; the size of the programme means that there are no articles or reports of any great note.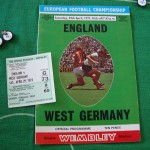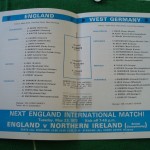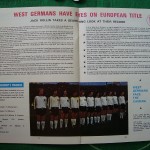 Aspect: Portrait
Dimensions: 250 x 170 mm
Numbered Pages: 19
Language(s): English
Match Report
Germany's astonishing comeback in the heat of Mexico in 1970 had clearly shifted the balance between the two teams in terms of results, but the encounter two years later in the European Championship second qualifying phase playoff – effectively a two-legged quarter-final – would signal a major change in fortune for both teams on the international stage. Once again it would be a battle between the tried and tested methods of Alf Ramsey and the expansive and innovative tactics of his adversary Helmut Schön, but this time around the result would be far more conclusive.
The Germans arrived at Wembley with a side brimming with talent: there was the style and grace of skipper Franz Beckenbauer, the dynamism and at times sheer audacity of midfielder Günter Netzer, and Der Bomber Gerd Müller – a man who needed no further introduction. There was however something of a dark cloud surrounding the team: less than ten years after German football's first tentative steps into the professional era, it found itself embroiled in a major scandal that had widespread implications. Dodgy transfer deals, taped conversations, bribery and thrown matches were but the tip of the iceberg, topped only by the utter cluelessness of DFB officials, threatened the entire credibility of the Bundesliga.
In what soon became known as the Bundesligaskandal, over fifty players – including most of the Schalke 04 team – were promptly banned. This number included five members of the 1970 World Cup squad: Klaus Fichtel, Reinhard "Stan" Libuda, Max Lorenz, Manfred Manglitz and Bernd Patzke. Schalke pair Fichtel and Libuda – both of whom had starred in the León quarter-final – would have been expected to be on the plane to England in April 1972, but instead saw an end to their international careers. On top of these losses to the squad, Helmut Schön was also missing a number of established players through injury, among them midfield schemer Wolfgang Overath and defensive stalwart Berti Vogts.
Sir Alf Ramsey's England side meanwhile had continued to rest on their laurels: their quarter-final exit in Mexico had been seen by many as unlucky, and the conclusion was that there was no real reason to move away from the results-driven style that was attritional, aggressive and unattractive. Moreover since the defeat in 1970 England had gone unbeaten in ten games, lending further credence to the notion that they had been justified in continuing with their outdated tactics – and eschewing the modern approach that had been adopted, developed and mastered by many of their European rivals.
In front of a packed Wembley on a Saturday evening, what could be best described as the "Ramsey Delusion" was summarily exposed and unravelled, as the chickens finally came home to roost.
Clad in their green and white change strip, the Germans set the pace from the off – throwing down the gauntlet to a home side that looked sluggish and ordinary in comparison. Inspired by the dynamic midfield playmaker Günter Netzer, Germany produced wave after wave of attacks: one moment there would be a series of quick, short passes and the next would see the buccaneering Netzer charge three-quarters of the way down the field deep into the opposition half. Before the crowd had even settled down Gerd Müller was already in the thick of the action, picking up a perfect Netzer pass before stabbing the ball towards goal where it was pushed away for a corner by Gordon Banks. Netzer and Herbert Wimmer were running rings around their midfield counterparts, Müller was lingering with dangerous intent, and the unflappably elegant Franz Beckenbauer was bossing things from the back in his own inimitable style.
It didn't take long for Helmut Schön's side to take the lead, and it was that man Beckenbauer who started off the move. The skipper laid the ball out to Wimmer, who found Siggi Held on the left flank. The Offenbach man's first-time cross into the box was intercepted by Bobby Moore, but the England captain failed to clear and allowed the ball to fall to Müller, who nudged the ball left to Held who quickly played it back to the edge of the England area and into the path of the advancing Uli Hoeneß. Hoeneß' right-footed shot took a slight deflection off Norman Hunter, leaving Banks flat-footed; the England 'keeper could only look on helplessly as the ball hit the back of the net.
The men in green kept streaming forward in search of a second goal, but found themselves thwarted. Jürgen Grabowski was unlucky not to win a penalty when he found himself at the sharp end of an Emlyn Hughes challenge, and not long after that he shot wide when he should have at least got the ball on target. The one-goal lead was more than deserved, but it was no real reflection of the balance of play: on another evening, the Mannschaft would have been at least three goals to the good.
Germany kept pressing in the second half – and were denied a second clear penalty as Hunter scythed down Müller when Der Bomber looked set to pull the trigger. For all the fantastic build-up play and neat passing the second goal that would have killed off the game didn't come – and as is usually the case in this mysterious game called football, a side that had clearly been outplayed were allowed to come back into a game that should have been over long before half-time. With thirteen minutes left on the clock, Colin Bell delivered a cross-cum-shot into the box, which was only parried by Sepp Maier in the German goal. Bell's Manchester City team mate Frannie Lee bundled in the equaliser, levelling the scores but still leaving Helmut Schön's side with the advantage of the away goal. It was a goal that perhaps never should have been allowed to stand – England had only been able to regain possession courtesy of a particularly nasty foul by Alan Ball on Herbert Wimmer, with the French referee seeing fit to nonchalantly wave play on.
Some might have expected Germany to shut up shop with just over ten minutes to go, but conceding what must have felt like a harsh equaliser merely encouraged them to up the ante and continue to force the pace. With five minutes left the referee finally spotted an English foul, as Siggi Held was desperately and very obviously scythed down in the box by Bobby Moore. Netzer placed his penalty kick well to Banks' right, but even then the England 'keeper managed to get a hand on the ball. Unfortunately for Banks he was only able to push it against the inside of the post as Germany retook the lead.
It didn't end there. When Held caught defender Emlyn Hughes dawdling, he easily disposessed him and laid the ball out to Hoeneß on the right. The Bayern man checked and made his way towards the edge of the box before delivering a sharp pass to Gerd Müller, who trapped the ball with his left foot before turning on a Pfennig to lash a low right-foot shot to Banks' right. It was a typical Müller strike, finished with clinical aplomb as a group of defenders were charging in from all directions – as ever, he made it look a lot easier than it actually was. Only one man in the world could trap, turn and shoot like Der Bomber – and that was Der Bomber.
3-1 was the final score, though it could very easily have been seven or eight. It was the Mannschaft's first win on English soil in what was their fifth attempt – breaking a duck that had stretched back forty-two years – and it was also England's first defeat at home for twenty games, the last being a 3-2 reverse at the hands of Scotland in 1967. Germany's win was also only the second-ever victory on English soil for any team from outside the British Isles, the first being Hungary's famous 6-3 triumph at Wembley in 1953.
England had been simply outplayed, and no excuses could be offered by the management for not just the result but the performance as a whole. An approach where the ends justify the means only works when those ends are met: when they are not, the means are more often than not exposed completely. Had England somehow been able to manufacture a result things might have continued to tick along, but their being taken apart on their own turf simply showed them up as footballing dinosaurs.
The performance left Alf Ramsey and his team with nowhere to hide – something that was not lost on the English press, who at long last were now free to lay into the coach's negative results-oriented tactics. Observer journalist Hugh McIlvanney in particular laid it on nice and thick:
"…what the Germans did was not that they won, bit that they won with style, by playing superb, creative, adventurous football. The greatest criticism to be made of Ramsey's England is that their really memorable performances, the days on which they overwhelmed the opposition with brilliance rather than grinding them down with dour efficiency, could probably be counted on the fingers of one hand.

It is that truth that is behind the wave of resentment which has risen from England's failure last weekend. Cautious joyless football was scarcely bearable even while it was bringing victories. When it brings defeat there can be only one reaction." [1]
This would be confirmed in the return leg, where both the attitude and performance of Ramsey's side could be described as little more than a disgrace.
Cumulative Record
Home: played 8, won 1, drawn 2, lost 5. Goals for 11, goals against 23.
Away: played 6, won 1, drawn 0, lost 5. Goals for 6, goals against 21.
Neutral: played 1, won 1, drawn 0, lost 0. Goals for 3, goals against 2.
Overall: played 15, won 3, drawn 2, lost 10. Goals for 20, goals against 46.
Competitive: played 3, won 2, drawn 0, lost 1. Goals for 8, goals against 7.