Tournament Overview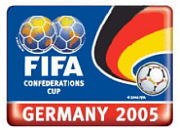 In what had been unofficially billed as the dress rehearsal for the FIFA World Cup to be held in Germany the following year, the 2005 FIFA Confederations Cup was a highly successful and well-organised tournament, attracting large crowds and generating plenty of enthusiasm for what was a young and exciting German side.
The tournament featured eight teams: hosts Germany, World Champions Brazil, European Champions Greece, Copa América runners-up Argentina, CONCACAF Gold Cup winners Mexico, African Nations Cup winners Tunisia, Asian Cup winners Japan and 2004 OFC Nations Cup winners Australia.
Jürgen Klinsmann's new look Mannschaft would fall to eventual winners Brazil at the semi-final stage, but didn't hide their attacking intent at any stage – they scored no less than fifteen goals in their five games and were light years away from the side that had flopped so badly at the European Championship finals the previous year. This was clearly not the same side that couldn't hit a barn door from five yards against Latvia.
As a player, Klinsmann had been blessed with an abundance of pace and skill – qualities that he placed great emphasis on as coach. His techniques and at times leftfield approach did not impress everyone, but he ploughed on nevertheless – supplementing his coaching team with a number of hand-picked fitness specialists, dieticians and psychologists. While Klinsmann provided the public face of the coaching team, he employed the respected but largely unheralded tactician Joachim Löw – who had been on the coaching team at Klinsmann's former club side VfB Stuttgart – to fine-tune things on the training ground and on the pitch.
Klinsmann had been under serious pressure ever since he had taken the post of Nationaltrainer, but a series of excellent performances in front of increasingly enthusiastic home crowds did much to increase public confidence in both the coach and his team. There would still be plenty of work to do and Klinsmann would continue to have his critics in the remaining months leading up to the World Cup finals the following year, but the seeds had been sown for what would be a spectacular revival for the Nationalmannschaft.
Tournament Matches
v Australia First Phase Group A, Frankfurt, 15.06.2005 View Report »
v Tunisia First Phase Group A, Köln, 18.06.2005 View Report »
v Argentina, First Phase Group Group A, Nürnberg, 21.06.2005 View Report »
v Brazil, Semi-Final, Nürnberg, 25.06.2005 View Report »
v Mexico, Third Place play-off, Leipzig, 29.06.2005 View Report »