Tournament Overview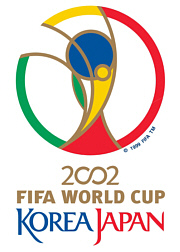 The seventeenth staging of the FIFA World Cup saw the first – and so far only – joint hosting effort with the tournament being held in South Korea and Japan; it was also the first finals tournament to be hosted outside of either Europe or the Americas. With the award of the hosting rights to Korea and Japan FIFA's denizens had truly achieved their aim of making World Cup a truly global tournament, with games being played in a number of hi-tech stadia including the futuristic Sapporo Dome with its now famous retractable surface.
The high profile of the two host countries was not reserved to the quality of the facilities on offer; both home teams reached the knock-out stages of the tournament for the first time in their respective histories, with the Koreans progressing to the semi-finals with what was an amazing run of results – though some might argue that many of their achievements had come with the assistance of a number of friendly officials and suspect decisions.
While it would be fair to say that the Koreans were highly successful in winding up their Latin opponents – Portugal in the group phase and then Italy and Spain in the knock-out rounds – they eventually came unstuck when they met what was a highly professional German side that surpassed all expectations to reach a record-breaking seventh World Cup Final.
As in France four years earlier, there were thirty-two teams in eight groups of four, with the top two progressing to the second knock-out phase; all of the knock-out matches, like in the previous tournament, were subject to the golden goal extra time rule. A total of sixty-four games were played between 31st May and 30th June, with 161 goals being scored at an average of 2.52 per match; a massive twenty different stadiums in twenty host cities were used, with ten in each of the two host countries.
Germany and Brazil had featured in a dozen World Cup Finals between them, but amazingly they had never even crossed each others' paths at this level until they met in Yokohama on 30th June 2002. Germany had scored fourteen goals and had conceded only one in reaching the final, but it was here where they finally fell against a Brazilian inspired by Ronaldo, who more than made up for his mysterious absence from the 1998 final.
Qualifying Campaign and pre-tournament build-up
Germany's qualification campaign for the 2002 tournament started magnificently, but threatened to come off the rails completely as the final straight approached. After going unbeaten for six games including five wins, Rudi Völler's side simply fell apart in their final two home fixtures, winning only a single point to fall into the playoff spot behind a resurgent England side that had inflicted a crushing 5-1 hammering of the Mannschaft in Munich. Thankfully form picked up again when it mattered as the Ukraine were dispatched 5-2 over the two legs.
Six friendly internationals were played in 2002 as the finals approached, which produced a rather bizarre mixed bag of results. The half-time break in the first game saw the Mannschaft 1-0 down at home to Israel, before they banged in seven goals in an astonishing second-half display with Miroslav Klose scoring a hattrick. This goalfest continued with a 4-2 romp over the United States, before they drew a blank against Argentina who fashioned a single-goal win in Stuttgart.
Three fixtures were arranged for the month before the trip to Asia, with the first against Kuwait producing another seven German goals with Oliver Bierhoff taking his turn to score three. An away trip to Wales then saw Völler's side slump to 1-0 defeat before the final warm-up game in Leverkusen against Austria, where the home fans were treated to yet another impressive display as Germany chalked up a 6-2 win, Klose scoring the third German hattrick in six games and his second.
Out of its six pre-tournament friendlies in 2002, Germany had won four – scoring a staggering twenty-four goals in the process – while losing the other two, both by a goal to nil. It seemed to be that one of two German teams would run out onto the pitch – one that could score goals at will and another that couldn't hit a barn door from ten yards.
Germany's Tournament in brief
The 2002 campaign could not have got off to a better start: Rudi Völler's side were hot favourites to beat Saudi Arabia, but nobody expected the opposition to be blown away with such ease as the Mannschaft racked up eight unanswered goals – their biggest ever World Cup finals victory. A 1-1 draw against the Republic of Ireland was followed by a 2-0 win against Cameroon despite being reduced to ten men, and Germany were cleanly through to the second phase with seven points from their three games. Playing in his first World Cup finals, striker Miroslav Klose had scored five goals in the three first phase games – all with his head.
The second phase saw a first-time encounter against Paraguay, who immediately adopted a defensive approach to the match. The South Americans were clearly on a mission to take the game to extra time, and the tactic almost paid off until Oliver Neuville latched onto a pinpoint Bernd Schneider cross with two minutes of normal time left on the clock.
Having been eliminated at the quarter-final stage in both 1994 and 1998, Germany were determined not to make it a hattrick of failures against an energetic United States; in what was a close game where Germany got a couple of lucky breaks, a Michael Ballack header six minutes from half-time separated the two teams. It was that man Ballack who also settled the issue in the semi-final against hosts South Korea, bringing the Koreans' magnificent run to an end and putting Germany into yet another World Cup Final. The win came at a cost however, with Ballack picking up a second yellow card that ruled him out of what would have been the biggest game of his career.
Despite having a squad that was lacking in overall quality, a combination of simple tactics and a number of lucky breaks was to get the Mannschaft to a record seventh World Cup final in Yokohama. While the German media had been highly critical of the dour tactics, this negative feeling was not matched by the fans themselves, who were happy to see a team that had not been given much hope of progressing beyond the quarter-finals continue to defy the odds.
Many critics outside Germany had made a point of noting that Germany's path to the final had been laughably easy – three 1-0 wins over Paraguay, the United States and South Korea – but as the old adage went, you can only beat what is placed in front of you. While the shiny supercars had long since run out of petrol, spun off the road or crashed into a tree, Rudi Völler had carefully guided his rusty old Trabi towards the finishing line. It may have coughed and spluttered for most of the way with the gears being well and truly crunched, but was still on the road when the likes of France, Italy, Spain and England had long since departed.
Völler's side had scored fourteen goals in reaching the final and had conceded only one – a defensive record that had much to do with 'keeper Oliver Kahn. Their meeting against Brazil would be the first time the two sides had ever met in World Cup competition, an amazing fact given that one of the two teams had reached eleven of the previous twelve finals – the sole exception being 1978. In what would be the ultimate irony, a game that had produced little in the way of opportunity for either side was opened up after sixty-seven minutes when Kahn could only parry a Rivaldo shot, gifting Ronaldo with an opportunity he didn't waste. When the buck-toothed maestro added a second thirteen seconds later, it was all over.
Tournament Matches
v Saudi Arabia First Phase Group D, Sapporo, 01.06.2002 View Report »
v Republic of Ireland First Phase Group D, Ibaraki, 05.06.2002 View Report »
v Cameroon, First Phase Group Group D, Shizuoka, 11.06.2002 View Report »
v Paraguay, Second Phase, Seogwipo, 15.06.2002 View Report »
v United States, Quarter-Final, Ulsan, 21.06.2002 View Report »
v South Korea, Semi-Final, Seoul, 25.06.2002 View Report »
v Brazil, World Cup Final, Yokohama, 30.06.2002 View Report »