Friendly International
Wembley Stadium, Wembley, 13.10.1982


2-1 (0-0)
Rummenigge 73., 82. / Woodcock 85.
England: Shilton – Mabbutt, Thompson, Butcher, Sansom – Hill, Wilkins (c), Armstrong (80. Blissett), Devonshire – Regis (80. Rix), Mariner (80. Woodcock)
Germany: Schumacher – Kaltz, Strack, Kh. Förster (5. Hieronymus), B. Förster – N. Meier (69. Littbarski), Dremmler, Briegel, Matthäus – Kh. Rummenigge (c), K. Allofs (89. Engels)
Colours: Germany – green shirts, white shorts, white socks; England – white shirts, blue shorts, red socks
Referee: Károly Palotai (Hungary)
Assistants: Miklós Nagy, Lajos Németh (Hungary)
Yellow Cards: – / –
Red Cards: – / –
Attendance: 68,000
Match Programme Details
The official match programme for the 1982 friendly international between England and Germany at Wembley is a slim publication consisting of thirty printed pages. Priced at sixty pence, the cover image features Terry Butcher and Bernd Förster in aerial combat during the World Cup second phase match between the two sides earlier that year in Madrid.
Contents include personnel details for both teams, the obligatory feature on England v Germany clashes through the years and a short review of England's campaign in Spain.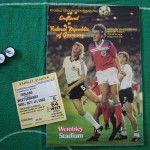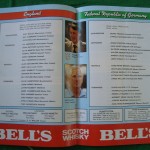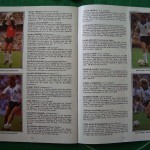 Aspect: Portrait
Dimensions: 247 x 166 mm
Numbered Pages: 30
Language(s): English
Match Report
When England entertained Germany at Wembley in October 1982, a mere four months had passed since their previous meeting in Madrid. It was all change for England: many of the old hands had retired, and the team found themselves under a new manager. The popular and highly-regarded Bobby Robson had led Ipswich Town to a decade at the top end of English football, and became the second man from the Portman Road club after Sir Alf Ramsey to take the top job.
Only five of Ron Greenwood's team that took the field in Madrid would make Robson's Wembley line-up four months later: Peter Shilton, Phil Thompson, Kenny Sansom, new skipper Ray Wilkins and Paul Mariner. New additions to the squad included Spurs defender Gary Mabbutt, Luton Town midfield Ricky Hill, the balding Southampton striker David Armstrong, West Ham midfielder Alan Devonshire and West Brom's bustling striker Cyrille Regis. Armstrong was making only his second international appearance in two years, Hill was making his first start after coming on as a substitute the previous month against Denmark, while Mabbutt was making his England debut; Devonshire and Regis meanwhile had found themselves back in favour having been left out of the World Cup squad.
The German team on the other hand was made up of largely familiar names. Paul Breitner had retired from international duty, Uli Stelike was injured and Hansi Müller was out of form and favour, but no fewer than seven of the Jupp Derwall's starting eleven had played in Madrid, with the addition of Pierre Littbarski who was on the subs' bench. The promising Lothar Matthäus was given a start and Euro '80 hero Klaus Allofs returned to the squad, which featured two new faces in the form of 1. FC Köln Gerhard Strack and Werder Bremen midfielder Norbert Meier.
Jupp Derwall's tactics and negative approach in Spain had won him few friends both in and outside Germany, but in guiding the team to the final he had clearly fulfilled his job remit. It meant that he would be paying his first visit to Wembley as Nationaltrainer, having been there in 1975 as assistant to his predecessor Helmut Schön.
Playing in a one-off natty long-sleeved green shirt with white pinstripes, Germany started brightly with some neat and crisp passing moves. However with less than five minutes gone, defender Karl-Heinz Förster found himself right at the very sharp end of the action. Having given away a free-kick which had almost resulted in an early opener for the home side, he embarked on a run into the centre circle and was clattered by Ray Wilkins. A team of first aid personnel and Jupp Derwall raced onto the pitch, and the stricken Förster was immediately stretchered off to be replaced by Hamburger SV's Holger Hieronymus.
Förster would eventually regain his fitness and return to the side, but – unknown to him at the time – it would be Hieronymus' third and final appearance for the Mannschaft. Somewhat ironically, the talented sweeper would suffer an horrific injury two years later, ending his career at the age of twenty-six.
The next quarter of an hour saw the game slow right down, with both sides prepared to shoot from distance rather than create anything more elaborate. But then with just over twenty minutes gone came the first piece of magic: after an England move had been broken down by Hieronymus, the ball was picked up on the left by Lothar Matthäus who charged towards the byline before delivering a pinpoint cross. It was met by Norbert Meier, whose charge into the box had been timed to perfection. His header was firm and on target, and was acrobatically tipped over the crossbar by Peter Shilton.
Another fifteen or so minutes passed with nothing of note, until out of the blue England came close to opening the scoring. Southampton's balding forward David Armstrong lofted a hopeful ball into the box, which the German defence failed to clear with any great conviction. It arrived at the feet of Gary Mabbutt at the edge of the D, and the Tottenham man's first time shot seemed to elude everyone including German 'keeper Toni Schumacher as it crashed into the base of the upright. As the first half approached the home side appeared to switch up a gear, but were unable to create any clear-cut opportunities. Cyrille Regis' weak shot on target was easily gathered by Schumacher, while Armstrong lasted high over the bar.
The second half started as the first had ended, with England on the attack. Cyrille Regis showed his pace and strength before testing Schumacher with a crisp low shot, and the German 'keeper was forced into making a spectacular reflex save from Ricky Hill's header after some great play from Alan Devonshire and Ray Wilkins on the right.
While England appeared to be getting more confident, Germany were looking sluggish and disjointed. Karl-Heinz Rummenigge was trying his best to inject pace into the attack but was finding himself increasingly isolated, while Klaus Allofs was looking increasingly anonymous. Yet with sixty-four minutes on the clock Jupp Derwall's side had perhaps their best chance of the half: picking up the ball deep in the England half, Allofs threaded a superb pass through the German defence to find Rummenigge, whose first-time shot went narrowly over the bar.
It was if someone had flicked the on switch: the side that had meandered through the first twenty minutes of the half suddenly seemed to find a new gear, as Rummenigge tested Shilton with a firm shot after picking up a misdirected Armstrong backpass. Sensing the change in momentum, Jupp Derwall sent on the sprightly Pierre Littbarski for the solid but unspectacular Meier.
The little 1. FC Köln man had an immediate impact, setting up Rummenigge for what was a superbly-crafted opening goal in the 73rd minute. The move was initiated by Klaus Allofs, who picked the ball up on the right of midfield and found Rummenigge, who quickly laid the ball back as Allofs continued his run. As the German skipper twisted and ran towards goal, Allofs thread the ball between two England defenders, finding Littbarski just outside the area. A deft touch with the outside of his right foot found the swiftly advancing Rummenigge, who raced ahead of his marker before lifting the ball over the advancing Shilton with the outside of his right boot. In what had been a largely unspectacular game, it was truly spectacular goal.
England manager Bobby Robson had no choice now but to chase an equaliser, and the game finally opened up as the action moved from one side of the pitch to the other. With ten minutes to go, Robson went from broke with a triple substitution, bring on Luther Blissett, Graham Rix and former 1. FC Köln striker Tony Woodcock on for Armstrong, Regis and Mariner.
The England substitutes had been on the field for not even two minutes when the killer blow arrived. Picking up the ball in the centre circle just inside his own half, Rummenigge twisted, advanced and found Littbarski on the left. Running wide of Gary Mabbutt, Littbarski swung in a cross which was met brilliantly by Rummenigge who slid in behind Terry Butcher with perfect timing to slice the ball across Shilton and into the back of the net. Once again it was perfectly crafted, and simply executed.
Robson's side had still not given up however, and Gary Mabbutt's firm header tested Schumacher who desperately scrambled the ball around the post for a corner. The Eckball found its way to Woodcock, who swivelled neatly before lashing the ball into the roof of the net past his former 1. FC Köln teammate.
The home team continued to press in search of an equaliser, but there would be no further opportunities for either side. When the final whistle blew it signalled Germany's second win at Wembley, just over ten years after the first. The teams would next meet three years later in the heat of Mexico City, this time with the Germans under a new coach.
Cumulative Record
Home: played 10, won 2, drawn 3, lost 5. Goals for 13, goals against 24.
Away: played 8, won 2, drawn 0, lost 6. Goals for 8, goals against 24.
Neutral: played 2, won 1, drawn 1, lost 0. Goals for 3, goals against 2.
Overall: played 20, won 5, drawn 4, lost 11. Goals for 24, goals against 50.