Tournament Overview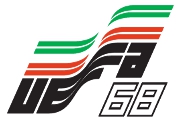 The first two UEFA European Championships – then the European Nations' Cup – took place in 1960 and 1964, but on both occasions the DFB had chosen not to take part; they did however choose to enter the 1968 competition, which by that time had been given its new name. Held in Italy, the 1968 European Championship represents the only occasion where Germany had not managed to qualify for a final tournament.
The way in which Helmut Schön's World Cup silver medal-winning side had failed to make the final four was somewhat surprising: drawn in what would have been seen as a fairly manageable three team group with Yugoslavia and Albania, they beat the Albanians 6-0 before splitting the points with the Yugoslavs who also beat the Albanians twice.
Going into their final fixture against the unfancied Albanians in Tiranë, Germany just had to win to pip the Yugoslavs and ensure qualification – but they could not break down the defence of a side that they had scored six against less than a year earlier as they were held to a goalless draw.
The dropped point in Albania meant that the Yugoslavs pipped the Mannschaft by a single point, before going onto the final where they lost 2-0 to hosts Italy.