Tournament Overview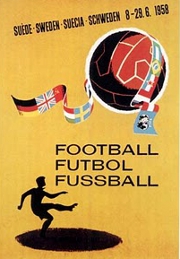 The sixth FIFA World Cup finals were hosted in Sweden in June 1958, and like the tournament in Switzerland four years earlier featured sixteen teams divided into four groups of four. Unlike 1954 with its curious seeded versus unseeded draw, groups were drawn on a geographical basis, which each team playing each other once over ninety minutes – with no extra time in the case of drawn matches, as had been the case in Switzerland. As in 1954, two teams from each group would qualify for the quarter-finals. 1958 saw Goal Average being introduced as a method to separate teams finishing on the same number of points – though this was only used in the first instance to determine first and second place, with the play-off method still being employed to separate second and third-placed teams on the same number of points.
Including play-offs a total of thirty-five matches were played over three weeks in June, with 126 goals being scored at 3.6 per match. As well as setting the record for the most number of games, Sweden 1958 also saw the setting of a new individual goalscoring record by Frenchman Just Fontaine, who scored a staggering thirteen goals in six matches – a record that still stands today.
Hosts Sweden – congtroversial conquerors of Germany in the semi-final – went on to lose 5-2 in the final to Brazil – making the South Americans the fourth country to win the trophy after Uruguay, Italy and Germany. Two of the goals in the Brazilians' impressive victory were scored by a certain Edison Arantes do Nascimento – better known as Pelé.
Qualifying Campaign and pre-tournament build-up
The four-year period between Germany's victory in 1954 and the 1958 competition in Sweden could best be described as ordinary; starved of competitive fixtures on account of their not having to qualify as holders, Sepp Herberger's side spent the best part of those four years cobbling together as many friendly fixtures as they could – with little real success.
In between their victory in Berne against Hungary and their opening fixture of the 1958 competition against Argentina Germany had played twenty-six games, winning only eleven of them – hardly the form of a team that had beaten the previously unbeatable Magical Magyars. When the squad arrived in Sweden in defence of their trophy, nobody gave them much of a chance – but like in 1954 and so many times since, tournament football brought the best out of them.
Germany's Tournament in brief
Not much had been expected of the Sepp Herberger's defending champions before the tournament began, but as has become so often the case the "tournament mentality" kicked in and they managed to put together a string of excellent results. Having disposed of the dangerous Argentinians en route to topping their first phase group, the Mannschaft then defeated a powerful Yugoslav side in their quarter-final before succumbing in controversial fashion to hosts Sweden – and Hungarian official István Zsolt.
With the German public still reeling after the semi-final in which they felt they had been robbed, the defeat in what was ultimately a meaningless bronze medal game against France was easily and quickly forgiven; the team were warmly welcomed home for the second World Cup in a row. While the rest of Europe was slowly being overtaken by what many saw as the spectre of professionism – a disease spawning the likes of the play-acting Swede Kurt Hamrin who had chosen to ply his trade in Italy – Herberger's amateur side were still holding their own. If Der Wunder von Bern had made the Nationaltrainer a legend, his craft and tactical nouse in steering what was admittedly a very ordinary side to the brink of a second successive final four years later simply confirmed his status.
Germany Tournament Squad List »
Germany Tournament Results and Overview »