Tournament Overview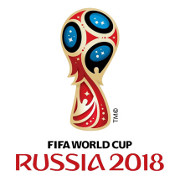 The 2018 FIFA World Cup finals will be held in Russia, the first time the country has hosted a major tournament. Despite the buildup being plagued by controversy involving both FIFA and the recent political record of the host country itself, the tournament looks set to take place as scheduled, with the draw being made on July 25th 2015 in St. Petersburg.
Since the 2002 finals the defending champion has not been provided with a free path into the finals, which means that unlike in 1958, 1978 and 1994 Germany have to go through the qualifying process. With the likes of Italy and France lurking in the second draw pool there was a threat of one of these tough old rivals appearing in the Mannschaft's group, but in the end Joachim Löw's side were given what looks like a fairly comfortable five opponents in the six-team Group C.
Despite the demand from some quarters for further expansion to the tournament the complement of teams will remain at thirty-two, with the process being the same as in in Brazil in 2014. Germany will be competing for one of thirteen UEFA slots: the nine group winners will qualify directly, and the best eight runners-up will go through a two-legged play-off to determine the remaining four places.
Germany have met all of their five group opponents in qualifying competition before, with some being far more familiar than others. Perhaps the greatest threat will come from the Czech Republic who were last grouped with the Mannschaft for the Euro 2008 campaign – as were group minnows San Marino – and an improving Northern Ireland side will be no pushover. Germany play Scandinavian dark horses Norway in the qualifying stage for the first time since 1953, while Azerbaijan are more familiar opponents, with the two teams being drawn together for the third time in the last four qualifying campaigns.
Tournament Matches
v Mexico First Phase Group F, Moscow, 17.06.2018 Summary »
v Sweden, First Phase Group Group F, Sochi, 23.06.2018 Summary »
v South Korea First Phase Group F, Kazan, 27.06.2018 Summary »