Tournament Overview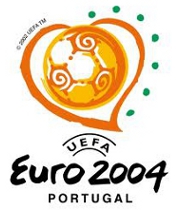 Euro 2004 saw Portugal play host to its first major international tournament, thus becoming the tenth different country to host or co-host the European Championship.
The number of finalists and tournament format was just the same as in 2000, but the golden goal rule – which had determined the final result in both 1996 and 2000 – was replaced with the silver goal, a slight adaptation that allowed for the extra time period in which the otherwise golden goal had been scored to be completed in order to avoid what some had seen as a rather harsh – and occasionally acrimonious – sudden-death finish.
The silver goal was arguably a rather weak compromise between the golden goal method and the tried and tested approach of playing two full periods of extra time, and it was to no great surprise dropped for the 2006 World Cup finals; the rule only affected one match at Euro 2004, when a Greek goal in the final minute of the first period of extra time in their semi-final against the Czech Republic settled the tie.
Portugal met Greece in the opening game on 12th June with the same two teams meeting in the final on 4th July; this was the first time that this had happened in the history of the event. Greece beat the hosts in both games, and in doing so won their first and so far only major international tournament; it was a remarkable achievement in that they had only qualified for two tournaments previously – the 1980s Euros and the 1994 FIFA World Cup – and had failed to win a single match on either occasion. Thirty-one matches were completed, in which seventy-seven goals were scored at an average of 2.48.
Qualifying Campaign and pre-tournament build-up
Germany's quest for a place in Portugal was straightforward if unspectacular; they went through their eight qualification games unbeaten, but only managed to score thirteen goals in eight games against opposition that could have been described as ordinary at best. In days gone by, a group consisting of Scotland, Iceland, Lithuania and the Faroe Islands would have been dispatched with ease.
The World Cup in 2002 had seen Rudi Völler successfully rework and patch up the mess that had been left by his predecessor Erich Ribbeck; this approach could only last so long however, and it was pretty obvious that more drastic long-term changes were needed for Euro 2004 and beyond. There were very few players of genuine quality available, and the only option open to Völler was to either stick with what was an ageing squad and muddle on through or risk fielding untried and inexperienced youngsters. Either way the coach couldn't win, and at times he came close to cracking in the face of an increasingly hostile media.
The friendly matches leading up to the tournament in Portugal were as usual something of a mixed bag – some deceptively good results bundled in with some real horror shows. 2004 started well enough with an last-gasp away win in Croatia and a convincing 3-0 home win over Belgium, but things really came unstuck when Völler's side was slaughtered 5-1 in Bucharest by a Romanian side that had not even made the Euro finals. With the press knives being sharpened the team put together two wins in the final series of warm-up matches, thrashing a weak Maltese side 7-0 in Freiburg – with Michael Ballack scoring four times – and beating Switzerland in Basel courtesy of two Kevin Kurányi strikes; however just as the knives were slowly being replaced in their sheaths, the final home game saw a disappointing 2-0 reverse against a very ordinary Hungarian team.
Germany's Tournament in brief
Having come into the tournament showing little in the way of tournament form, Rudi Völler's team started in a spirited fashion against their old rivals from the Netherlands. Having gone into the lead through a craftily-placed Torsten Frings free-kick, Germany held their own and deserved to take the three points – only to have them snatched away with less than two minutes to go when Ruud van Nistelrooy levelled the scores.
What was a creditable draw against the highly-rated Dutch was followed by a frustrating stalemate against tournament debutants Latvia, where Germany's almost total dominance counted for nothing. Latvia were not a bad side and had come close to upsetting the Czechs in their opening game, but the game should have been there for the taking for the Mannschaft. What is true is that the little bit of luck needed to win tournaments seemed to have deserted Völler's side – the slightest break either way in either game might have produced six points from their first two games instead of two.
The final group game against the Czech Republic left Germany needing a win to progress to the quarter-finals. Having already secured top spot in the group and resting a number of key players, the Czechs were looking to take things easy. Germany got off to the perfect start when Michael Ballack lashed in a brilliant left-footed shot to put them in front, but Marek Heinz's free-kick equaliser left things back in the balance at half-time. The second half once again illustrated the difference between having that little bit of luck and not – Ballack hit the post and saw Czech 'keeper Jaromír Blažek palm away Bernd Schneider's shot from the rebound, and a desperate clearance off-the line was followed by a superb block by Blažek from substitute Lukas Podolski.
Of course, one could have predicted what was going to happen next: Germany's desperate attempts to score the winning goal at one end led to it happening at the other, as Milan Baroš broke through to beat Oliver Kahn at the second attempt and kill the game – and with it Germany's hopes.
Tournament Matches
v The Netherlands First Phase Group D, Porto, 15.06.2004 View Report »
v Latvia First Phase Group D, Porto, 19.06.2004 View Report »
v Czech Republic, First Phase Group D, Lisboa, 23.06.2004 View Report »