Tournament Overview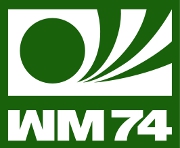 The tenth edition of the World Cup saw the tournament being hosted for the first time by Germany, who sought to win the title for a second time on home soil.
As in 1970 sixteen teams were separated into four groups of four with the top two qualifying for the next stage, but instead of progressing to a straight knockout round the eight qualifying teams would be divided again into two groups of four – with the top team in each of these second phase groups qualifying for the final.
The change in the format meant that six more fixtures were added to the schedule, taking the total number of matches from thirty-two to thirty-eight; apart from this there appeared to be no explicable reason for changing what had been a fair and efficient method. The increase in the number of games meant that the duration of the tournament was extended to just under a month, lasting from 13th June to 7th July 1974. Ninety-seven goals were scored in the thirty-eight games played at an average of 2.55, a far lower figure than in 1970.
The final in Munich's Olympiastadion saw the hosts overcome all sorts of internal wrangling to lift Germany's second world title, defeating a Dutch side that had been celebrated for its philosophy of "total football". The winner was scored by the great Gerd Müller, taking him clear of Frenchman Just Fontaine as the greatest World Cup finals goalscorer of all time – a record that would last until the tournament's return to Germany thirty-two years later when Brazilian Ronaldo scored his fifteenth goal.
Qualifying Campaign and pre-tournament build-up
As hosts Germany didn't have to qualify, instead having to fine-tune their form with a series of friendly matches between 1972 and 1974. Results were somewhat patchy, with 1973 producing a record of six wins, one draw and three home defeats against Argentina, Yugoslavia and then world champions Brazil.
The beginning of 1974 was not much better, with Helmut Schön's side opening the year with a defeat in Spain and a goalless draw in Italy; however as the tournament approached the team finally started to put things in the right place with three straight wins against Scotland, Hungary and Sweden.
Germany's Tournament in brief
Germany's start to the tournament was ordinary at best, and was best summarised by their 1-0 defeat to the German Democratic Republic in their final first phase group game. The Mannschaft had done enough to safely reach the second group phase, but the humiliation of losing to their eastern neighbours appeared to galvanise the side as prepared to take on far tougher opposition in the form of Yugoslavia, Sweden and a talented Poland side.
Three wins and seven goals later they were truly a team transformed – and in their third World Cup final against their rivals from the Netherlands.
Germany Tournament Squad List »
Germany Tournament Results and Overview »