The Tournament
International football's premier competition, the FIFA World Cup comes around every four years and captures the attention of billions around the globe. The tournament started on a small scale with thirteen teams in 1930; the finals were officially expanded to include sixteen finalists in 1934, which became twenty-four in 1982 and then thirty-two in 1998 as it has turned into what is arguably the most-watched global event.
Although what has become known as the FIFA World Cup was officially recognised in 1930 in its own right, the football tournaments in the Summer Olympics of 1924 and 1928 were classified as the first football open championships of the professional era: both of these competitions were won by Uruguay, which explains the otherwise curious presence of four "champion stars" on the Uruguayan crest. Prior to the professional era the first recognised intercontinental football tournament had been played at the 1920 Olympics, and had been won by Belgium.
Since its inauguration in 1930, only five teams have won the tournament on more than one occasion: Brazil have won it on five occasions (1958, 1962, 1970, 1994, 2002), Germany (1954, 1974, 1990, 2014) and Italy (1934, 1938, 1982, 2006) on four occasions and both Uruguay (1930, 1950) and Argentina (1978, 1986) twice. Three other nations have won it once: England (1966), France (1998) and Spain (2010).
The Trophy
The first FIFA World Cup trophy had been originally named "Victory" – its design featured Nike, the Greek goddess of victory – but it was later named after the competition's founder, Jules Rimet. After the Jules Rimet trophy had been won for the third time by Brazil in 1970 it was permanently awarded to that country as per Jules Rimet's instructions – being replaced for the 1974 tournament by the current trophy, the 18-carat gold FIFA World Cup designed by Italian sculptor Silvio Gazzaniga.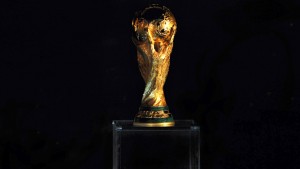 Although the FIFA World Cup trophy has been won on three occasions by the Nationalmannschaft (1974, 1990, and more recently in 2014), the organisation has stipulated that unlike its predecessor it will not be won outright.
Germany's Participation and Record
Germany has always been one of the leading teams in the tournament, and has qualified for every edition except 1930 – when like many other countries it chose not to take part – and in 1950, when the country was excluded by FIFA and banned from international competition following the end of the Second World War.
The Nationalmannschaft's record in the World Cup is impressive: they have qualified for the finals eighteen times – second only to Brazil – and have not failed to qualify since they were allowed back into the world footballing community in time for the 1954 tournament. Given that they did not enter the 1930 competition and had been excluded in 1950, Germany has qualified for every single edition of the FIFA World Cup they have entered. Two of these appearances were made as Germany before the war (1934-1938), ten as the Federal Republic of Germany or West Germany (1950-1990) and six since unification (1994-2014).
In their eighteen World Cup finals appearances the Schwarz und Weiß have reached the final itself on eight occasions – a record – winning it four times. They have reached the last four thirteen times – more than any other team in FIFA World Cup history – and have achieved a dozen podium finishes, also a record. In 2010 Germany moved ahead of Brazil in playing the most World Cup finals matches of any qualifying nation with a then total of ninety-nine, and in the historic semi-final against the Brazilians in Belo Horizonte in 2014 they would also overtake A Seleção on the goalscoring charts. Following their 1-0 victory over Argentina in the final, the German team have scored 224 goals in the tournament.
Having not entered the inaugural tournament in Uruguay in 1930, Germany's debut in world football's premier tournament four years later would see an immediate podium finish as they collected the bronze medal. With the exception of 1938 when the team's chances were stifled by political interference, it set a standard that every German team onwards was to follow. Having been excluded from the 1950 tournament after the end of the Second World War, the Nationalmannschaft would storm back into the world game four years later, winning their first World Cup in what would become known as Der Wunder von Bern.
A fourth-place in 1958 was followed by a relatively disappointing quarter-final exit in 1962, but the 1966 tournament in England saw a quickly-developing side make a second final appearance. A second third-place finish in Mexico in 1970 was then followed by a tournament on home soil where the Nationalmannschaft once again took themselves to the very top of world football. A rather forgettable last-eight exit in 1978 was to prelude a period that saw Germany live up to its well-earned reputation as a tournament team, particularly in 1982 and 1986 when they performed beyond all expectations to reach the final. By 1990 the team was back again at the top of its game, claiming a then record-equalling third world title in what was its third successive final and sixth in all.
After the euphoria of 1990 came two disappointing quarter-final exits; while for many countries reaching the quarter-finals might have been seen as an achievement, for Germany they were a bitter disappointment. As German football struggled to restablish itself at the turn of the millennium, the team once again slipped into tournament mode in 2002 as they reached their seventh final. The team that was defeated by Brazil was by no stretch of the imagination a world-beating outfit, but once again they had somehow managed to stay upright right until the very end when many arguably better teams had fallen by the wayside.
It was much the same story in 2006 when the tournament returned to Germany: having gone into the tournament with a sense of foreboding and an impending fear of humiliation, the team once again showed that they can always pull out the stops at the World Cup. Having ridden on the crest of a wave that finally crashed against a solid Italian wall in the semi-final, the team picked itself up again to claim third place – and with it the adulation of a nation that had once again started to love its football team.
Four years on and 2010 saw a new chapter in the story of German football, as the decision was finally made to move away from the rigid approach of the past – and with it embrace a style that was more brasilianisch than deutsch. Not much was expected of the young and arguably inexperienced Mannschaft that headed off to South Africa, but it soon became evident that these young players were still able to tap into the tournament mentality displayed by those that had gone before them. The play was more open and exciting, but the level of determination and sense of purpose was still the same as it had ever been: against all expectations, the youngest German side ever fielded in a major international competition again reached the last four – producing yet another third-place finish.
If in 2006 the German nation had started to fall in love all over again with its national team, in 2010 the whole world followed.
The seeds that had been sown in 2004 following their first phase exit at the European Championships would finally reach full bloom ten years later, when the squad coached by Joachim "Jogi" Löw would triumph in Rio de Janeiro's famous Estádio Maracanã. Having handed out that historic 7-1 thrashing to the hosts in the last four, an equally historic third World Cup Final meeting with old foes Argentina would end with Mario Götze's dramatic extra-time winner to secure the Mannschaft's first world title in twenty-four years – and its first as a united nation.
Qualifying Record
In over eighty years of competition since their first qualifier against Luxembourg in March 1934, the German side has only ever lost two qualifying matches, the first of these being in 1985 when they lost 1-0 at home to Portugal in qualifying for Mexico 1986. With their only other defeat being the infamous 5-1 drubbing in Munich by England, they have never lost a World Cup qualifying match away from home.
In all, the Nationalmannschaft have played a total of eighty-four World Cup qualifiers, winning 64, drawing 18 and losing two while scoring 249 goals and conceding just 66. At home their record shows forty-two games played with 32 wins, eight draws and two defeats with a goals record of 132-32, while away from home they have also played forty-two games, winning a staggering thirty-two and drawing ten with a goals record of 117-34.
Comparative Tournament Records
Only three teams have won the World Cup on three or more occasions: Germany, Brazil and Italy. The following chart shows the tournament record of these three teams from the first tournament in Uruguay in 1930: although Brazil (with five victories) and Italy (with four) have won the trophy on more occasions than three-time winners Germany, the Mannschaft's overall record is far more consistent, particularly since 1954 where they have reached at least the last eight on every occasion.
Key: 0 = DNQ; 2 = 1st Phase; 4 = 2nd Phase/Last 16; 5 = 2nd Phase/Last 12; 6 = Quarter-Finalist/Last 8; 8 = Semi-Finalist/Last 4; 9 = Third Place; 10 = Runner-Up; 12 = Winner. Germany's four tournament victories are marked A, B, C and D.
Germany's Tournament Summary
Uruguay 1930 (13 finalists) – Did not participate
Italy 1934 (16 finalists) – Third Place
France 1938 (15 finalists) – First Phase (ranked 10th)
Brazil 1950 (13 finalists) – Did not participate
Switzerland 1954 (16 finalists) – Champions
Sweden 1958 (16 finalists) – Fourth Place
Chile 1962 (16 finalists) – Quarter-Finalists (ranked 7th)
England 1966 (16 finalists) – Runners-up
Mexico 1970 (16 finalists) – Third Place
Germany 1974 (16 finalists) – Champions
Argentina 1978 (16 finalists) – Second Phase (ranked 6th)
Spain 1982 (24 finalists) – Runners-up
Mexico 1986 (24 finalists) – Runners-up
Italia 1990 (24 finalists) – Champions
USA 1994 (24 finalists) – Quarter-Finalists (ranked 5th)
France 1998 (32 finalists) – Quarter-Finalists (ranked 7th)
Korea/Japan 2002 (32 finalists) – Runners-up
Germany 2006 (32 finalists) – Third Place
South Africa 2010 (32 finalists) – Third Place
Brazil 2014 (32 finalists) – Champions
Russia 2018 (32 finalists) – First Phase (ranked 22nd)