UEFA European Championship Finals Group Phase
Stade du Pays de Charleroi, Charleroi (BEL), 17.06.2000


0-1 (0-0)
– / Shearer 53.
Germany: Kahn (c) – Babbel, Matthäus, Nowotny – Deisler (72. Ballack), D. Hamann, Jeremies (78. Bode), Ziege – Scholl – Kirsten (70. Rink), Jancker
England: Seaman – G. Neville, Keown, Campbell, P. Neville – Beckham, Ince, Scholes (72. Barmby), Wise – Shearer (c), Owen (61. Gerrard)
Colours: Germany – green shirts, green shorts, green socks; England – red shirts, white shorts, red socks
Referee: Pierluigi Collina (Italy)
Assistants: Sergio Zuccolini (Italy) Carlos Martin Nieto (Spain)
Fourth Official: Gamal El Ghandour (Egypt)
Yellow Cards: Jeremies, Babbel / Beckham
Red Cards: – / –
Attendance: 30,000
Match Programme Details
The large-size official match programme for the Euro 2000 group phase tie between Germany and England in Charleroi contains 128 pages, and was priced at 7,70EUR (around £6) or 17 Dutch Guilders/300 Belgian Francs. Three languages are used throughout: English, French and Dutch.
With the exception of the cover featuring the national flags of both England and Germany and fifteen or so pages focussing on the two teams, the programme is essentially the same as for all the other first phase matches. This generic content includes features on all of the sixteen competing teams as well as the cities and stadia.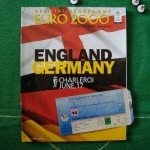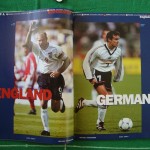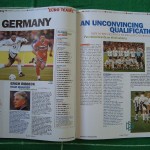 Aspect: Portrait
Dimensions: 297 x 232 mm (A4+)
Numbered Pages: 98
Language(s): English, French, Dutch
Match Report
The 2000 European Championship encounter in Charleroi was probably the most depressing game in the history of the Germany versus England fixture; both teams were simply awful. Germany were coached by Erich Ribbeck, whose approach had taken the already deteriorating side left behind by Berti Vogts and turned it into a team of journeymen nohopers; England were guided by the enthusiastic but clueless Kevin Keegan, whose man-management skills were never able to match his prowess on the field.
Almost every German fan – apart perhaps from those who were around in 1938 – will tell you that the Ribbeck era was the lowest point in the history of German football; many England supporters could well say the same of Keegan, whose short time in charge saw plenty of emotion off the field but little in the way of passion or commitment on it. This rather dull mix made for a game that was at best ordinary; Charleroi, a somewhat nondescript and grimy industrial city in Western Belgium, was to be the perfect setting.
Both sides had plenty to play for coming into the game: while Erich Ribbeck's side had been exceptionally fortunate to come out of their opening game match against Romania with a point, England's defeat at the hands of Portugal in their first group game meant that a defeat would almost certainly end their tournament hopes. Spirits were far from high in the German camp: the undercurrent of unrest against the Nationaltrainer risked bubbling over as the role of Lothar Matthäus in the team had been questioned by a number of senior players, and to make matters worse skipper and leading goalscorer Oliver Bierhoff had suffered a calf injury that had effectively ruled him out of the tournament.
With both teams wearing their change strips – England in red and white and Germany in an all-green ensemble – Italian referee Pierluigi Collina got things underway in a noisy Stade du Pays de Charleroi dominated by English voices.
The first twenty minutes saw little from either side; Germany had most of the possession but had nothing to show for it save a Christian Ziege free-kick which sailed high over the crossbar and a Dietmar Hamann shot from distance that was easily collected by David Seaman, and the obvious lack of quality in both sides was startlingly evident. The first genuine opportunity fell to the Germans with just over a quarter of the game gone, but Mehmet Scholl's scuffed shot was easily collected by Seaman when he could and perhaps should have laid it into the path of the unmarked Ulf Kirsten.
As the game reached the half-hour mark the Germans had been the slightly better side – not that this really meant that much. With the play being tightly condensed in the middle of the field, distribution was poor and passes were continually being overhit; while England were prepared to sit back and let the opposition run at them, the German midfield was clearly lacking its customary craft and control. While the Portuguese had been able to successfully exploit England's technical and tactical ineptitude, the Germans simply returned it with interest; it all made for a rather uninspiring spectacle.
Ten minutes before half-time England almost broke the deadlock with their first real attack, as Michael Owen's well-timed header from Phil Neville's cross was pushed against the post by Oliver Kahn who up to that point had been little more than an interested spectator. Suddenly the pace started to pick up: both David Beckham and Jens Jeremies found their way into Mr. Collina's notebook, and Paul Scholes tested Kahn with a crisp chestdown and snapshot before Hamann shot wide at the other end.
Eight minutes into the second half, England won a free-kick out on the right, which was delivered into the German box by David Beckham. Eluding everybody, the ball fell perfectly for skipper Alan Shearer at the far post, who had escaped his marker Markus Babbel to drill his header past the helpless Kahn on the bounce. England were in front.
Having looked so insipid in attack for the best part of an hour, the men in green appeared to have been shaken from their stupor as they upped a gear. Two minutes after falling behind they could very well have been back in the game, as a Babbel ball into the box was neatly collected by Jancker who swivelled neatly but was unable to keep his shot down. Moments afterwards they had an even better opportunity, as Lothar Matthäus' looping pass into the box caught the entire England defence cold to find Mehmet Scholl, who dragged his shot agonisingly wide of the far post.
If the Germans might have felt slightly unlucky at the scoreline, this would be magnified in the sixty-fifth minute. Having won a corner out on the right, Scholl's kick was nodded on by Markus Babbel, finding Kirsten who stabbed the ball towards the goal where it was hacked away by Seaman. With the England 'keeper stranded, the ball fell to Jancker, who sent the ball spinning wide of the post. The big man clearly had more time than he thought, but from this it clearly looked as though it was neither going to be his nor his team's night.
This feeling of foreboding was heightened with twenty minutes to go, when Ribbeck sent on Paolo Rink for Ulf Kirsten and Michael Ballack for Sebastian Deisler. Rink had been completely ineffective in the opening game against Romania and summed up the dearth of available talent up front, while Deisler's removal was more than a little surprising given that he had been one of the few players who had provided anything of substance in what had been an uninspired team performance. The disappointing Jens Jeremies was then replaced by the slightly more adventurous Marco Bode, but the spark of inspiration remained elusive.
The last twenty minutes were something of a damp squib, with England content to defend their lead and Germany playing with what could best be described as an unproductive desperation. Despite throwing everything forward in the final minutes they failed to really threaten the England goal; Rink showed a split-second of brilliance with five minutes left, but having skipped past his marker to engineer a shooting chance he provided the perfect illustration of his one-footedness, sending the ball closer to the corner flag than the opposition net. When the final whistle blew England had recorded their first competitive victory against any German side since 1966, while the defending champions found themselves teetering on the brink of elimination.
https://www.youtube.com/watch?v=U2t_AXkTopg
With just a single point from their first two games, the onus was on the Mannschaft to win their final fixture against Portugal to even have an outside chance of making the last eight. Against what was a reserve Portuguese outfit in Rotterdam Ribbeck's side not only failed to get a result, but succeeded in delivering a performance that was both painful and embarrassing to the point of nausea. In what was surely the lowest point in the history of the German national team in the post-war era, the defending champions were hammered 3-0 and swept out of the tournament.
Things were not much better for England; having finally beaten the Germans in a meaningful match for the first time in thirty-four years, they too found themselves on the way home after a disappointing 3-2 defeat to Romania in their final game. In the final analysis, the victory in Charleroi meant little: England had finally finished on top of Germany in a major tournament, but the sad truth was that both sides were as poor as each other. With both sides being consigned to the bottom of the group pile, the game could in hindsight have best been described as a Kellerduell – a basement duel.
It would only be a matter of months until the two teams would meet again; drawn together in the same qualifying group for the 2002 World Cup, the long-running saga would continue in what would be an historic final match at the old Wembley Stadium.
Cumulative Record
Home: played 11, won 3, drawn 3, lost 5. Goals for 16, goals against 25.
Away: played 10, won 4, drawn 0, lost 6. Goals for 10, goals against 25.
Neutral: played 6, won 3, drawn 1, lost 2. Goals for 6, goals against 8.
Overall: played 27, won 10, drawn 4, lost 13. Goals for 32, goals against 58.
Competitive: played 9, won 5, drawn 2, lost 2. Goals for 12, goals against 11.