Friendly International
Deutsches Stadion (Grunewald-Stadion), Berlin, 10.05.1930


3-3 (1-2)
R. Hofmann 21., 49., 60 / Bradford 8., 31., Jack 83.
Germany: W. Kreß – F. Schütz, Stubb – Heidkamp, Leinberger, Mantel – Bergmaier, Pöttinger, Kuzorra, R. Hofmann, L. Hofmann (c)
England: Hibbs – Goodall, Blendinsop – Strange, Webster, Marden – Crooks, David Jack (c), Watson, Bradford, Rimmer
Colours: Germany – red shirts, white shorts, black socks; England – white shirts, blue shorts, white socks
Referee: Johannes "Job" Mutters (Netherlands)
Assistants: Alfred Birlem (Germany), Shaw (England)
Attendance: 50,000
Match Programme Details
Priced at thirty Reichspfennig and containing thirty-two numbered pages, the official match programme for the first officially recognised international between Germany and England at Berlin's Deutsches Stadion features a cover shot featuring two unnamed players.
After an opening welcome statement in both German and English by DFB Vice-President Dr. Ivo Schricker, the programme features a short history of the previous amateur games between the two teams, pen-portraits of both sides including some interesting graphic illustrations of some of the England team, and the team lineups.
My own copy of the 1930 match programme is a special limited-issue postwar reprint, number 179 of 500. Originals are extremely hard to come by and – when they do become available – prohibitively expensive.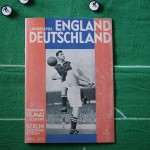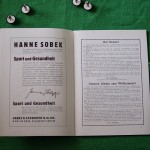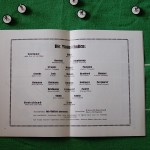 Aspect: Portrait
Dimensions: 220 x 155 mm
Numbered Pages: 32
Language(s): German, welcome text in English
Match Report
If we are to look at the lists of both the DFB and the FA, the game played in the Grunewald Stadion in Berlin in the late spring of 1930 was the first full international between Germany and England. Unlike the pre-1914 amateur fixtures – many of which had been horribly one-sided – this first fully-recognised international fixture resulted in an entertaining 3-3 draw which seemed to see-saw all the way to England's equaliser seven minutes from time.
All of Germany's goals were scored by Dresdner SC's Richard Hofmann, a popular character known to all of his fans as König Richard ("King Richard"); it was the first hat-trick scored against England by any team outside of the home nations. What was perhaps even more amazing was that Hofmann was back in the German team having lost an ear in an automobile accident only a few months earlier.
In what was an interesting career, the small but powerfully-built König Richard scored twenty-four goals in twenty-five matches, was inexplicably banned by the DFB for a year after being sent off in the 1928 Olympic tournament against a cynical Uruguayan side, and was suspended for a second time in 1933 for contravening the DFB's rules on amateurism when he signed a deal with a cigarette company (even though he was himself a non-smoker). Hofmann skippered the national team on four occasions and scored four hat-tricks; he became a well-known personality in the GDR during the postwar years, and the stadium in his home town of Meerane near Zwickau in Saxony is named after him.
Cumulative Record
Home: played 4, won 0, drawn 2, lost 2. Goals for 6, goals against 13.
Away: played 1, won 0, drawn 0, lost 1. Goals for 0, goals against 9.
Overall: played 5, won 0, drawn 2, lost 3. Goals for 6, goals against 22.