Tournament Overview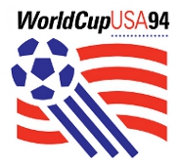 When the decision was made to host the 1994 FIFA World Cup Finals in the United States, many footballing purists around the world could be said to have recoiled just a little. It was one thing allowing the US to take part in the tournament, but to host it?
Here was a country that had no real footballing culture, and the biggest fear was the sort of commercialisation that would result in every corner or goal-kick being sponsored by McDonald's or Wal-Mart; many were terrified at American sports fans' curious sense of disbelief that a game of sawwkkerr might end up with no goals being scored, and feared something silly like the widening of the goals or the award of three points for a successful punt from the half-way line.
In the end nothing really bad happened – though it is fair to say that the commercial angle that has now become central to the tournament was probably kick-started at USA '94. On the positive side, there were no additional advert breaks and the tournament saw the highest attendances in recent memory, aided by a number of fantastic and spectator-friendly venues that set the standard for future events. The format of the tournament remained the same as it had been in Italy four years earlier, with the top two teams from each of the six four-team groups progressing with the four best third-place finishers into a knockout round of sixteen.
Up to and including Italia '90 each first phase group had been based in two usually nearby host cities, with the seeded team in each group playing all three of their games in the same stadium; for example in 1990 Germany had played all three of its games in Milan's San Siro, with the other three "minor" group matches being played at the less fashionable Stadio Renato Dall'Ara in Bologna. This was changed for the 1994 tournament, with grounds being used for more than one first phase group and seeded teams not being provided with a "base stadium".
There were a number of reasons why this change might have been made: firstly, it offered spectators who may have been based in other parts of the country to see different teams – particularly in a country as vast as the United States, where getting from one venue to another would have taken far more time than in a far smaller European country such as Germany or Italy. One could also argue that by being able to play all three of their games in the same place the seeded country had been provided an unfair advantage.
The key reason however was probably down to the number of available stadia. With two grounds being allocated to every first phase group, it meant that the minimum number of grounds needed to host the tournament was twelve – a figure that would be increased by a third to sixteen following FIFA's decision to expand the tournament to thirty-two teams from 1998. While footballing powerhouses like Germany, Italy or England could easily have sustained these demands, it was clearly beyond the scope and budget of many countries that would otherwise have been viable candidates. Quite simply, it was far more effective to circulate the group fixtures among a smaller number of high-quality locations.
From the opening ceremony right through to the end things were determined by penalty kicks; Diana Ross missed an open goal as part of the typically American razzmatazz party to kick things off, but her embarrassment was shared by Italy's Roberto Baggio whose fluffed effort from the spot gifted Brazil a fourth world title after a tedious 0-0 draw. For all those who might have thought the 1990 final was dull, what took place at Pasadena's Rose Bowl on 17th July 1994 was truly mind-numbing – there weren't even any sendings off or dramatic moments of refereeing madness.
In the fifty-two games that were played between 17th June and 17th July 1994 a total of 141 goals were scored at an average of 2.71 per match, and nine venues in nine host cities were used. Given that matches were played across the entire length of the country, the 1994 tournament probably witnessed the most travel miles being racked up by participating teams, with the conditions playing their part in many of the fixtures. For example Germany played their first two matches in relatively temperate Chicago and had to move to the burning heat of Dallas for their third, while Italy played every game up to and including their semi-final on or close to the eastern seaboard before having to travel to the other end of the country – through four time zones and into a completely different climate – for the final in California just four days later.
Qualifying Campaign and pre-tournament build-up
As holders, Germany didn't have to qualify for the tournament – which made what would have otherwise been throwaway friendly matches all the more important. Many of the squad had familiarised themselves with conditions in the US – including the indoor venue at Detriot's Pontiac Silverdome – during the four-team US Cup in the summer of 1993, and played five friendly fixtures during the spring and summer of 1994 as part of their pre-tournament build-up.
A solid 2-1 home win against Italy in March provided a good start to 1994, followed by a 2-0 win in Dubai against the United Arab Emirates which was perhaps more than anything else an exercise in acclimatisation. Three carefully-selected fixtures in late May and early June were planned to gear up the team for tournament football and their first competitive fixture in almost two years, though things could not have started any worse with a 2-0 defeat in Hannover to the Republic of Ireland which dampened any hopes of a successful send-off in front of the home fans.
Things did pick up in fine fashion however with a 5-1 demolition of Austria in Vienna four days later, and having crossed the Atlantic Berti Vogts' side rounded off their pre-tournament matches with an efficient if unspectacular 2-0 win in Toronto against Canada, with Rudi Völler scoring the second goal for the Mannschaft in the last minute.
Germany's Tournament in brief
As the holders of the trophy, Germany's campaign began with the opening game in Chicago against World Cup debutants Bolivia. It was a typically cagey opening game, but any fear at the possibility of dropping points in the opening game were dispelled with Jürgen Klinsmann's 61st minute strike which proved to be enough. A scrappy 1-1 draw with Spain followed – with Klinsmann again on the scoresheet, before Berti Vogts' side took on South Korea in Dallas. The Mannschaft stormed in to a 3-0 lead – aided by a brace from Klinsmann – and it could easily have been four by half-time, but a combination of the heat and the energy of the opposition allowed the Koreans – the plucky South Koreans – to pull things back to 3-2. With Spain having already dropped points against the Koreans, Germany comfortably progressed to the second phase in first place with seven points.
Germany went into their second phase match in Chicago against European rivals Belgium not requiring the services of the controversial midfielder Stefan Effenberg, who had been sent home by no-nonsense coach Vogts for giving jeering fans the Stinkefinger after being substituted against the Koreans. Although the result looked close at 3-2 the result was never in doubt; Rudi Völler scored his first two goals of the tournament, and Klinsmann his fifth in four games.
Most German fans – even the most pessimistic among them – were now looking at a guaranteed semi-final place as the team lined up for their quarter-final against an unfancied Bulgarian side that until their first phase victory against Greece had never won a World Cup finals match. Things looked to be going to plan as Lothar Matthäus scored a 47th-minute penalty, but not long after Rudi Völler had a borderline offside decision go against him the unthinkable happened. Hristo Stoichkov levelled things up with a quarter of a hour to go, before three minutes later the balding Yordan Letchkov turned the game on its head with what proved to be the winner.
Germany had for much of the game been looking at a fourth World Cup semi-final in a row – but in a trice it was all over.
Tournament Matches
v Bolivia First Phase Group C, Chicago, 17.06.1994 View Report »
v Spain First Phase Group C, Chicago, 21.06.1994 View Report »
v South Korea, First Phase Group Group C, Dallas, 17.06.1994 View Report »
v Belgium, Second Phase, Chicago, 02.07.1994 View Report »
v Bulgaria, Quarter-Final, New York, 10.07.1994 View Report »