"If I could walk on water, my accusers would say it is because I cannot swim."– Berti Vogts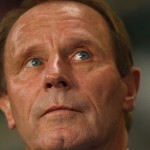 Hans-Hubert "Berti" Vogts became the sixth Nationaltrainer in 1990, inheriting the World Cup winning side from Franz Beckenbauer for whom he had been assistant for four years. The man known during his playing days as Der Terrier brought with him not only a wealth of coaching experience, but also a deep respect stemming from his days as a member of the great German team that dominated both Europe and the world during the seventies.
Born in the village of Büttgen near Kaarst in North-Rhine Westphalia, Berti Vogts had developed a reputation as straight and hard professional during his playing days, something he brought with him as coach. When working with Beckenbauer it was Der Kaiser who brought the style and panache, while Der Terrier provided the steel: both men knew each other well, having been in the great Germany squad that dominated world football during the seventies. A one-club man with his local side Borussia Mönchengladbach, Vogts appeared ninety-six times for the Nationalmannschaft between 1967 and 1978, scoring one goal. During his fourteen years at club level for Borussia, he played 419 times, scoring on thirty-two occasions.
Vogts coached in the much same way as he had played – hard and fair, but with the tenacity that earned him his nickname. While he may not have been the most powerfully-built defender – he was only 5′ 6″ tall – he made up for this with sheer guts and a never-say-die attitude that was widely admired. A big favourite with the home crowd, Vogts could be said to have won the World Cup for Germany in 1974 through his shackling of Dutch maestro Johann Cruyff.
The one real duff note in what had been a stellar career occurred in what would be his last game against Austria in the 1978 World Cup in Argentina – the game that sits alongside Lyon 1998, Rotterdam 2000 and Munich 2001 in the black book of German football. In what was later described in Austria as the Wunder von Córdoba ("the miracle of Córdoba") and conversely in Germany as the Schmach von Córdoba ("the disgrace of Cordoba"), Vogts scored an unfortunate own goal as the Austrians upset the form book to beat a dispirited German side 3-2.
Hans Krankl's 87th minute winner for the Ösis meant that Helmut Schön's side could not even make the third-place play-off, and constituted what has sarcastically been described by German fans as the greatest day in the history of Austrian football. In much the same way as the freak 5-1 victory in Munich is mentioned by England fans every time their team lines up to play Germany, in Austria people are treated to highlights of Córdoba 1978 and the wonderfully-named Edi Finger's crazy commentary.
Having taken over from Franz Beckenbauer in the autumn of 1990, Berti Vogts' first campaign as Nationaltrainer was for the 1992 European Championships, and he could be said to have fulfilled his duty by taking his team to the final. It had been a disjointed campaign where luck played a major part of their progressing past the group phase, but a solid 3-2 win against the hosts Sweden in the semi-final had set the Mannschaft up against surprise team Denmark. In what was widely seen as a shock, the Danes took the game to Vogts' side and won 2-0, though not without a little bit of luck themselves with the referee not seeing Kim Vilfort's cheeky handball to bring the ball back under control before scoring the Danes' second goal.
The path towards the World Cup in the United States was a little more unpredictable, and one of the costs of being world champions. With the exception of the invitational US Cup tournament in 1993, the team had no competitive fixtures leading up the tournament where they would defend the trophy won in Italy. After a satisfactory first phase and a well-worked second phase victory against Belgium, Vogts' side came unstuck against an unheralded Bulgarian team that delivered one of the biggest shocks in World Cup history. The US campaign also saw a number of off-field issues, not least of which was that involving Stefan Effenberg after he had gestured rudely to the crowd after being substituted against South Korea. Not one to put up with such shenanigans, Vogts was unforgiving, ordering the recalcitrant midfielder to pack his bags.
Following the team's quarter-final exit in Chicago, the knives were once again being sharpened for Berti Vogts, who had now gone two tournaments without a win. In most other countries, making a final in your first tournament and the last eight in your second – with next to no competitive fixtures in between – would have been hailed as a success, but not in Germany where every single Nationaltrainer since Sepp Herberger had won at least one major trophy.
As the qualifying campaign got under way for the 1996 European Championships, things just seemed to stutter along. After two ordinary victories against even more ordinary opposition in Georgia and Moldova and then two 2-1 scrapes against Albania, Germany had a maximum twelve points; the team were winning, but this was not good enough for Vogts' critics – they had to be winning well. When they then stumbled to a 1-1 home draw with Wales and blew a 2-0 lead to their new bogey team Bulgaria in the last fixture of the 1994-1995 season, the coach could have probably sensed the knives being held close against his back.
The summer break could not have come at a better time for Vogts and his side; when they returned to action in the autumn of 1995, things seemed to go a whole lot better. They rounded off the campaign with four wins from four games, scoring fifteen goals and laying the Bulgarian bugbear to rest with a resounding 3-1 win in Berlin – with the team being hailed by an exultant crowd. The knives were put away, Germany had booked their place at the finals, and the coach was safe again – for the time being at least.
The events of the summer of 1996 would be the highlight of Berti Vogts' time in charge, seeing him fulfil the historical requirement of securing at least one major trophy. After a series of dominant displays, the Mannschaft defied a growing list of injuries to make their way to a fifth European Championship final, where they came from a disputed penalty down to defeat the Czech Republic courtesy of a brace from substitute Oliver Bierhoff that included the tournament's first and only golden goal winner. Although Bierhoff scored the goals, praise was rightly directed at the coach – with his side a goal down with just over twenty minutes to go, the decision to bring the Udinese man into the fray had been truly inspired.
Perhaps the unsung hero of the winning squad was a player for whom Euro 1996 would be his only major tournament – Werder Bremen's defensive midfielder Dieter Eilts. Although somewhat taller than his coach, Eilts was truly a player in the Vogts mould – blond with slightly receding hair, hard but correct in the tackle, tactically aware and willing to go that extra mile. It was if Der Terrier himself had been out on the field.
With his trophy in the bag, Vogts joined the long list of successful tournament-winning German coaches; the pressure was now off as his side embarked on the qualification trail for the 1998 World Cup in France.
Berti Vogts had been continually targeted by the media during his eight years as Nationaltrainer, and to some extent his old school approach and aloofness didn't help his cause – the one brief respite coming during the victorious charge to the European Championship title in 1996. The first drop of poison had already been dropped into the chalice as early as 1990 by his predecessor Franz Beckenbauer: in an off the cuff remark after the World Cup Final to a journalist who had asked him what would happen when players from the former GDR would become available to supplement the world champion squad, Beckenbauer responded with something along the lines of "we'd probably be unbeatable for years". This thought was quickly absorbed by the media, and turned into a monkey that Vogts could never really get off his back.
If Vogts was guilty of anything, it was his not fielding enough new young players during his eight-year tenure – something that probably fed the idea that he had taken a world champion team and slowly ground it into the dust. He had inherited a group of players who in 1990 had been at the peak of their powers, but eight years later had bequeathed to his successor a tired, ageing and fractured squad. Rather than infusing the team with new blood, Vogts preferred to stick with tried and tested veterans, prolonging careers that in some cases should have ended earlier and resulting in a predictable glut of retirements after the quarter-final exit in France.
In fairness, this policy worked for Vogts – his record of sixty-six wins in 102 games makes him statistically one of the best coaches of the German national side – but his squeezing every last drop out these resources left his successor with something of a mountain to climb. Of the twenty-two players that had been selected for the World Cup squad in 1998, no fewer than seven had also been in the victorious line-up in 1990 – the thirty-six year old Andreas Köpke, the thirty-four year old Jürgen Klinsmann, the thirty-two year old Olaf Thon and Jürgen Kohler, and thirty-one year olds Stefan Reuter and Thomas Häßler. Five of these players – Köpke, Klinsmann, Thon, Kohler and Reuter – retired immediately after the end of France 1998, while Möller went one further year before calling time. Häßler meanwhile stretched his international career out until Euro 2000 – perhaps against his better judgement.
Put simply, it was not the easiest task for anyone to replace a Köpke, Kohler or a Klinsmann at the best of times; to replace all three in one go was always going to be a mission. What made matters worse for Vogts' successor was that many of those waiting in the wings had never really been tested, and those that were later thrown into the mix were simply not up to the standard required.
It is little or no wonder that nobody really wanted the job when Der Terrier finally released his grip and resigned from the post in the autumn of 1988, with the only willing takers being Uli Stielike – who was arguably seen by the establishment as being a little too radical – and Erich Ribbeck, a man even more old-school that Vogts whose appointment was the realisation of a long-held dream that stretched back fourteen years.
Following his resignation in the autumn of 1998 Vogts spent a couple of years away from football before taking on the coach's role at Bayer Leverkusen in late 2000 – ironically filling the post that had recently been vacated by Rudi Völler who succeeded Vogts' successor Erich Ribbeck as Nationaltrainer.
After one season at Leverkusen a return to international football beckoned, and having served six months in Kuwait Vogts took on the role as manager of the Scotland national team. Two years in the Scotland job would put the treatment he had received at the hands of the German press into perspective; having suffered what he described as an almost continuous campaign of vilification and abuse, he resigned with eighteen months remaining on his contract. Another unsuccessful spell in charge of the Nigerian national team followed, but in 2008 he became the coach of Azerbaijan, where over the course of four years he has achieved a degree of success with a hitherto unsuccessful side.
International Career Record as Player (1967-1978)
Total matches: 96
Total goals: 1
Tournament Record as Player
FIFA World Cup Mexico 1970 – Third Place
UEFA European Championship Belgium 1972 – Champions
FIFA World Cup Germany 1974 – Champions
UEFA European Championship Yugoslavia 1976 – Runners-up
FIFA World Cup Argentina 1978 – Second Phase
Career Record as Coach
First match as coach: 29.08.1990 1-1 (1-0) v Portugal, Lisboa (Matthäus 15. / Rui Aquas 57.)
Last match as coach: 05.09.1998 1-1 (0-1) v Romania, La Valetta (Nerlinger 85. / Moldovan pen 35.)
Total matches: 102
Wins: 67* (65.7%)
Draws: 23 (22.5%)
Defeats: 12 (11.8%)
Goals For (goals scored per game): 206 (2.02)
Goals Against (goals conceded per game): 87 (0.85)
Competitive matches: 50§
Wins: 34* (68%)
Draws: 10 (20%)
Defeats: 6 (12%)
Goals For (goals scored per game): 106 (2.12)
Goals Against (goals conceded per game): 54 (1.08)
Friendly matches: 52
Wins: 33 (63.5%)
Draws: 13 (25%)
Defeats: 6 (11.5%)
Goals For (goals scored per game): 100 (1.92)
Goals Against (goals conceded per game): 33 (0.63)
Results Breakdown by Year
*matches listed as wins include the penalty shootout victory against England (UEFA European Championship Semi-Final, 1996)
§includes the 1993 four-team US Cup tournament
Tournament Record as Coach
UEFA European Championship Sweden 1992 – Runners-up
US Cup 1993 – Champions
FIFA World Cup United States 1994 – Quarter-finalists
UEFA European Championship England 1996 – Champions
FIFA World Cup France 1998 – Quarter-finalists