Tournament Overview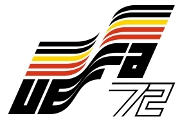 Four teams – Germany, the Soviet Union, Hungary and Belgium – qualified for the fourth edition of the European Championship, the venue for which was only determined after the four finalists had been established. It was a far cry from the large-scale events of today – it was in essence a four-team microtournament spread over five days.
The tournament schedule consisted of four matches played across four different venues: two semi-finals, a third place playoff and the final. A total of ten goals were scored at an average of 2.5 goals per game.
Qualifying Campaign and pre-tournament build-up
The qualifying campaign for the early European Championship tournaments consisted of two stages – a group phase and then four quarter-finals played over two legs which would determine the four finalists.
Germany made their way through the group stage fairly comfortably, emerging unbeaten in their six games against Albania, Poland and Turkey. Surprisingly points were dropped at home in the first and last games against Turkey and Poland, but the team's excellent form on the road was enough to take them through to the quarter-finals with plenty of breathing space.
The Mannschaft's excellent away form continued in what was to be a classic encounter against England, who would have harboured hopes of lifting the trophy themselves. Germany had never won any sort of fixture against England in England, but produced an inspired performance to topple the hosts 3-1 – with a goalless draw in the return in Berlin enough to see them through to the finals.
There was only time for one friendly fixture before the finals began, against the Soviet Union in Munich. In what was to be a dress-rehearsal for the tournament final which would take place the following month, Gerd Müller scored four second-half goals as the Mannschaft routed the Soviets 4-1.
Germany's Tournament in brief
With what was arguably the toughest opponent being dispatched in the quarter-finals, many Germans had already written their team's name on the trophy – and so it proved over the two matches they played in Belgium. Having overcome the hosts 2-1 in Antwerp, Germany headed to Brussels where they took on the Soviet Union, who had beaten a seemingly resurgent Hungary by a single goal in their semi-final.
The final proved to be as much a contest as the friendly fixture between the two sides had been less than a month earlier, as Helmut Schön's side coasted to a 3-0 victory with Gerd Müller scoring twice.
Germany Tournament Squad List »
Germany Tournament Results and Overview »