Stadio San Siro, Milano, 24.06.1990


2-1 (0-0)
Klinsmann 51., Brehme 85. / R. Koeman pen 89.
Germany's second phase encounter would pit them against their neighbours and rivals the Netherlands – who in contrast to the free-scoring Nationalmannschaft had scraped through their opening group with three draws and just two goals. The Dutch were far from the side that had triumphed in the European Championship in Germany two years earlier, but could always be expected to rise to the challenge in what was one of European football's most famous grudge matches.
The two sides would be more than familiar with each other having drawn both of their games in the qualifying campaign, and Nationaltrainer Franz Beckenbauer would make his first real tactical change of the tournament by employing a slightly more defensive line-up. Having served a one-match ban for his two first-phase yellow cards, returning left-back Andreas Brehme would find himself in a new four-man defensive formation alongside Thomas Berthold, Jürgen Kohler and Stefan Reuter, with FC Bayern centre-back Kohler making his first start of the tournament.
The back four back line would sit behind a reshuffled three-man midfield that would offer a balance of steel and pace. Skipper Lothar Matthäus would take up his customary role in the middle, with the versatile Guido Buchwald on the left and wing-wizard Pierre Littbarski – back in the starting eleven in place of Uwe Bein – occupying the right flank. Up front, things would remain unchanged with Jürgen Klinsmann partnering Rudi Völler.
After both national anthems had been roundly booed and whistled – setting the tone for the evening – things would be all set to explode. The Dutch started off brightly and made much of the early running, but an opening period that had offered little in the way of action or drama would suddenly burst into life on the twenty-minute mark – setting off a series of events that have since been burned into the memory of every German and Dutch supporter, even those that may not have been watching it live at the time.
With twenty minutes gone, Völler would pick up the ball on the right, spinning and skipping past Dutch right-back Berry van Aerle before being unceremoniously clattered by Frank Rijkaard. With hesitation, Argentinian referee Juan Loustau would reach for his pocket and wave the yellow card in the Dutchman's direction. Having received a booking in his previous match, Rijkaard was probably more that aware of the fact that he was going to miss the quarter-final should his team progress. As striker Marco van Basten vainly pleaded with the referee, Rijkaard would jog back towards the box to defend the free kick, casually spitting at Völler while running past. Clearly incensed, Völler would shout out at the Dutchman, at which Rijkaard would interrupt his leisurely jog and turn back to face the German. A sharp exchange of words would then ensue, followed by some rather theatrical hand gestures from the dreadlocked Dutchman.
As Andy Brehme prepared to take the free kick the referee would again reach for his yellow card, this time flashing it at Völler while ignoring the striker's attempt to bring the spitting incident to the official's attention. Chasing the teasing free-kick into the box, Völler's striker's instinct would result in his charging into the Dutch box and leaping over Oranje 'keeper Hans van Breukelen – an action that would prompt Rijkaard to up the ante even further by tugging at the prostrate Bremen man's ear and stamping on his foot. Leaping to his feet, a frustrated and angry Völler would remonstrate with both Rijkaard and van Breukelen – with the referee again reaching for his pocket.
Jürgen Klinsmann would quickly arrive on the scene and break things up by shoving his strike partner out of harm's way, but referee Loustau had already made up his mind. Out would come the dreaded red card, and Rijkaard would start to make his way off the pitch. The Argentinian referee would not be done yet though, and the dreaded Rot would also be waved in the direction of the unfortunate Völler. Understandly, the AS Roma striker would stand around for a few seconds with a puzzled look on his face before resigning himself to his fate.
Rudi Völler looks dumbfounded, while Frank Rijkaard prepares to reload in one of the most unpleasant exchanges seen on a football field
As the perplexed Völler started to make his way off the field, it would be pretty clear that Rijkaard had lost his mind. He would spit in the German's direction again, hitting him on the neck. Völler would look on – more in surprise than anger – before calmly running past his aggressor towards the tunnel.
At the time it was clearly an injustice – both teams had been reduced to ten men, when it was clear that the referee had missed a trick in not dealing with Rijkaard immediately. With his strike partner Völler off the field and off for an early bath, the onus would now be on the young Jürgen Klinsmann to play the role of sole target man.
The dismissal of both Völler and Rijkaard didn't do much to dampen tempers for those still out out the pitch: Jan Wouters was booked for a crunching tackle on Matthäus, while an out of form Marco van Basten could be seen playing some of his finest free-kick winning tricks. Wouters then found himself robbed of the ball by Pierre Littbarski, who fashioned a cross which Guido Buchwald lashed goalbound. Unfortunately for Germany, van Bruekelen would be on hand to make a fine save from Stuttgart man. In another incident that would go unspotted by the officials, Brehme would be brought down by Adri van Tiggelen, whose misjudged attempt to leap over his man would look far more sinister than the tackle itself.
Klinsmann was starting to look sharp up front, playing a neat one-two with Littbarski that was unlucky not to result in a goalscoring opportunity, but as the half-time whistle blew both teams went in with the score at 0-0.
Germany would make a concerted effort to up the pace by a good few notches when the teams came out for the second half. Picking up the ball deep in his own half, Matthäus charged through the centre of the field and laid a superbly-timed pass out to Klinsmann that beat the Dutch offside trap. The young Stuttgart forward found space down the right before swinging a cross to his skipper who had continued his run into the box – Matthäus was able to rise above Aron Winter to head the ball on target, where it was spectacularly collected by van Breukelen.
The next German attack was not long in coming. Makeshift left-winger Guido Buchwald picked up a pass down the left flank from Andy Brehme, and galloped down the touchline before side-stepping and easily skinning the surprisingly flat-footed Winter. Buchwald's left-footed cross into the box would be superbly met by the advancing Klinsmann, who beat a desperate lunge from van Aerle before sweeping the ball past van Breukelen to give the Mannschaft a deserved lead.
Jürgen Klinsmann slips the ball past Hans van Breukelen to give the Nationalmannschaft the lead
Franz Beckenbauer's men could have doubled their advantage just moments later, as a mighty punt upfield by Bodo Illgner was just about met in the air by van Aerle with Klinsmann bearing down on the Dutch goal. The need to kill the game off would be starkly illustrated when Jan Wouters went close for the Oranje, missing the target when he should have done better.
Having gone a goal down Leo Beenhakker's side found themselves having play further up the field and start to take a few risks, with the Germans and in particular Lothar Matthäus starting to find a lot more space in midfield as a result. The German skipper almost found himself on the end of the lovely through-ball from Pierre Littbarski that had sliced through the Dutch defence, but was beaten to the target by the alert van Breukelen – and not long after that he would make enough room for himself at the edge of the box before hitting a shot just wide to the Dutch 'keeper's right.
At the other end, a great cross by Ruud Gullit was superbly taken away from the feet of van Basten by full-back Jürgen Kohler, before a scuffed shot on target by van Basten was gratefully gathered by Illgner. Minutes later, the action would be back in the Dutch half as Littbarski skipped past a number of defenders before hitting a shot straight at van Breukelen. Matthäus then picked up speed down the left before he was cynically taken out by van Basten who was perhaps lucky to get only a yellow card.
It was end to end stuff, played with an astonishing level of energy by both sides. By far the most energetic display had been that of Jürgen Klinsmann, who must have covered at least twice the ground as anyone else that evening. Shorn of his striking partner Rudi Völler, he continued to run at full pelt into the heart of the Dutch defence and was unlucky not to get his second with just under fifteen minutes to go. Latching onto a superb long ball from Brehme, Klinsmann's pace would take him past the almost static van Tiggelen, before his right-footed shot crashed against the post with van Breukelen completely beaten. It would have capped off a superb display.
It should perhaps have been two or three to the Mannschaft, and Matthäus had the ball in the back of the net following a neat free-kick from Klaus Augenthaler – only to find that the referee had blown for a substitution to take place. For his pains, Matthäus received what was arguably an unfair booking. With seventy-seven minutes gone the exhausted Klinsmann would finally be relieved of his duties by Karlheinz Riedle, earning a rapturous round of applause from the German supporters.
Within five minutes of his arrival Riedle would already be in the thick of the action. After picking up a pass down the left from the impressive Buchwald and floating into open space behind the scattered Dutch defence, the Werder Bremen man would deliver a precise low cross for Littbarski, whose firm shot struck van Breukelen who had done brilliantly in closing him down.
When it was looking that the second goal would never come – it finally arrived courtesy of a stunning strike from Andreas Brehme. A right-wing corner was floated to the edge of the box by Littbarski, where it found Buchwald. The lanky VfB man would then beat Ronald Koeman in the air before producing what was his second assist of the evening by laying the ball back to Brehme, who curled his shot beautifully past van Breukelen. In the words of the late ITV commentator Brian Moore: "Brehme… Curling one!!!"
At 2-0 with less than five minutes renaining one might have safely assumed that the game was over, but it would not be a Germany versus Netherlands fixture without a dodgy penalty – and so it proved, when van Basten took an Oscar™-winning tumble in box to earn the Oranje an opportunity to make the score a more flattering one. Everyone's favourite pantomime villain Ronald Koeman would send Illgner the wrong way to pull the score back to 2-1.
Franz Beckenbauer's side could very easily have restored the two-goal cushion with their next attack, as Riedle left poor van Tiggelen for dead before forcing yet another stunning save from van Breukelen. The Dutch 'keeper had produced a string of fine saves, and would still have time to make another in beating away a Matthäus' free kick after Littbarski had been fouled on the edge of the area by John van't Schip.
When the final whistle blew, it had brought to an end what was probably the most exciting and dramatic match of Italia '90. While it is true that Germany had dominated the match and could have won the game by four or five were it not for the heroics of Hans van Breukelen in the Dutch goal, the result had remained in doubt right until the end. It was a match that had everything – drama, controversy, some great German goals – and is one that counts as my own personal favourite.
The Völler-Rijkaard incident had clearly been the focal point of the game, and things were not made any better in the immediate aftermath by the suggestion that Rijkaard's actions had been sparked by Völler firing a racial insult in his direction. Such a theory was difficult to believe given the German striker's character and reputation – moreover, no actual evidence could be found to support the accusation – but this didn't stop some people in the media from throwing more fuel onto the fire.
While Rudi Völler would be banned from the quarter-final for his red card, Rijkaard and the rest of his mean-spirited team-mates were boarding the next plane back to Amsterdam; never had I been so pleased to see the back of them. While the Oranje quickly turned on each other for what had been a deeply disappointing World Cup campaign, the Germans remained dignified in victory – unlike their opponents two years earlier at the Euro '88 semi-final in Hamburg, where Ronald Koeman had raised the bar in the bad taste stakes by pretending to wipe his backside with Olaf Thon's shirt in front of the German supporters.
With the Dutch sent on their way, only Jozef Vengloš' solid if unspectacular Czech side would now stand between Franz Beckenbauer's men and yet another appearance in the last four.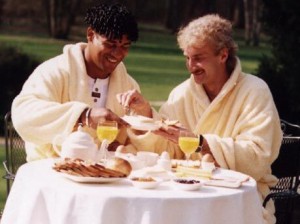 Some months after the "spitgate" incident when tempers had started to die down, both of the central protagonists would finally bury the hatchet and clear the air. Frank Rijkaard would offer a sincere apology for his actions – and in doing so quash any suggestion that his llama impersonation had been the result of a racial insult – while Völler for his part would graciously accept and even defend his opponent, citing that at the time the Dutchman had been going through a particularly rough divorce. It would all end amicably, with both men featuring in a butter advert that saw them laughing and joking while sitting at a breakfast table. The thing is that nobody dared tell Rudi that Frank had spat in his Orangensaft while he was concentrating on buttering his Brötchen.
Germany FR: Illgner – Augenthaler – Reuter, Kohler, Berthold, Brehme – Littbarski, Matthäus (c), Buchwald – Klinsmann (77. Riedle), Völler
Netherlands: van Breukelen – R. Koeman – van Aerle (68. Kieft), Rijkaard, Wouters, van Tiggelen – van't Schip, Winter, Gullit, Richard Witschge (80. Gillhaus) – van Basten
Referee: Juan Loustau (Argentina)
Assistants: Elias V. Jacome Guerrero (Ecuador), Vincent Mauro (United States)
Yellow Cards: Völler, Matthäus / Rijkaard, Wouters, van Basten
Red Cards: Völler 22. / Rijkaard 22.
Attendance: 74,559