"Our situation is indeed very poor, but not so hopeless as some might think."– Erich Ribbeck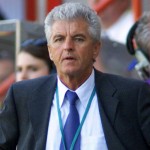 When the sixty-one year old Erich Ribbeck found himself being tempted out of what had been a quiet retirement in sunny Tenerife by the DFB to become the seventh coach of the Nationalmannschaft in the summer of 1998, he must have wondered why there had been so few takers. He could hardly have known how poisoned the chalice he had been handed actually was: less than two years later he had resigned in disgrace, branded as the worst coach in the entire history of the national team.
After the tame quarter-final exit in the 1998 World Cup at the hands of Croatia, Ribbeck's predecessor Berti Vogts had tried to stick it out as Nationaltrainer – however after two disappointing friendly matches against Malta and Romania at the start of the 1998-99 season he finally decided that enough was enough, handing over the impending Euro 2000 qualifying campaign to whoever felt brave enough to take on the challenge. Vogts had left behind an ageing side that had been badly exposed in France; it was clear that major surgery was needed.
In looking for Vogts' successor the DFB found themselves having to cast their eyes in all directions – and with an increasing sense of desperation. There would be no shortage of capable and experienced candidates, but the problem for DFB chief Egidius Braun was finding someone who actually wanted the job. More established and experienced coaches such as Jupp Heynckes and Ottmar Hitzfeld had been quick to rule themselves out of the running, and in desperation even the possibility of a foreign coach was entertained with former FC Bayern München coach Giovanni Trappatoni and one-time Swiss Nationaltrainer Roy Hodgson among the potential candidates.
The German public however found themselves being drawn towards former defensive hard man Uli Stielike – a modern thinker and astute tactician who had achieved a degree of international success as coach of the Swiss national side. Having been interviewed by the DFB Stielike had been convinced that the post was his, and said as much in an interview with Kicker magazine. This proved to be something of an embarrassing moment for all concerned, as Egidius Braun and the DFB hierarchy had other ideas. Rather than employ a coach who might go too far and upset the applecart, they had set their stall on a safe option in looking for a more established name – albeit one that would be way down on their original shortlist.
It was at this point that a telephone call would be made to the Canary Islands, and the man known as "Sir Erich". In what was the ultimate egg-on-face moment for Uli Stielike, he was then offered the job as Ribbeck's assistant – something that would continue to grate during what was a tumultuous two-year period for the the Nationalmannschaft.
In contrast to both his predecessor Vogts and his new assistant Stielike, Erich Ribbeck couldn't claim any great pedigree as a player; having only played at Oberliga level for his local side in Wuppertal, he had quickly moved into coaching. After a successful year in charge of Rot-Weiss Essen – then in the regional leagues – he took the helm at Eintracht Frankfurt, becoming the youngest ever Bundesliga coach at the age of thirty-one. Five years in Frankfurt were followed by another five at 1. FC Kaiserslautern, after which he made his way into the national setup as first assistant to Jupp Derwall in 1978.
Ribbeck remained in this post until the summer of 1984, helping Derwall guide the Mannschaft to the European Championship crown in 1980 and the runners-up spot in at the FIFA World Cup in 1982. At that stage he might have expected that the top job was his for the taking; after all, continuity had always been part and parcel of the German coaching setup.
The situation would change dramatically after the Mannschaft's disappointing group phase elimination at the 1984 European Championship: Derwall would not even have the opportunity to resign and hand over to his assistant as had been the tradition for the previous sixty-one years, and became the first Nationaltrainer to be fired by the DFB along with his entire coaching staff – among them Erich Ribbeck. By being unceremoniously cast out with Derwall, it must have been a crushing blow for Ribbeck when he was discarded to make way for the untried and untested Franz Beckenbauer – a man who didn't even have a coaching certificate, let alone the sort of experience needed to coach a national team. While Beckenbauer took charge of the team and went on to guide them to two successive World Cup finals, Ribbeck threw himself back into club football.
There was not much one could look at in the way of an explanation for Ribbeck's appointment ahead of Uli Stielike in 1998: while it is clear that he was a respected figure in the coaching establishment, his entire career had only yielded one trophy – the UEFA Cup in 1988 when he was boss of the Leverkusen side that had triumphed over Espanyol. Moreover he was something of a relic of the past: when he was finally offered the post in 1998 – making him at sixty-one the oldest person to be appointed as Nationaltrainer – perhaps it was as a result of some sort of obligation the DFB might have felt for casting him aside in 1984. In his being appointed, Ribbeck had clearly fulfilled a long-held desire that must have been burning for fourteen years.
The two years under Ribbeck, culminating in the disastrous Euro 2000 campaign in Belgium and the Netherlands, could at best be decribed as a period of stagnation and gradual decline for the Nationalmannschaft. In what would be something of a dark prelude to the events that would take place the following year, the squad that had been sent to Mexico for the 1999 edition of the Confederations Cup only managed to cobble together a scratchy win against minnows New Zealand while being trounced 4-0 by Brazil and played off the park by the United States.
Amidst this growing crisis of confidence the team somehow managed to manoeuvre their way through their Euro 2000 qualification group, but once again when faced with opposition of a slightly higher calibre the team's deficiencies were left visible for everyone to see. Against an up and coming Turkish side they were beaten 1-0 away and could only manage to eke out a goalless draw at home, and it would only be a shock 3-1 home defeat for the Turks at the hands of Finland that would allow Ribbeck's side to progress to the finals directly – and thus avoid the ignominy of the play-offs.
As an old school coach and taciturn tactician who was particularly resistant to any sort of change or innovation, Ribbeck continued to muddle along in the face of increasing criticism from all sides. His intransigent and narrow-minded approach and limited tactical ability only served to turn the players into timid shadows of themselves, and very soon cracks would start to appear in what was already a fragile relationship between the coach and the squad.
Worse was to come when with just a month to go before the Euro 2000 finals Ribbeck's assistant Uli Stielike suddenly handed in his resignation, citing irreconcilable differences between himself and the coach. Given the nature of their respective appointments the relationship between the coach and his assistant could never really have been described as harmonious, but Stielike's walking out on the eve of a major tournament simply added further nails to a coffin that would be sealed shut a month later by reserve Portuguese forward Sérgio Conceição in Rotterdam.
Finally shot of the argumentative and in his mind uncooperative Stielike, Ribbeck was now provided with a new assistant in Horst Hrubesch, a fine player in his day but a coach of fairly limited ability and – unlike his former team-mate – a man who would not rock the boat.
The opening match of Germany's Euro 2000 campaign had seen the Mannschaft somehow scrape a 1-1 draw with group outsiders Romania, a result that had much to do with the Romanians' awful finishing more than anything else. A catatonic and at times completely clueless German defence marshalled by the ageing Lothar Matthäus saw itself being torn open time and again, but their opponents simply didn't have the wherewithall to take their chances and finish things off before half-time. A cracking shot from Mehmet Scholl from the edge of the area levelled the scores, and when the final whistle finally blew Ribbeck must have been wondering how his side had been able to escape a drubbing – or not, as his tactical approachwould remain much the same.
The second match would see Germany meet old rivals England, with both teams desperately in need of a win to keep their tournament hopes alive. A defeat for the Three Lions would have sent them crashing out of the competition with a game to spare, while for Ribbeck's side it would have left them needing to rely on others and a series of complicated mathematical permutations. England had not defeated Germany in a competitive international for thirty-four years and one might have expected the Germans to be quietly confident – but apart from the bullish Lothar Matthäus the collective mood in the camp was far from that. In fact, things were heading towards what could have best been described as a complete meltdown.
While German supporters found themselves forced to endure a series of insipid performances on the pitch, they probably had little idea at the time of the extent of the problems off it. The German camp had already been rocked by the resignation of Uli Stielike, but the problems would cut far deeper than that. Serious rifts had formed within the squad itself, players were finding themselves drawn into separate cliques, and the Nationaltrainer quickly found himself being squeezed from all sides and unable to deal with it all. As the clocks ticked down towards the England game, things would soon come to a head.
Ribbeck had been committed to the inclusion of the thirty-nine year old Lothar Matthäus in his starting lineup – a decision that had clearly not gone down too well with other senior pros, among them skipper Oliver Bierhoff and midfield playmaker Mehmet Scholl. Ribbeck could sense a mutiny, and his solutuion was simple: like Lieutenant William Bligh, he chose to do things his way and put his foot down. So long as he was willing and able – in other words, get up in the morning – Matthäus would be a permanent fixture in the side.
In fairness to Matthäus he offered to leave, but Ribbeck – never one for backtracking and losing face – would persuade the reinvented libero to stay. The mutiny appeared to have been quelled, but it was more a case of people simple resigning themselves to their fate: like the HMS Bounty, the team would have no choice but to go around the Horn and weather the impending storm.
Things would get even worse when just days before England game Bierhoff tore a calf muscle on a rutted training ground in Breinig – the home of DFB supremo Egidius Braun. Having been sidelined for the remainder of the tournament the skipper felt that he had been let off the leash to lash out at the coach, and to make matters even more complicated none other than Franz Beckenbauer also waded into the debate. Der Kaiser had been highly critical of Ribbeck and was typically blunt in blasting the Nationaltrainer's tactics, suggesting that the team had no chance of winning the tournament. Meanwhile, Bierhoff and Ribbeck were now not even talking to each other.
The match itself was probably the worst of the entire tournament, as a poor and profligate German side were defeated by an England team that was only marginally less inept. A single Alan Shearer header would separate the teams, but the Mannschaft had more than one decent opportunity to draw level or even win the game. The defeat finally ended thirty-four years of hurt for England, and left Ribbeck and his wounded side needing a minor miracle in their final match against Portugal to have even the slightest chance of making the quarter-finals. Back in Germany, the press were scathing in their criticism of the team and the knives – long since drawn – were being sharpened with intent.
The punch-drunk German beast had managed to survive a mauling by Romania and had been muscled to the floor by England; it would be left to a Portuguese reserve side to administer the final blows to complete what would be Germany's most dismal showing in a major international tournament in living memory. The leaden-footed Mannschaft were simply run ragged for the entire ninety minutes by the energetic and nimble Portuguese, with the unheralded Sérgio Conceição scoring a hat-trick as the Iberians cantered to a 3-0 win and stormed into the quarter-finals.
The result was only part of the problem: this was a group of lumbering, uncoordinated misfits that didn't even look like a German team. Heads dropped, and all remaining confidence quickly drained away; they just didn't want to be there, and it was at times just too excruciating to watch. It was like watching a starving blind man being beaten mercilessly by a nimble-footed bully twice his size.
The writing had been on the wall for the Nationaltrainer even before the final whistle had sounded and his team had sloped off the pitch, with the press already preparing the following day's banner headlines. Ribbeck probably had his resignation statement prepared, and would hand in his notice the following morning so that the DFB didn't have to do what they had done with his former number one Jupp Derwall back in 1984.
Despite the shocking performance of his side the Nationaltrainer remained his usual dignified yet defiant self, claiming that he had been let down by his players; while there was clearly a grain of truth in this, the fact remained that it was his tactical inepitude and inability to listen to anybody else that was to blame. Then there was the inclusion of the geriatric Matthäus, a player who had continued to divide public opinion since his spat with Berti Vogts in the mid-1990s.
In hindsight, the inclusion of Matthäus was clearly a mistake, both for footballing reasons and team morale: the veteran would be exposed on more than one occasion by younger and fitter opposition forwards on the pitch, and his inflated sense of self almost certainly didn't help matters off it. Matthäus was to Ribbeck in the late 1990s as the equally controversial Paul Breitner had been to Jupp Derwall in the early 1980s: a divisive influence on squad dynamics, a player who truly believed that he was bigger and better than the team. The problem was no so much Matthäus' ego, but the fact that Ribbeck was happy to massage it.
If one could offer any sort of explanation in Ribbeck's defence, the most significant would have to be that the core group of players he inherited in 1998 from Berti Vogts had been old and creaking. The real problem however was not so much with the age and lack of depth of the squad, but the complete absence of ideas coupled with the coach's inflexibility and bloody-mindedness. Vogts had left behind a car that coughed and spluttered; Ribbeck, rather than apply oil to the areas that needed it most, simply let it sit and rust – preferring instead to polish the dashboard every Sunday afternoon.
Following the termination of Ribbeck's contract as Nationaltrainer German football found itself in a complete state of disrepair. "Sir Erich", meanwhile, returned to his life of serene retirement in Tenerife. I believe he has been there to this day, slowly turning a shade of autumn orange.
International Career Record as Player
n/a
Tournament Record as Player
n/a
Coaching Record
First match as coach: 10.10.1998 0-1 (0-0) v Turkey, Bursa (– / Şükür 70.)
Last match as coach: 20.06.2000 0-3 (0-1) v Portugal, Rotterdam (– / Sérgio Conceição 35., 54., 71.)
Total matches: 24
Wins: 10 (41.7%)
Draws: 6 (25%)
Defeats: 8 (33.3%)
Goals For (goals scored per game): 42 (1.75)
Goals Against (goals conceded per game): 31 (1.29)
Competitive matches: 14
Wins: 7 (50%)
Draws: 2 (14.3%)
Defeats: 5 (35.7%)
Goals For (goals scored per game): 23 (1.64)
Goals Against (goals conceded per game): 15 (1.07)
Friendly matches: 10
Wins: 3 (30%)
Draws: 4 (40%)
Defeats: 3 (30%)
Goals For (goals scored per game): 19 (1.90)
Goals Against (goals conceded per game): 16 (1.60)
Results Breakdown by Year
Tournament Record
FIFA Confederations Cup Mexico 1999 – eliminated in first phase
UEFA European Championship Belgium/The Netherlands 2000 – eliminated in first phase