Tournament Overview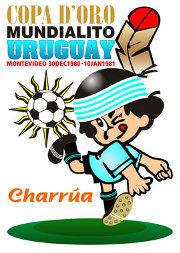 Marking the fiftieth anniversary of the FIFA World Cup held in Uruguay, the Copa de Oro de Campeones Mundiales ("World Champions' Gold Cup") or simply the Mundialito ("Mini World Cup") featured all of the six World Cup winners at the time – with the exception of 1966 winners England who declined the invitation and were replaced by two-time runners-up the Netherlands.
The six teams were divided into two groups of three, with games being placed on a round-robin basis with the two winning sides progressing to the final. All of the matches would be held at Montevideo's Estadio Centenario, the ground that had hosted the first World Cup final between hosts Uruguay and Argentina. While the Netherlands were placed with hosts Uruguay and two-time world champions Italy in Group A, the Nationalmannschaft were placed in Group B with three-time winners Brazil and then current world champions Argentina.
The tournament would be a massive disappointment for Jupp Derwall's side, as they lost both of their matches to be eliminated in the first phase; the 2-1 defeat at the hands of Argentina in their opening game on New Year's Day 1981 was also Derwall's first defeat as Nationaltrainer, bringing to an end the twenty-three match unbeaten run that had stretched back to the autumn of 1978.
In both of their matches Germany had been the first to score: against Argentina they were leading until the last ten minutes when the Albiceleste launched a stunning comeback, and their opening the scoring in the second half in their second game against Brazil only served to be a catalyst for an avalanche of Brazilian goals as the Mannschaft fell 4-1 – their heaviest defeat in any fixture since 1958 when they lost 6-3 to France in the World Cup third-place play-off.
Germany Tournament Squad List »
Germany Tournament Results and Overview »