"Here you are, in your comfortable chair, drinking three big wheat beers."– Rudi Völler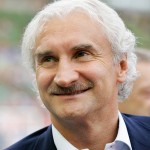 When he succeeded Erich Ribbeck to become the eighth Nationaltrainer in the summer of 2000 at the age of 40, Rudolf "Rudi" Völler brought with him very little in the way of coaching experience – but plenty of well-earned respect and admiration from both his peers and the German public following a senior professional career that had spanned some 17 seasons. It was like 1984 and Franz Beckenbauer all over again, with the added bonus that the likeable Völler was perhaps even more popular than Der Kaiser had ever been outside of Bavaria.
Having played a total of 90 times for the Nationalmannschaft between 1982 and 1994 and scoring 47 goals – which had at the time put him at number two on the all-time top scorers charts behind the legendary Gerd Müller – Völler was rightly regarded both at home and abroad as the ultimate penalty area poacher, perhaps second only to Müller himself.
To most English-speakers Völler would become best known as the man who was sent off at the 1990 World Cup in Italy for being spat at by Frank Rijkaard; to German fans meanwhile he was affectionately known as Tante Käthe – or "Aunty Katie" – on account of his grandma-grey curly hairdo.
The young apprentice
Born on 13th April 1960 in the town of Hanau in Hessen, Völler was a self-deprecating and quiet character – though behind this there was a clear sense of determination and purpose that would define his career as a player and then later as the coach of the national team. Having been introduced to local side TSV 1860 Hanau by his father Kurt along with his three brothers, Rudi quickly established himself as a prolific goalscorer – and it wasn't long before he had started to attract the attention of visiting talent scouts.
At the age of fifteen the young striker was spotted by Hermann Nuber, the scout of local "big" side Kickers Offenbach – then in the 1. Bundesliga and coached by a certain Otto Rehhagel. The club were keen to sign up him up, but these being the days where football was far from lucrative for a young player, Völler's mother Ilse insisted that her son complete an apprenticeship before committing himself to a career as a footballer. The young man was given a job in the Kickers office as a clerk, before finding employment with local firm Loehr & Bromkamp GmbH (LÖBRO) – a company that manufactured automotive parts.
A short time after his sixteenth birthday Völler joined the Kickers, now in the 2. Bundesliga Süd having been relegated during the 1975/76 season. He made his professional debut in November 1977, and scored his first goal in early 1978. In 73 matches he would score 18 goals, but soon realised that he was going nowhere at a club that had been good enough to secure a number of top ten finishes but not quite strong enough to push for a place in the top flight. The 1978/79 season saw TSV 1860 München take the 2. Bundesliga Süd title, and the following year the Bavarian outfit snapped up the twenty year old Offenbacher.
1860 would survive their first season back in the top flight, but when they found themselves unable to avoid the drop the following year Völler once more found himself in the new single-division 2. Bundesliga. Here however was where he came into his own, scoring 35 goals in 37 outings for Die Löwen as they finished fourth. Following a number of excellent performances for the national Under-21 side Völler had by this time been noticed by Nationaltrainer Jupp Derwall, and his phenomenal goalscoring record earned him a place in the first group of players selected for the World Cup finals in Spain.
Clinical finisher
The youngster wouldn't be selected for the final squad as more established names eventually got the nod, but the time was ripe for him to move on to bigger and better things. Völler's rise was accompanied by the unfortunate demise of 1860, which despite its successful fourth-place 2. Bundesliga finish found itself unable to retain its professional licence. With the club now finding itself in the third-tier Oberliga Bayern, it was time for their star striker to move on – taking the long journey north to SV Werder Bremen, now under the guidance of one-time Kickers Offenbach coach Otto Rehhagel.
Top flight football helped accelerate Völler's career, and with it the fortunes of Werder – a club that itself had only recently returned to the top flight in the 1980/81 season. The 1982/83 season was a phenomenal one for both the club and its new striker: The team from the Weserstadion finished second in the Bundesliga – pipped only on goal difference by northern city state rivals HSV – and Völler scored a total of 23 goals in 31 games. Völler had quickly acquired the reputation of not only being a clinical finisher, but also a hard worker off the ball.
By the end of 1982 the 22 year old Völler had made his debut for the Nationalmannschaft, scoring his first international goal in March 1983 in the 2-1 win against Albania in Tiranë.
Between 1983 and 1987 Werder Bremen would not finish outside the top five, and the prolific Völler continued to do his job in front of goal. In all, he would score a staggering 97 goals in 137 appearances for Die Grün-Weißen. In the same period for Germany, Völler found the back of the net 22 times in 41 matches, a strike rate better than a goal a game. He scored the Nationalmannschaft's only two goals in what what was an unsuccessful Euro 1984, and three more in the FIFA World Cup finals in 1986, including the header that brought the score back to 2-2 in the final against Argentina in Mexico City.
Rudi Völler nets the dramatic equaliser in the 1986 World Cup final with a typically sharp header
Ironically, the year after Völler left Werder for Italian side AS Roma, the Weser club would crown this most successful period in their history with their second Bundesliga title.
The cherry on top
If any league was a test for a foreign striker – in fact, any striker – it was the Italian Serie A. More prolific strikers had gone to Italy and failed, but as he had done throughout his career Völler applied the same steely determination. Five successful years in the Italian capital yielded a more than satisfactory return of forty-four goals in 142 games, and during this time he continued to find the target for the Nationalmannschaft, forging a successful partnership with the young VfB Stuttgart starlet Jürgen Klinsmann.
Klinsmann and Völler would combine to score six goals during the FIFA World Cup in 1990 – the pinnacle in what had already been a stellar international career for the man from Hanau – and winning the final on his club's home ground in Rome was just the cherry on top. The 1990 World Cup would of course also be remembered for Völler's sending off against the Netherlands – and the rather unsavoury incident involving Frank Rijkaard.
Völler clutches that very special lump of gold. After the 1990 World Cup final victory in Rome
Having been made captain of the Nationalelf for the finals of the 1992 European Championships Völler's tournament would end prematurely as a result of a freak collision and a broken arm in the opening game against the CIS, but he continued to flourish at club level. Having left Rome for the equally warm climes of Marseille in 1992, the now 32 year old striker continued to maintain his amazing goalscoring record, scoring 24 times in 62 appearances as helped Olympique win the European Cup, the first-ever victory for a French side in Europe's premier club tournament.
Völler's final international appearance would take place during the 1994 FIFA World Cup in the United States, a tournament where Germany eventually fell in the quarter-final against outsiders Bulgaria. Having scored twice in the previous knockout round against Belgium, Völler had the ball in the back of the Bulgarian net to give Germany a two-goal lead, only to have it disallowed for offside. The defeat in New York was a sad end to a glorious international career, but Völler could hold his head up high. In his 90 outings for the Mannschaft, he had scored 47 goals – second only to the legendary Gerd Müller.
The accidental Nationaltrainer
After hanging up his international boots Völler returned to the Bundesliga with Bayer 04 Leverkusen, and even at the age of 36 he continued to maintain his amazing record. In his sixty-two games for the Werkself, he scored 26 times. When he finally called time on his playing career the well-travelled striker had found the back of the net 257 times in 543 matches at club level – an average of just under a goal every two games.
Having finished his playing career in Leverkusen, Völler remained with the club, taking on the role of director of sport. Here the magic continued under the guidance of Christoph Daum, as Die Werkself strung together four excellent seasons that saw them finish no lower than third, though the 1999-2000 season would end in heartbreak as they missed out on a first Bundesliga title courtesy of a defeat to lowly SpVgg Unterhaching and a last-minute Bayern München equaliser in Hamburg.
With Daum lined up for the post of Nationaltrainer following the resignation of Erich Ribbeck after the ignominious Euro 2000 campaign, Völler had been all set to continue his work at Leverkusen with a new coach: as the 1999/2000 season came to a end, he would have no idea what the future held.
As the new season approached Daum had been all set to assume the top job, only to get caught in a drugs scandal that would rock German football and send it plunging into depths previously unfathomed. With Daum protesting his innocence the DFB kept the position open and available for him, and in looking for a caretaker found the perfect candidate: Rudi Völler.
Völler didn't even have an official DFB coaching licence, but following the success of Franz Beckenbauer before him this was no longer a barrier he'd have to negotiate. The former striker gamely took on the task, thinking that he'd be in the post for a year at most.
Against this chaotic backdrop, Völler grabbed hold of the reins and did what he had to do. A 4-1 thrashing of Spain in Hannover got things off to an excellent start, and this was followed by two successful FIFA World Cup qualifiers, a 2-0 win over Greece and an closely-fought 1-0 win in England – the final match at the old Wembley stadium, a ground that Völler had never had the luck to grace as a player. When Christoph Daum's contract was finally annulled by the DFB in October 2000, they didn't go looking elsewhere: Völler, the accidental Nationaltrainer, was offered the job on a permanent basis.
2002: The miracle run
Having had to inherit the mess left on the field by his predecessor Erich Ribbeck and off it following the Daum-Affäre, Völler was somehow able to pull things together tightly enough to ensure Germany's passage to the 2002 FIFA World Cup finals in Japan and Korea.
It was a rocky road: after a fantastic start that had seen the team put themselves within reach of the finals with a game to spare, the ghosts of Charleroi and Rotterdam returned with a vengeance as the Germans suffered a 5-1 humiliation at the hands of England in München's Olympiastadion. Even then they could have made it through in first place, but a stuttering goalless draw with Finland in Gelsenkirchen meant that they had to face a dangerous Ukraine side in the play-offs.
Given that the Nationaltrainer's job had been quite literally foisted upon him, Völler continued to have plenty of support among the German public; however he also knew that if his side were to lose to the Ukrainians the writing would be on the wall.
Having secured a hard-earned 1-1 draw in Kyiv Völler's side stormed to a 4-1 win in the return fixture in a noisy Westfalenstadion in Dortmund, inspired by a rampant Michael Ballack, a man who had matured enormously under the new coach's guidance. The Mannschaft had qualified for the finals, but nobody would give them much of a hope: however Rudi Völler – together with Ballack and skipper Oliver Kahn – had other ideas.
When the finals began Germany got off to a stunning start, thrashing minnows Saudi Arabia 8-0 with Miroslav Klose – another man who was central to Völler's plans – scoring a superb hat-trick. A tightly-fought 1-1 draw with the Republic of Ireland was followed by a 2-0 win over Cameroon, and the Mannschaft had swept into the second phase. From that point on it would be a series of close-run affairs, as Völler's side played to their strengths and out-muscled their opponents. A last-gasp win over Paraguay was followed by a lucky quarter-final win over a strong United States side, and the semi-final saw the team defeat a South Korean team that had disposed of European heavyweights Italy and Spain.
Many commentators and pundits complained bitterly about Germany making the final, but the fact remained that they had succeeded where others had failed. They had avoided the silliness that had led to Italy's defeat by the Koreans, and displayed a level of sacrifice that was best illustrated by Ballack's goal-saving tackle that earned him a yellow card that would exclude him from the showpiece in Yokohama. Völler lead the team as a team – and it was his dignity in both victory and defeat that helped cement the affection felt for him back home in Germany. The Mannschaft's miracle run would come to an end in the final against Brazil, but Völler and his team were welcomed home as heroes.
Rudi Völler and his team, accompanied by Frankfurt's mayor Petra Roth, are given a heroes' welcome
Rudi Völler had in many ways performed miracles with what was a limited German side bereft of any real quality; he had taken what could best be described as a rabble and turned them into a side that had reached the World Cup final, something that even his strongest supporters and well-wishers would never have thought possible.
If the media had been critical of Völler for his somewhat laid-back training methods and his team for their highly workmanlike approach – not to say their seemingly endless run of lucky breaks – this negativity was not shared by the majority of the fans back in Germany. Many supporters had hoped for a noble quarter-final exit at best, and to progress all the way to the final was seen as nothing short of a miracle.
While the side that made the final in 2002 had played football that had been qualitatively no different from that played in 1982 under Jupp Derwall, there were a number of striking differences. Firstly, the team was nowhere near as talented and little was really expected of them; secondly, while the tactics may have been dour, the spirit of the squad was completely different – there was none of the undercurrent of nastiness that had plagued the campaign in Spain 20 years earlier. While Derwall had been disliked by large sections of the German fan base, Völler was universally loved.
Loved by the public, criticised by the media
Völler might have been loved by the German public, but things were never the same with the media – which would have turned their knives on Mother Teresa if given the slightest sniff of an opportunity. The criticism of the Nationaltrainer soon picked up again during the qualification campaign for Euro 2004, and this soon came to a head live on state television.
Following what had been a frustrating goalless draw in Iceland, the usually serene Völler turned on his critics in no uncertain terms. His ire was directed at presenter Gerhard Delling and professional-turned-pundit Günter Netzer, both of whom had been particularly disparaging in their post-match analysis. Völler pulled no punches in saying that he had had enough of "all of the shit" that had been flung in his direction, and saved a number of choice words for Netzer in particular.
The man conducting the interview, Waldemar Hartmann, was not spared either. The veteran presenter was left dumbfounded by Völler's invective, and was accused of sitting in his comfortable chair and drinking three big wheat beers. Having been informed that wheat beer was not available in Iceland, Völler quickly apologised for the remark. But he refused to take anything else back. Such a response from a German coach was unprecedented, and actually served to increase Völler's popularity with the watching public.
Germany would eventually qualify for the finals following a better set of results that included a 3-0 win over the Icelanders, but as the tournament approached the coach suffered yet another humiliating setback when his side suffered yet another catastrophic 5-1 thrashing, this time at the hands of Romania in Bucharest.
Were it not for a late consolation goal two minutes from time by a young Phillip Lahm – then making his third appearance in the Nationaltrikot – it would have been the heaviest defeat since the 8-3 loss to Hungary half a century earlier. The Romanians had not even reached the finals; if Völler had decided to throw in the towel there and then, nobody would have blamed him.
Euro 2004 had come just a little too early for Rudi Völler. There were very few quality players at his disposal who could be described as being at the peak of their powers – Ballack being one of the few exceptions – and the youngsters the coach had boldly picked were not quite there yet. Völler had certainly set a clear precedent in selecting younger players, but the side he had put together for Euro 2004 was still a work in progress. An unlucky 1-1 draw with old rivals the Netherlands was followed by a dire goalless stalemate against an obdurate Latvian side, and having had to beat a reserve Czech team to progress Völler's side slumped to a 2-1 defeat – having taken the lead with one of the goals of the tournament from Ballack.
Unable to give any more, Völler has a look of resignation after the defeat to the Czech Republic at Euro 2004
For the second time in successive European Championship finals Germany had been eliminated in the opening group phase, and the luck that had carried Völler's team through to the World Cup final two years later had clearly eluded them. Although the final outcome had been identical to four years previously, it was not seen as a catastrophe: watching all three matches again, it is clear that the team were never really outplayed at any stage and were genuinely unlucky. They could very well have held their lead against the Dutch, and on another day would have taken at least once chance against the Latvians, results that would have taken them through to the quarter-finals irrespective of the result against the Czechs. For once, Rudi's magic touch had deserted him.
Making the best of it
Völler had found himself having to work with the best player material that was available to him, and to his credit was responsible for taking the hitherto unprecedented step of giving youngsters such as Bastian Schweinsteiger and Lukas Podolski their international debuts before they had reached the age of twenty. It was also Völler who truly kick-started the career of the mercurial Michael Ballack, transforming him from the criminally underused bit-part player he had been under Erich Ribbeck into the driving force and beating heart of the team.
Unlike his predecessor Ribbeck and to a lesser extent Berti Vogts, Rudi Völler was largely forgiven for any bad results. The German public knew that he had been trying to do as good as job as possible with limited resources, and he remained a much-loved character and a genuine footballing hero. Even his out of character outburst didn't serve to destroy his credibility; if anything, it proved that he actually cared deeply about his position and his responsibility to both the team and the watching public. Indeed, it could be argued that this display of candour and honesty in the face of constant criticism even helped to strengthen his reputation.
The early exit at Euro 2004 brought closure to Rudi Völler's career as national coach. His decision to resign had been met with surprise by DFB president Gerhard Mayer-Vorfelder who had wanted him to stay on until the World Cup in 2006, but Völler himself – after initially insisting that he wanted to fulfil his contract – decided to call time. Perhaps he was thinking of having to engage in more live debates with Delling and Netzer.
Some seven years after his resignation as Nationaltrainer Völler's methods would become the subject of a minor media furore, when full-back Philipp Lahm – who had been at the time one of the new young players in the side – described his regime as "amazingly relaxed" as well as "funny, and totally random". In his autobiography Der feine Unterschied ("The subtle difference"), Lahm alleged that rather than undergoing a strict programme the team would do some light training for a hour before before being left to "play on their Playstations".
Of course, such revelations were far from original: many observers were more than aware of the fact that it had been Völler's deliberate intention to create a more player-friendly atmosphere – in contrast to his predecessor Erich Ribbeck, whose more rigid approach and methods had been far from successful. One can only assume that Lahm – then at Stuttgart under the notoriously hardline Felix "Quälix" Magath – had suffered something of a training culture-shock.
Following his resignation as Nationaltrainer after Euro 2004 Rudi Völler experienced a very brief stint in Italy as coach of former club AS Roma before returning to Leverkusen, where after a short spell as caretaker coach was reappointed to the post of director of sport – a position he still holds today.
International Career Record as Player (1982-1994)
Total matches: 90
Total goals: 47
Tournament Record as Player
UEFA European Championship France 1984 – First Group Phase (2 goals)
FIFA World Cup Mexico 1986 – Runners-up (3 goals)
UEFA European Championship Germany 1988 – Semi-finalists (2 goals)
FIFA World Cup Italy 1990 – Champions (3 goals)
UEFA European Championship Sweden 1992 – Runners-up
FIFA World Cup United States 1994 – Quarter-finalists (2 goals)
Career Record as Coach
First match as coach: 16.08.2000 4-1 (1-0) v Spain, Hannover (Scholl 24., 51., Zickler 57., 62 / Raul 69.)
Last match as coach: 23.06.2004 1-2 (1-1) v Czech Republic, Lisboa (Ballack 21. / Heinz 30., Baroš 77.)
Total matches: 53
Wins: 29 (54.7%)
Draws: 11 (20.8%)
Defeats: 13 (24.5%)
Goals For (goals scored per game): 109 (2.06)
Goals Against (goals conceded per game): 57 (1.08)
Competitive matches: 28
Wins: 16 (57.1%)
Draws: 9 (32.1%)
Defeats: 3 (10.7%)
Goals For (goals scored per game): 48 (1.71)
Goals Against (goals conceded per game): 22 (0.79)
Friendly matches: 25
Wins: 13 (52%)
Draws: 2 (8%)
Defeats: 10 (40%)
Goals For (goals scored per game): 61 (2.44)
Goals Against (goals conceded per game): 35 (1.40)
Results Breakdown by Year
Tournament Record as Coach
FIFA World Cup Korea/Japan 2002 – Runners-up
UEFA European Championship Portugal 2004 – First Group Phase