Tournament Overview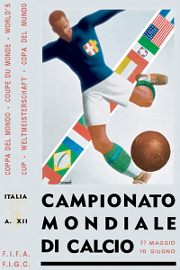 1934 saw the second edition of that was to become known as the FIFA World Cup, and the first such tournament to be held in Europe. Then under the Fascist government of Benito Mussolini, Italy saw the tournament as an opportunity to showcase both itself and the leadership, and the Azzurri did not disappoint.
While the first tournament in 1930 had seen the finalists compete in a round-robin group phase with the top four teams advancing to the semi-finals, the 1934 World Cup saw what was probably the simplest method – straight knock-out.
Sixteen teams lined up for the finals; not present were holders Uruguay, who decided to cut off their nose to spite their face by not travelling to Europe – a direct response to the decision made by many European teams not to travel to South America four years earlier. This meant that Italy 1934 was the only time where the defending champions were not able to defend their title. The straight knockout format meant that only seventeen games (which included one replayed match) were played between 27th May and 10th June 1934, with seventy goals being scored at an average of 4.12.
Having had to qualify for their own tournament – after this the hosts would always be provided a guaranteed berth at the finals – the Italians came from a goal down to beat Czechoslovakia in extra time.
Qualifying Campaign and pre-tournament build-up
With only thirty-two teams entering the competition, the qualifying rounds were short and sweet. Germany were drawn in a three-team group with France and Luxembourg with the top two advancing to the finals, and when both they and the French beat the Luxemburgers that was pretty much that.
Germany's Tournament in brief
The Mannschaft coached by Professor Dr. Otto Nerz perfomed creditably in their first FIFA World Cup tournament, finishing in third place after being beaten 3-1 by Czechoslovakia in the semi-finals courtesy of a Oldřich Nejedlý hattrick. In the first round game against Belgium, striker Edmund Conen scored Germany's first World Cup hattrick – a feat that would not be repeated for another twenty years.
Germany Tournament Squad List »
Germany Tournament Results and Overview »