It's a warm and bright late afternoon in the city of Rio de Janeiro, and the day has arrived. After over a month of competition, the two best teams are here compete for football's biggest and most famous prize: the FIFA World Cup. In what is an historic third final encounter Germany are up against Argentina, their conquerors in Mexico City in 1986 and defeated opponents in Italy four years later.
It is Argentina's first appearance in the showcase event since their 1-0 defeat in Rome, and in much the same way they have been guided into the final by one man. Back in 1990 that man would be Diego Maradona; today it is another diminutive figure in the form of Barcelona's Lionel Messi.
This evening I am back at the Bavarian Beerhouse in London, and the atmosphere is simmering nicely. Every table is full and beer glasses are being clanked, and I set myself up for the evening with a chilled Erdinger and an Obatza. Tensions are rising, and while confidence is high everyone has room for that little caveat. Argentina have made it to the final with a combination of a excellent management, good defence and no little guile, and they are not a leaky ship like Brazil. And they have one man who can make a great big messi of all our hopes and dreams.
Nervous? Yes. It's like paying for a gourmet meal where there's a remote risk of food poisoning. #gerarg #ger #worldcup #wm2014 #dfbteam

— Der Chef #GER (@fussballchef) July 13, 2014
The first team lineups have come in, and there are no surprises. Unlike two years ago in Warsaw, Nationaltrainer Jogi Löw has put his full trust in his players and has named exactly the same side as the one that would see us through against France and then put seven past Brazil in that historic semi-final in Belo Horizonte. The nightmare that I would have of him slipping skipper Philipp Lahm back into the midfield to deal with Messi would just be that: a bad dream. In good spirits, we head outside for the group photo: one for the memory drain should we be heading home in defeat, and one more for the album should the team capture that coveted fourth star.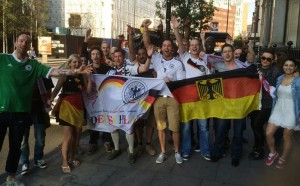 We settle down for the final pre-match preparations. The World Cup trophy is officially presented to the audience, and looks a little like a scene from Beauty and the Beast as Brazilian supermodel Gisele Bündchen makes her way out onto the pitch with a craggy looking Carles Puyol – representing holders Spain, long since departed. But then we get some bad news: Sami Khedira has done himself a mischief in the final match warm up, and will not play a part in the final. His place is taken by Christoph Kramer.
It is a massive moment for the Borussia Mönchengladbach man. Not even named in the original pre-selection squad of thirty, he would make his way along the rails and impress all concerned to earn his place in Campo Bahia. Now, he will be making his first start for the Nationalmannschaft… In the World Cup Final. It is all set up to be the stuff of fairytales, or everybody's worst nightmare.
Finally, the two teams make their way out and past the golden trophy for the anthems. As in the 1990 final Argentina are in their away colours – this time shades of all-blue rather – while Germany are in their all-white ensemble. Should we win this trophy, any criticisms of the team's "Real Madrid" look will all be forgiven.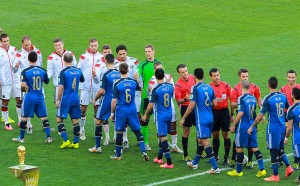 As the teams stand for the anthems, the Nationalhymne fills the beerhouse. We are ready, and the quest for the fourth star is about to begin. The referee is Italian Nicola Rizzoli, who should be a familiar face to both sides: as well as taking charge of two of Argentina's games, the forty-two year old architect is known to most of the German team with his overseeing the 2013 Champions' League final between FC Bayern München and Borussia Dortmund. The two shortest men on the pitch meet in the middle for the customary captains' handshake – or these days, handclasp. This in itself could be a very interesting piece of trivia.
1 min. Germany kicks off to loud roars from the 74,738-strong crowd in the Maracanã and this very German corner of London. There's no turning back now.
3 mins. It has been a bright start from the Mannschaft, and Thomas Müller wins an early free-kick after being challenged by Marcos Rojo.
4 mins. Germany make a mess of the free-kick and Argentina immediately counterattack through Ezequiel Lavezzi. He finds Gonzalo Higuaín who sends his shot skidding across the German goal. There's no danger for 'keeper Manuel Neuer who watches the ball roll past.
7 mins. Lahm finds Müller out on the left, but Der Raumdeuter's cross is easily collected by Argentina number one Sergio Romero.
8 mins. This far from the cagey encounter we had been expecting, with both sides moving forward positively. There's a moment of danger for Germany as Messi makes his first meaningful foray towards the penalty area, but his ball towards Enzo Pérez is well intercepted by Bastian Schweinsteiger.
10 mins. Argentina break down their right side through Pablo Zabaleta, and Benedikt Höwedes is on hand to block Lucas Biglia's effort. The Schalke 04 man has been an ever-present fixture in the Viererkette and has taken plenty of stick from both fans and the German media, but as the tournament has gone on has looked far more solid.
13 mins. Toni Kroos plays a smart pass out from the middle of the field and finds Lahm, whose well-flighted cross towards Miroslav Klose is effectively marshalled by former FC Bayern defender Martín Demichelis.
17 mins. A nasty collision between emergency starter Kramer and Argentinian centre-back Ezequiel Garay sees head hit shoulder, and Kramer goes down immediately. He is looking flushed and groggy as he talks with the medical staff, and it's not looking promising for the youngster. Somehow, he manages to get back onto his feet and carry on.
20 mins. It has been a shaky couple of minutes for the Mannschaft, and while Kramer is still struggling Kroos inexplicably attempts to send a looping header back towards Neuer. It's woefully short and is pounced upon by Higuaín. The Argentinian number nine has a good yard on Mats Hummels and bears down on the German goal with only Neuer to beat, but screws his shot wide of the target. We all breathe a sigh of relief, as no doubt does the careless Kroos. It's a dreadful miss from Higuaín, but everybody is happy to jeer in relief as the ball skids off for a welcome goal kick.
27 mins. Lahm tries to initiate another attack down the right and seeks out Müller, but the offside flag is raised. There's plenty going down the right flank from Germany here – perhaps a little too much.
28 mins. Schweinsteiger is booked for a clumsy and slightly cynical challenge on Higuaín. The game has settled down into an even contest, with the creative Germans looking to make use of their possession play and build with the fast Argentinians looking to hit them on the break. Things are perfectly balanced, and the tension clicks up a notch around me as the clock approaches the half hour mark.
29 mins. The main threat from Argentina is coming from the right through Lavezzi, who is able to cross towards the almost ubiquitous Higuaín. This time the ball is swept into the net, and the Real Madrid man peels away towards the touchline. There is a chorus of groans around me, but these are quickly followed by breathless cheers of relief as the camera switches to the linesman on the far side who has his flag raised. Higuaín is a good yard offside, and even Argentinian coach Alejandro Sabella knew it. It doesn't look as though it's going to be Higuaín's day.
32 mins. Still struggling after sustaining a blow to the head, Christoph Kramer's final is over. As he walks off there are animated discussions over who will replace him, and with no adequate replacement on the bench is is the perfect opportunity for Jogi Löw to bring on Per Mertesacker and move Lahm back into the midfield with Jérôme Boateng switching out to the left.
But then we see the board flash the number nine. André Schürrle makes his way onto the pitch, in what is a truly bold move from the Nationaltrainer. There are loud cheers from everyone around me, and while much of my early tournament irritation with Löw had largely been washed away with his going back to the 4-2-3-1 against France he has really won me over with this one. I promised to eat my hat earlier in the tournament if we should win this thing, but right now I am doffing it to the man with the strange hairdo whom my girlfriend has compared to Severus Snape.
34 mins. The men in white haven't quite settled yet after the enforced personnel change, and Höwedes takes out Zabaleta with a nasty-looking tackle. The trailing leg was way too high, and the Schalke skipper not unsurprisingly finds his way into the referee's notebook.
35 mins. Lavezzi storms through the middle of the pitch and looks for Messi, but Schweinsteiger arrives to put the ball for the corner, which is easily claimed by Neuer.
37 mins. After more quick recycling of the ball from the German 'keeper, Schürrle breaks down the left and finds the roving Müller out to his left while continuing his run towards the box. A neat cutback from Müller is teed up perfectly for the substitute, whose smart side-footed effort is well saved by Romero. It looks as though the ball has run behind for a corner, but Mesut Özil is flagged for outside.
40 mins. Now the play switches back to the other end, as Messi finds some space out on the right to weave a little of his magic. The little man sprints past Hummels and into the German box, but his cutback is hacked away by Boateng.
41 mins. Biglia is fouled by Schürrle and Müller goes down dramatically when challenged by Rojo. The referee awards a free-kick to the men in blue, and the little spat between Müller and Rojo is quickly sorted out by the official.
43 mins. Argentina give the ball away in midfield, and lovely jinking run from Özil finds Kroos in space just outside the penalty area. The FC Bayern man cannot get any decent contact and only succeeds in stroking the ball calmly into the arms of Romero.
44 mins. There are groans all around me as the men in white build up an attack down the right, and Müller works himself into a good position to send a teasing cross into the Argentinian box. It's perfectly weighted, but just a little in front of the fast-advancing Klose. A yard shorter and we might have seen a Klose special there; alternatively a younger Miro have have managed to make up the yards.
45+1 mins. There's some real pressure now from Jogi Löw's men as the game ticks into the two minutes of time added on. They win a corner out on the right, which is put behind for another one by Garay.
45+2 mins. The second Eckball is floated towards the middle of the six-yard box by Kroos, and Höwedes is able to get in there to drill a firm header against the post. Under no real pressure and able to get a free run at the ball, he perhaps should be doing slightly better than that. The whistle is blown for half-time.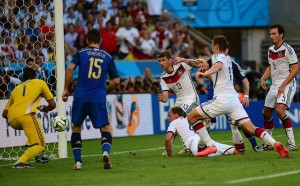 Despite the 0-0 scoreline, it has been a highly exciting final so far. Both teams have had their chances top open the scoring, with Higuaín shooting wide with the goal at his mercy and Höwedes hitting the post with Romero well beaten. The energetic Schürrle has tested the Argentinian 'keeper, while the slippery Messi continues to offer a threat at the other end. Manuel Neuer in the German goal meanwhile hasn't had to make a save so far.
46 mins. Argentina kick off and immediately attack the German goal, but Higuaín is flagged for offside.
47 mins. The Albiceleste continue to press, and Javier Mascherano sends a lovely thorough ball for Messi, who beats the offside trap and takes aim before dragging his left-footed shot wide of the far post with Neuer beaten. Maybe it's not going to be Messi's night after all.
50 mins. It has been all Argentina so far in the second half, with the Germans unable to clear their lines successfully.
51 mins. There's another ball played up towards Messi, but Boateng arrives to hook the ball clear.
53 mins. Lahm and Müller threaten to conjure up something out on the right of the Argentinian box, but the men in blue break down the left. Agüero is brilliantly tackled by Boateng, who has really had a solid game so far.
54 mins. Schürrle dances his way to the edge of the box and is fouled, but the referee plays advantage as Müller bursts into the box. His cross into the danger area is cleared, and Schürrle is a little bit miffed as the ball goes off a blue shirt for a corner.
55 mins. There's all sorts of silliness going on in the Argentinian box as Kroos' corner is swung in, and Müller has a free-kick awarded against him despite Rojo grabbing a good handful of his shirt.
57 mins. Higuaín sprints down the right to chase a high looping ball, and is literally beaten to the punch by Neuer who clears. The 'keeper's momentum takes him into Higuaín, who is unceremoniously dumped onto the ground. The referee awards a free kick to Germany, and the Argentine medical staff are on.
59 mins. Lahm makes another sprint down the right and swings in a lovely cross towards Klose, who leaps between two defenders but is unable to get enough power on his header. It's on target, but regulation stuff for Romero who collects.
61 mins. More smart play by Lahm, who cuts inside from the right and is unable to locate Müller with a sharp pass into the box.
62 mins. A dawdling Demichelis is caught out by the ever-alert Klose, and the ball breaks for Schürrle who sprints down the left. The Chelsea man's cross is a little behind Özil however, and the chance is gone.
64 mins. Things have got just a little bit scrappy and tetchy, and Mascherano is booked for an ugly lunge on Klose.
65 mins. It's two yellow cards in the space of a minute for Sabella's side as Agüero is booked for a late charge on Schweinsteiger.
67 mins. Argentina win a free kick when Klose upends Biglia, but it comes to nothing as Neuer calmly collects.
69 mins. Rojo breaks down the left and drives the ball inside towards Higuaín, but that man Schweinsteiger comes charging in to quell the threat.
70 mins. Höwedes makes a rare foray into the opposition half, but his attempted cross is woeful.
71 mins. There's some neat interplay between Müller and Schürrle at the edge of the Argentinian penalty area, but the Chelsea man cannot control the ball and the men in blue clear.
75 mins. Messi gets some time on the ball for the first time in ages, and dances at the edge of the German box before sending a curling left-footed shot wide of the target. With a quarter of an hour remaining in the ninety, the talk is now all about extra time. One goal for either side here will surely be enough.
77 mins. Argentina make a change as the strangely-coiffured Rodrigo Palacio comes on for Higuaín.
78 mins. Messi rides a couple of challenges and looks for Palacio in the German box, but Neuer is right there to collect.
80 mins. The Mannschaft win a corner out on the right, but Argentina clear. The men in white resume their assault on the Argentinian goal, and Müller's delicious dink into the box finds Höwedes of all people. The left-back can't disentangle himself in time top engineer a shooting chance however, and Argentina clear the danger.
82 mins. A lovely ball from Lahm finds Özil floating on the right, who finds Kroos in space to his left. Kroos has plenty of time to take aim and shoot, but sends his side-footed shot well wide of the target. There's a slight interruption as an interloper makes his way onto the pitch, but he is quickly escorted off by a number of security personnel.
86 mins. A defensive change for Argentina as Fernando Gago replaces Pérez.
88 mins. Argentina threaten through the middle of the park, but there are two more heroic challenges from the Germans. First Boateng foils Messi, and the indefatigable Schweinsteiger takes the ball away from Biglia. Joachim Löw now makes his second change with Klose making way for Mario Götze. The record-breaking veteran is given a warm round of applause in the ground, and here in our little corner of Deutschland in London everybody is on their feet as one of Germany's legends makes his way off the pitch in a World Cup match for the final time. It will be up to his team mates to win him that coveted winners' medal npow.
90 mins. Palacio looks to engineer something down the right but is brilliantly challenged by Höwedes who also wins the throw-in. Bonus. We're going to see three minutes of additional time.
90+1 mins. Some lazy play from Argentina lose the ball in the middle of the pitch, and Götze makes his way towards the opposition goal. Unsure whether to shoot or look for Schürrle ahead of him, his rather tame shot is easily gathered by Romero.
90+2 mins. There are white shirts swarming in and around the Argentinian box as Götze tries to conjure some last-moment magic. Müller collects the ball out on the left and looks to play it back into the danger zone, but Zabaleta blocks.
90+3 mins. The whistle blows. We are heading for extra time for the third time in three World Cup finals.
It has been a slightly patchy second half, with Germany slightly in top in terms of chances. Romero has had to make one decent save, but at the other end Argentina have been unable to offer any threat to Manuel Neuer in the German goal.
91 mins. Germany get the first period of extra time under way, and within a minute there's a fast break down the left resulting in Schürrle getting another shot on target after some excellent approach play from Götze. Unfortunately the ball is at the perfect height for the 'keeper who makes a solid block. Argentina look to break immediately but once again the excellent Boateng is there to foil them.
94 mins. There's only one side trying to win this game at the moment, but there's no way through that blue wall. Argentina are looking a little like Chelsea here, which is not such a good thing if one remembers what happened in May 2012.
97 mins. Hummels is looking increasingly tired and sluggish – and is probably still carrying an injury – and is unable to deal with Rojo's floated ball into the box towards Palacio. Fortunately Neuer is off his line quickly, and all Palacio can do is loop his shot wide. Boateng is there to make sure of things and watches as the ball goes dead for a goal kick.
100 mins. There's plenty of lateral passing now from Löw's side as they look for that killer pass to unlock the ball defence. Argentina are putting more and more men behind the ball, and are surely looking for penalties.
101 mins. Schweinsteiger is caught by Mascherano, who is lucky to escape a second yellow card. It's getting tough out there now, and the tension all around me is building.
103 mins. Argentina finally get some time in the German half, but the men in white are there in number to wrest control once again.
104 mins. Schürrle and Lahm look to create an opening on the right, but the excellent Mascherano is there to intervene.
105 mins. Lahm is caught by the busy Mascherano, but there is no time for the free-kick as Signori Rizzoli signals the end of the first fifteen minutes.
106 mins. We're only fifteen minutes away from penalties now, and Argentina get things under way. Sabella's side have not been behind in this tournament so far, and something has to give if we are not to have the dreaded Elfmeterschießen. Nerves are being shredded now, and I grip my beer glass tightly to avoid having to start biting my nails. It's bordering on the unbearable.
107 mins. Schweinsteiger is really in the wars here. Both Mascherano and Biglia slide in on him, and Germany win the free-kick. Once again one can argue that Mascherano is lucky to still be on he pitch. He is playing a hard game but is sailing very close to the wind.
109 mins. With a less lenient referee, this could have been like 1990 by now. Schweinsteiger is again in the thick of the action as he is caught by Agüero's flailing fist. The only red we see is the blood pouring down Schweinsteiger's face from a cut under his right eye, and Agüero can consider himself very, very lucky to still be on the pitch.
112 mins. Germany win another free-kick in their own half as Palacio looks to swap shirts with Lahm early.
113 mins. Schürrle and Kroos exchange passes on the left, and the Chelsea man breaks hard down the left with real purpose. he follows this up with a beautifully-weighed cross into the Argentinian penalty area, and Götze collects it beautifully on his chest before volleying it from the tightest of angles with his left foot from the left corner of the six-yard box. The ball flies past Romero and into the net. The crowd at the Maracanã erupts, and everybody around me is off their feet in an explosion of sound. It's there! Götze has done it. Absolut Wahnsinn! 1-0.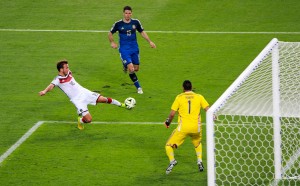 It really is a special goal, and one worthy of any World Cup final. I had held nothing back in slating Götze after his dismal performance against Algeria, and boy has he delivered. Great technique, great control, and a stunning finish to leave Romero no chance whatsoever. Truly deserved, and Argentina will really need to pull out all of the stops now to take this to penalties.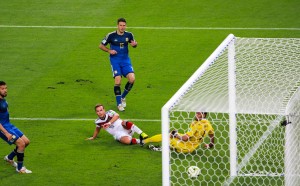 115 mins. The German fans in the ground have upped the volume, and so have we in the Bavarian Beerhouse. It's pandemonium, but it's far from over – especially in this tournament which has had more than its fair share of last-minute drama.
117 mins. Argentina are throwing everyone forward now, and Neuer shows his authority with a confident punch and collect.
118 mins. Rojo does well to send a hopeful ball from the left corner towards the edge of the German box, and Messi heads over the target.
119 mins. Neuer again collects safely as the ball is thumped is desperately thumped forward by the men in blue.
120 mins. Müller makes a charge down the left and gets in behind the opposition defence, but his pass into the six yard box is agonisingly in front of Özil. It's the playmaker's last piece of the action, as he makes way for Per Mertesacker as the Nationaltrainer looks to reinforce the back line and win a couple of vital seconds.
120+1 mins. There are two minutes to be added, and Messi charges forward and is awarded the free-kick as Schweinsteiger challenges. The German number seven looks to have played the ball, but the scene is set for yet more last-minute drama as the diminutive Argentina skipper prepares himself for one last shot to save his team.
120+3 mins. It feels like an eternity before Messi steps up to take the kick, but to much collective relief he sends it high and not particularly handsomely over the crossbar.

Messi's free kick and the final whistle: Bedlam at the Beerhouse
120+4 mins. We are into the fourth minute of additional time now, and Schweinsteiger is brought crashing down yet again. There's no need for him to get up straightaway though, as the final whistle is blown. The rest of the team charge onto the pitch from the bench, and there is complete pandemonium all around me. Amazing scenes everywhere, and we have that fourth star. Wir für Vier!
The players are all out on the pitch now, and their families are making their way down to join them. It's all dragging on a bit though, and the defeated Argentinian team have to wait out there while the victorious Germans are singing and dancing close by. There are some great moments as Miroslav Klose is seen with his twins, and Lukas Podolski frolic with his young son. There are smile and tears out on the pitch, while here where I am the beer is now flowing again freely. Our nerves might have been shredded to pieces over the best part of two hours, but it's now time to bask in the glory.
It's done! Welcome, fourth star!!! DEUTSCHLAND!!! #GERARG #WorldCup2014 #WorldCupFinal

— Der Chef #GER (@fussballchef) July 13, 2014
Some special "four star" t-shirts are being worn by some of the players, and Manuel Neuer can be seen sporting the new version of the Nationaltrikot we will be seeing from next season – with both the fourth star and the FIFA World Cup winners' shield. So that's what that chevron on the front of the shirt is really for!
There are boos for FIFA president Sepp Blatter and Brazilian President Dilma Rousseff as the cameras turn on them, and the ceremonies begin with Neuer winning he Golden Glove and Messi – rather surprisingly – winning the Golden Ball as the tournament's most valuable player. There's a nice touch as the German team form a guard of honour for their defeated opponents, and the scenes are markedly different from 2006 and 2010, when the relationship between the two teams would be clouded in controversy and acrimony.
Argentina go up to collect their runners-up medals, and finally, led by the evening's warrior Bastian Schweinsteiger, the Germans make their way up the stairs to where the glittering gold trophy is waiting. The players and coaching staff receive their medals, and finally the trophy is handed by a somewhat reticent looking Rousseff – who along with Blatter appears to be hiding away from the cameras and the crowd's jeers. As a result, Lahm has to carry the trophy for an awkward few metres before he can rejoin his team mates and hold it aloft. Perhaps they should have had Gisele present the trophy.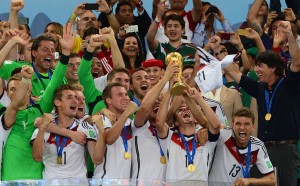 After Fritz Walter in 1954, Franz Beckenbauer in 1974 and Lothar Matthäus in 1990, Lahm becomes the fourth German skipper – and third from FC Bayern München – to receive football's most famous prize. So there we have it… Seven games, and sweet victory in Rio…
Deutschland, wir sind Weltmeister!
Estádio do Maracanã, Rio de Janeiro (World Cup Final), 13.07.2014


1-0 aet (0-0, 0-0)
Götze 113. / –
Germany: Neuer – Lahm (c), Boateng, Hummels, Höwedes – Schweinsteiger – Kramer (32. Schürrle), Kroos – Müller, Özil (120. Mertesacker) – Klose (88. Götze)
Argentina: Romero – Zabaleta, Demichelis, Garay, Rojo – Biglia, Mascherano – Lavezzi (46. Agüero), Perez (86. Gago) – Messi (c), Higuaín (78. Palacio)
Referee: Nicola Rizzoli (Italy)
Assistants: Renato Faverani, Andrea Stefani (Italy)
Fourth Official: Carlos Vera (Ecuador)
Fifth Official: Christian Lescano (Ecuador)
Yellow Cards: Schweinsteiger 29., Höwedes 34. / Mascherano 64., Agüero 65.
Red Cards: – / –
Ball Possession: 60% / 40%
Attempts on Target: 7 / 2
Attempts off Target: 3 / 8
Corners: 5 / 3
Fouls Committed: 20 / 16
Attendance: 74,738
Man of the Match: Mario Götze