Much has been said about the current crop of German players, who have been described by a number of pundits and commentators as the Nationalmannschaft's "golden generation". There is certainly an abundance of rich talent in Joachim Löw's squad that is all set to head off to Brazil for this year's World Cup, but so far it has been a case of "so near, so far" in recent international tournaments.
By contrast, the team that triumphed in Italy in 1990 would never receive the same amount of widespread adulation. Admittedly, the media in that pre-Internet and – by the state of the players' hairstyles – pre-Fashionista world were a completely different beast, and it is hard to say what the likes of Guido Buchwald, Klaus Augenthaler and Rudi Völler might have looked like had they been in their prime today. For one, Jürgen Klinsmann would almost certainly have trimmed that mop of blonde hair that made him look a little like Dougal from the Magic Roundabout. Or, in Germany, Pollux from Das Zauberkarussell. Likewise, one can only try and visualise Marco Reus or Bastian Schweinsteiger with a Littbarski-style mullet or Thomas Müller with a Völlerian hairdo and matching moustache.
Or maybe not.
The 1990 Mannschaft. The best ever?
As an eighteen year old in 1990, Franz Beckenbauer's World Cup winning team were – and perhaps always will be – "my" team. Yes, I had been following the Nationalmannschaft since the early 1980s and would later be at Wembley to savour the golden goal triumph at Euro '96, but the tournament in Italy in 1990 was my first as an adult able to cast a vote and legally buy a beer. That summer was something truly special, and while the final may not have been the most memorable in this history of this great global sporting event, it will forever be burned on my memory.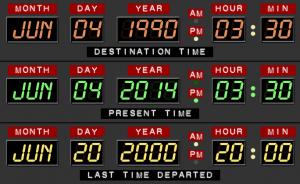 I therefore will admit to be slightly biased. For all the talk of the current bunch being the "golden generation", no collection of German players will ever compare with Franz Beckenbauer's world champion Class of 1990. But for fear of opening Pandora's box and inviting all sorts of opinions from those who may happen to share Mario Götze's peculiar taste in fashion and music, I will try and compare them here. Man for man.
Opinions will no doubt come flying in from all angles on this, but football was more of a man's game back then. There's simply no way someone who concentrated more time on their body art or application of hair gel would have coped with steely-eyed opponents whose sole mission it was to destroy you. Perma-stubbled, almost sinister Italian, Spanish or and Latin American defenders who stepped out onto the field with their socks rolled down and no shin pads. Naturally, Germany also had their own rough cloth to cut from: with players like Augenthaler, Buchwald and Thomas Berthold, you always knew the opposition were not going to be allowed to just walk away with the prize.
Making the comparison
To make this comparison possible, a few adjustments have been made. For starters, the tactical approach was massively different twenty-four years ago. German club teams – and, of course the national team – played with a sweeper or Libero, were armed with traditional Manndeckers in the defence accompanying the flying wing-backs, and featured midfielders that relied on a mixture of craft and strength. There were usually two front men, or occasionally a floating winger doubling up as a striker. The good old 5-3-2 or 1-4-3-2.
To not give the 1990 team too big an advantage, I have refactored them into a more modern 4-2-3-1, which means that some players will be in unfamiliar positions when being compared to their current contemporaries. However, people forget that there was a great deal of versatility there. The likes of Guido Buchwald could play in the centre of defence, in the middle of the field or even out on the flank, and while Jürgen Klinsmann would turn into a great goalscorer he had started out – much like the great Karl-Heinz Rummenigge – as a flying winger. Then there were special players like Andy Brehme, who like Philipp Lahm today could occupy almost any spot in any tactical formation.
Even when rehashed as a 4-2-3-1, the starting eleven from the 1990 final is mightily impressive:
Illgner
Berthold, Kohler, Buchwald, Brehme
Augenthaler, Matthäus
Klinsmann, Häßler, Littbarski
Völler
The starting lineup in Rome in 1990. Back, l to r: Berthold, Illgner, Kohler, Buchwald, Völler, Augenthaler. Front: Littbarski, Brehme, Häßler, Klinsmann, Matthäus (c)
I have decided to compare this eleven with what many would consider, at full fitness, to be the most effective potential lineup for this year's World Cup:
Neuer
Lahm, Boateng, Mertesacker, Durm
Khedira, Schweinsteiger
Müller, Özil, Reus
Klose
All statistics are taken "at the time" to make for an accurate comparison in terms of age and experience. Ages and caps for the current team are taken as of the date of this article (4th June 2014) while details from the 1990 squad are from just before the start of the 1990 tournament. So, imagine a situation where the Class of 1990 – complete with bad haircuts and regulation black football boots – have been teleported to the present. Or, alternatively, imagine you have been transported in your De Lorean back to 1990 with the current crop – ending up in a world where you can find fragments of a strange wall standing in the middle of Berlin and where your iPhone doesn't work.
Goalkeeper: Bodo Illgner v Manuel Neuer
Age: 23 / 28
Caps: 15 (0) / 45 (0)
1. FC Köln's Bodo Illgner would become Germany's number one 'keeper at the relatively young age of twenty-one following the surprisingly premature retirement of the twenty-eight year old Eike Immel after Euro '88, and compared to today there were relatively few talented young German 'keepers to choose from. Illgner stood out from a very small crowd, and was Nationaltrainer Franz Beckenbauer's undisputed number one during the 1990 tournament ahead of older custodians Raimond Aumann and Andreas Köpke.
One of a talented bunch of goalkeepers to emerge at the end of the first decade of the new millennium, FC Schalke 04's Manuel Neuer would take possession of the number one jersey in 2009, a return to stability for the Nationalmannschaft after the retirement of the long-serving Oliver Kahn and Jens Lehmann and the sad death of Robert Enke. Neuer would make a lucrative move to FC Bayern München in 2011, and quickly became the undisputed first choice between the sticks for current Nationaltrainer Jogi Löw.
Illgner is a solid keeper and an excellent shot-stopper, but Neuer is just in another league. In terms of both age and experience, the 'keeper from the Class of 2014 is a definite shoo-in between the sticks.
Verdict: Neuer
Cumulative score: Class of 1990 0-1 Class of 2014
Right-back: Thomas Berthold v Philipp Lahm
Age: 25 / 30
Caps: 35 (1) / 105 (5)
Thomas Berthold could very easily have been mistaken for a placid schoolteacher, but when he scowled his face looked a little like Sam Neill's Damien Thorn in the third Omen film. An intelligent, versatile player who could play both in the middle of the defence and out on the wing, the Hanau native cut his teeth with Eintracht Frankfurt before moving to what was then one of the toughest domestic leagues in the world, Serie A. At the age of twenty-five Berthold would already have a World Cup runners-up medal under his belt, and in that tournament in Mexico in 1986 his credentials as a one of the team's hard men was earned with a red card against the hosts in the quarter-final. There was nothing spectacular about him, but then I doubt he would have cared much about that.
Philipp Lahm would make his debut for the Nationalmannschaft in 2004 at the age of twenty, and would go on to become of the the best wingbacks in Germany, capable of playing both on the left or right with ease. Intelligent and defensively sound while at the same time capable of initiating the attack, Lahm became captain of his club FC Bayern München and of the national side following the retirement of Michael Ballack just before the 2010 World Cup in South Africa. The 5'7″ pocket dynamo had won his hundredth international cap before the age of thirty, and in 2013 under Pep Guardiola at Bayern was reinvented as a defensive midfielder. Lahm has been described by Guardiola – no mean judge of character – as one of the most intelligent players he has ever coached.
Nobody can doubt Thomas Berthold's mettle, but for that combination of experience, versatility, skill and footballing intelligence, Lahm would make his way into any side in almost any position. He is without doubt one of the greatest players of his era and is a clear winner for the right-back slot.
Verdict: Lahm
Cumulative score: Class of 1990 0-2 Class of 2014
Right Centre-back: Jürgen Kohler v Jérôme Boateng
Age: 24 / 25
Caps: 27 (0) / 38 (0)
Germany in the 1980s had produced a series of orthodox, solid central defenders – the Manndecker. In 1990 the team contained the latest of this long line in Jürgen Kohler, who plied his trade with FC Bayern München after spells at SV Waldhof Mannheim and 1. FC Köln. Having made his international debut at the age of twenty in 1986, Lambsheim-born Kohler was a fixture in the national team, and featured at the European Championships in Germany in 1988. That tournament had ended on a bitter note after his giving away a penalty (despite making a clean tackle) against the Netherlands in the semi-final, but he was one of the first names on the team list in 1990.
Berlin-born Jérôme Boateng was schooled with his local club Hertha BSC, and after spells in Hamburg with HSV and in England in Manchester City made his way back to Germany and FC Bayern, taking up the same position occupied by Jürgen Kohler twenty-four years earlier. With his height, strength and turn of speed, Boateng brought a new edge to the traditional role of Manndecker, where central defenders expected to play a role in the attack. Having played at both the 2010 World Cup in South Africa and the 2012 Euros in Poland and the Ukraine, Boateng is no stranger to high-level international competition.
Boateng may have more international experience than the younger Kohler, but his propensity for costly errors and the occasional lack of judgement leaves him way behind a man with an established reputation as one of the Mannschaft's greatest Manndeckers. Kohler may lack Boateng's strength and speed, but his natural sense of positioning and defensive intelligence leaves his head and shoulders above his modern contemporary.
Verdict: Kohler
Cumulative score: Class of 1990 1-2 Class of 2014
Left Centre-back: Guido Buchwald v Per Mertesacker
A stalwart of VfB Stuttgart, Berliner Guido Buchwald would cement a reputation of being a hard man-marker, but one versatile enough to even play a positive role in attack in the style of Hans-Peter Briegel. After being on the fringe of international selection for Euro 1984 he had missed out in 1986, but by 1988 he had become a core member of the squad. Well built and 188cm tall, Buchwald cut an uncompromising figure in a well-drilled German team. The intense battle for places meant that by the age of twenty-nine Buchwald had only collected thirty-two international caps.
A tall and elegant centre-back in the traditional mould, Per Mertesacker made his name for home town club Hannover 96 before moving onto Arsenal via Werder Bremen. While not particularly mobile, the 198cm Mertesacker more than makes up for this with an excellent positional sense – and brings a certain intelligence to the defence. He wmade his international debut in 2004 shortly after his twentieth birthday, and in a successful career with the Nationalmannschaft has racked up a total of ninety-seven caps in less than ten years.
Despite both players being the same age, Mertesacker is by far the most experienced with three times as many caps. As a specialist centre-back Mertesacker also has the slight advantage, but what wins this battle for Buchwald is his versatility and uncompromising abilities as a fierce man-marker.
Age: 29 / 29
Caps: 32 (0) / 97 (4)
Verdict: Buchwald
Cumulative score: Class of 1990 2-2 Class of 2014
Left-back: Andy Brehme v Erik Durm
Age: 29 / 22
Caps: 51 (7) / 1 (0)
A veteran of the 1986 World Cup and 1988 European Championships, Andreas "Andy" Brehme made his debut for the Nationalmannschaft at the age of twenty-three, quickly establishing himself as one of the best left-sided players in the world. Having started with 1. FC Kaiserslautern Brehme moved to FC Bayern München, and then to Internazionale in Serie A. Capable of using both feet, Brehme was a much-feared set-piece specialist and was as much at home out on the left of midfield as at left back. In short, he was the perfect attacking wing-back: rock-solid in defence but capable of great movement and skill offensively – particularly with his ability to deliver pin-point crosses with either foot.
Erik Durm is one of the most inexperienced members of Jogi Löw's team, and after barely one full season of top-flight football for Borussia Dortmund would find his way into to international setup. An encouraging debut and an injury to Dortmund team mate Marcel Schmelzer assisted Durm's rise, but the future beckons for the exciting yet grounded young player who looks capable of nailing down a position that has provided more its fair share of grief for the Nationaltrainer.
Given Durm's inexperience and Brehme just being Brehme, it's a clear win for the Class of 1990 here. There's nothing for the youngster to be ashamed of, in that even before his heroics in the 1990 tournament Brehme would still beat every man who has since attempted to fill his boots.
Verdict: Brehme
Cumulative score: Class of 1990 3-2 Class of 2014
Defensive Midfield: Klaus Augenthaler v Sami Khedira
Age: 32 / 27
Caps: 20 (0) / 45 (4)
If anyone could be described as the archetypal battler, it would be Klaus Augenthaler – nicknamed Auge or "the eye". Tough, uncompromising, intelligent, blessed with a powerful right foot and a hairstyle that looked like it had been cultivated by his gardener, the FC Bayern München was less a traditional Libero than a specialist sweeper and mopper-upper: a sort of defensive grim reaper. Hailing from the town of Fürstenzell on the Austrian border, Augenthaler would make his international debut relatively late at the age of twenty-six and was one of many battling for the one spot, but he featured in the 1986 World Cup before being selected in 1990.
Another of the successful youth products to work his way up into the senior ranks, Stuttgart-born Sami Khedira would play for his home town club VfB and force his way into the national reckoning in late 2009. The injury to Michael Ballack saw the elegant and intelligent Khedira slot seamlessly into Joachim Löw's starting line-up, and he would not look back from there. Not long after he had become a fixture in the national side, he made a lucrative move to Spain with Real Madrid. Khedira has that perfect combination of spatial awareness, strength and passing accuracy – all the makings of the perfect defensive midfield general.
This is a really tight decision. Khedira clearly has the advantage in being not only the younger of the two but also more than double the number of international caps. Then there's his natural ability as opposed to the craggy Augenthaler's workhorse mentality. However, as a product of the 2000s Khedira lacks what Augenthaler brings into the mix: sheer uncompromising bloody-mindedness and Eier. Of course, I will admit to being slightly biased on account of "Auge" being my favourite FC Bayern player of all time.
Verdict: Augenthaler
Cumulative score: Class of 1990 4-2 Class of 2014
Defensive Midfield: Lothar Matthäus v Bastian Schweinsteiger
Age: 29 / 29
Caps: 74 (10) / 101 (23)
After making his debut at the age of eighteen at the European Championship finals in 1980, Erlangen-born Lothar Matthäus struggled to establish himself in the side, having to compete with a number of more established players. A move from Borussia Mönchengladbach to FC Bayern München in 1984 accelerated his progress and resulted in his selection for the 1986 World Cup in Mexico, where he was tasked with marking Diego Maradona in the final. Post-1986 he established himself in the side, moving to a more advanced position as the central midfield orchestrator. As team captain at Euro 1988 Matthäus was expected to lead the home side to victory, but despite giving the Mannschaft the lead from the penalty spot in the semi-final against the Netherlands the evening would end in defeat. Coming into the World Cup in 1990, Matthäus – by now in Italy with Internazionale – was at the peak of his powers.
Like Matthäus, Bastian Schweinsteiger made his debut as a teenager and was selected for the Euro 2004 squad. Unlike Matthäus however his introduction to the national setup had coincided with a dearth in midfield talent, and the Kolbermoor-born youngster would quickly cement a place in the team managed by Jürgen Klinsmann out on the left wing. One of the heroes of the 2006 World Cup campaign, Schweinsteiger then received a wake-up call with a red card two years later at Euro 2008, before scoring in the quarter-final against Portugal. The brash youngster with the bleached blond hair gradually transformed into a midfield dynamo both for the Nationalmannschaft and his club FC Bayern, with Dutch coach Louis van Gaal overseeing his transformation into a defensive midfield powerhouse. Continued solid performances for both club and country saw him play his part at both the World Cup in 2010 and Euro 2012, as well as a Champions League victory with Bayern the following year.
Probably the closest contest of all, and a matter of margins between two players of the same age. In terms of experience and international caps, Schweinsteiger gets the nod. In terms of tournament experience, it's also a tight run thing. Schweinsteiger had started out as a winger before turning into a highly-regarded defensive midfielder, while Matthäus was midfield backbone transformed into a dynamic driving force. In a contest where in terms of ability it is difficult to find a winner, Matthäus gets the nod for much the same reason as Klaus Augenthaler pips Sami Khedira: that innate bloody-mindedness and uncompromising will to win.
Verdict: Matthäus
Cumulative score: Class of 1990 5-2 Class of 2014
Right Offensive Midfield/Wing: Pierre Littbarski v Thomas Müller
Age: 30 / 24
Caps: 67 (17) / 48 (17)
A stalwart at 1. FC Köln – with a fifteen year spell broken only by a disappointing season with Racing Club Paris – Pierre Littbarski was instantly recognisable from his small, wiry stature and distinctive mullet. Famed for his jinking runs and ability to score direct from corners, the whippet-like "Litti" brought a dash of creative spice to the German team during the otherwise stodgy and uninspiring Jupp Derwall era. A veteran of two World Cup campaigns and winner of two World Cup runners-up medals, the Berlin-born winger would be approaching the end of his international career in 1990. Nevertheless, he remained a game-breaker and match-winner.
A Bavarian lad through and through, Weilheim-born Thomas Müller burst onto the international scene as a teenager and at the age of nineteen started in the 2010 World Cup in South Africa – where he would win the golden boot as the tournament's top goalscorer. Always brimming with enthusiasm and blessed with an ability to disrupt opposition defences, the gangly FC Bayern München winger quickly established himself as one of the most important cogs in Joachim Löw's team, as well as a firm fan favourite. As well as being a winger Müller is also a proven goalscorer, and is more than capable of playing in the specialist striker's role.
Given that by 1990 the thirty year old Littbarski was a fading star and the twenty-three year old Müller – with forty-eight caps to his name already – is yet to hit his peak, this is an easy one for the Class of 2014. Müller adds something different to the team, and, rather like Littbarski during the early 1980s, brings that element of unpredictability.
Verdict: Müller
Cumulative score: Class of 1990 5-3 Class of 2014
Centre Offensive Midfield: Thomas Häßler v Mesut Özil
Age: 24 / 25
Caps 12 (1) / 54 (17)
A small man with a powerful right boot, the diminutive Thomas "Icke" Häßler made his international debut for the at the age of twenty-two in the autumn of 1988 and within two years had become an integral part of the talented midfield put together by Nationaltrainer Franz Beckenbauer. The Berlin-born 1. FC Köln playmaker made an immediate impact on the team dynamic, and his crucial winner against Wales in Germany's final qualifier at his home ground would send the Nationalmannschaft through to the finals. Häßler's small stature gave him a low centre of gravity, and addition to his great ball control he also possessed a lethal right boot – making him a go-to man for free-kicks.
Mesut Özil made his way up the international youth ranks, impressing at every stage before making his full international debut at the age of twenty. The slightly built but hugely gifted Gelsenkirchen-born playmaker would go on to impress in the following year's World Cup in South Africa, and quickly became the heartbeat of Joachim Löw's talented and creative young side. A successful campaign in South Africa saw Özil become German football's hottest property, and having moved from home town club Schalke 04 to Werder Bremen, he bid farewell to the Weserstadion after the World Cup to join Real Madrid before moving to England to join Arsenal.
Before the World Cup in 1990 Häßler had collected only a dozen caps – far fewer than Özil's fifty-four. With his talent and greater tournament experience, Özil should be a shoo-in. The only thing going against him is his languid attitude, mental fragility and perceived lack of commitment – something that contrasts strongly with the robust and energetic Häßler – but on his day Özil is and will always be something special – a genuine game-changer.
Verdict: Özil
Cumulative score: Class of 1990 5-4 Class of 2014
Left Offensive Midfield/Wing: Jürgen Klinsmann v Marco Reus
Age: 25 / 25
Caps: 18 (4) / 20 (7)
After making his debut in the winter of 1987 at the age of twenty-three, VfB Stuttgart's Jürgen Klinsmann forced his way into the national reckoning as a pacy, flying winger. Known for his fast bursts down the flank and distinctive gait, the man with the mop of bright blond hair made an almost immediate impact during the European Championship finals in Germany in 1988 where he found the back of the net against Denmark in the group phase. Feared for not only his bustling runs but also his at times almost supernatural heading ability, the Göppingen-born Klinsmann was a defender's nightmare. His burgeoning reputation secured a move to Internazionale in 1989 where he joined fellow Germans Lothar Matthäus and Andy Brehme, and by the time of the World Cup in 1990 he was approaching the peak of his powers.
Dortmunder Marco Reus moved from his home town club to Borussia Mönchengladbach via second division Rot-Weiss Ahlen, and was instrumental in turning an hitherto ordinary side into a team capable of challenging for top domestic honours. His burst onto the scene earned him a call up from Nationaltrainer Jogi Löw in 2011, and despite a number of injury problems he had soon established himself at the highest level in spite of there being a fierce battle for places in the starting lineup. Blessed with pace, a light touch and dancing feet, Reus has been described as one of the most promising players of his generation. He made his way back to Dortmund in 2012, and enhanced his reputation further as the team's leading light.
There really isn't much separating Klinsmann and Reus, both twenty-five years age of with similar levels of experience. However Klinsmann gets the nod on account of his being able to combine pace and strength – a simple case of the lighter, slightly more fragile Reus being out-muscled – the skipping fawn against the hard-running gazelle.
Verdict: Klinsmann
Cumulative score: Class of 1990 6-4 Class of 2014
Striker: Rudi Völler v Miroslav Klose
Age: 30 / 35
Caps: 63 (34) / 131 (68)
A traditional old-school number nine, Hanau-born Rudolf "Rudi" Völler started out with second division TSV 1860 München before finally making his name with SV Werder Bremen, with whom he would challenge for domestic honours. A sharp finisher with excellent positional sense, the tousled-haired Völler made his international debut at the age of twenty-two and took to international football with ease. He scored both of the Mannschaft's goals at the disappointing Euro '84 in France, and despite not being fully fit in the World Cup in Mexico in 1986 continued to find the back of the net with three goals including one in the final against Argentina. Two more goals followed at Euro '88, and by the time of the World Cup in 1990 the thirty year old Völler – by now in Italy with AS Roma – was the finished article and a permanent fixture in Nationaltrainer Franz Beckenbauer's side.
Miroslav Klose would be a relative unknown when he would make his debut at the age of twenty-three in 2001 – picked by none other than the then Nationaltrainer Rudi Völler. Having never worn the Nationaltrikot at youth level, the mobile Silesian-born 1. FC Kaiserslautern striker made an immediate impact with a goal on his debut in a World Cup qualifier against Albania. More success in the 2002 finals followed as he finished as the tournament's joint second-highest scorer with five goals, and although Euro 2004 would be a disappointment Klose was back in the goals at the 2006 World Cup, where he became the first player to score at least five goals in successive tournaments. More success at the 2008 and 2012 Euros and the World Cup in 2010 followed, and in 2014 Klose, by now with SS Lazio in Serie A, sat one goal behind Ronaldo's all-time World Cup record and level with Gerd Müller's German goalscoring record.
This is a tough contest where the two combatants are separated only by their condition and age at the time. On experience, Germany's leading goalscorer Klose has the clear advantage: Völler's record in major tournaments is excellent, but Klose's is even better, bordering on the superlative. On pure goals-per-game strike rate, Völler comes out best. For poaching ability in the box, the traditional old-school striker again edges in front. However, for being able to combine with those around him Klose is clearly in front. In such a close contest, it is only the players' respective ages that separate them; while Völler in 1990 would be just past thirty, at just short of thirty-six Klose in 2014 is in the twilight of his career. Had this comparison been made four years ago the result would have been different, but today Völler gets the nod.
Verdict: Völler
Cumulative score: Class of 1990 7-4 Class of 2014
So there we have it. There are bound to be differences of opinion, particularly given the formations, playing styles and the very small differences where the decision could have gone either way. The Class of 1990 get the overall verdict, but on the evening of 13th July we could be thinking differently. As much as I love going back to those memories of the fantastic summer of 1990, the time has truly come for today's golden generation to put their own story in the history books and make 2014 another memorable year for German football and the followers of the Nationalmannschaft.
The Classes of 1990 and 2014: A Comparison