Finally, after all the pre-tournament hype, we have seen some football. The opening game would see the hosts Brazil record a 3-1 win over Croatia, but the score would not really reflect what had happened over the ninety minutes. Two goals scored by a man who should arguably have been sent off for a flailing elbow, a penalty – taken by the same player – that should never have been awarded, and Croatian challenges being deemed as fouls. In other words, a man of the match performance from the referee.
Crowd riots in Sao Paolo, Pelé being wheeled out for the umpteenth on the BBC… Yes, Brazil 2014 is underway!
Müller's Maracas
Meanwhile a few miles up the road at Camp Bahia the German team would be watching the game, after another good day's training. Manuel Neuer is looking good for a return to the starting eleven, there are no new injury problems, and morale is good. We would even get to see Thomas Müller's skill with the maracas when a group of local Pataxó tribespeople performed a welcome dance.
Is there nothing that man cannot do?
Tolle Geste! Nach dem Training hat der Indianerstamm Pataxó einen Glückstanz aufgeführt. pic.twitter.com/WBA1OkBd9e

— DFB-Team (@DFB_Team) June 9, 2014
Lahm's Location
With the press looking to hook on to anything of note in the days leading up to the Nationalmannschaft's first group fixture against Portugal, Nationaltrainer Jogi Löw would provide the answer to one long-running question: where skipper Philipp Lahm will play. Having started in the defensive midfield against Armenia in the final warmup game, it will be the same against Portugal.
So, that's settled then – and with this being the case it also means that Jérôme Boateng will start at right back, which in turn confirms the pairing of Mats Hummels and Per Mertesacker in the middle. At left-back it is a toss-up being inexperienced specialist Erik Durm and the experienced but role-adjusted Benedikt Höwedes, with Löw likely to plump for the latter on account of his strong performance in the last game – which also included a second international goal.
Lahm starting in the midfield also provides a partial answer to the issue of the defensive midfield, which will see one of Sami Khedira and Bastian Schweinsteiger start out on the bench. Khedira started against Armenia and Schweinsteiger would replace him after an hour, which suggests that Khedira should start on Monday. Then there's the option of Toni Kroos, who unlike both Khedira and Schweinsteiger is fully fit.
A false nine or a proper nine?
The attacking midfield, cruelly deprived of the services of Marco Reus, is the one area where we might see a surprise. Having impressed against the Armenians a resurgent Lukas Podolski has clearly turned his fortunes around, while André Schürrle has also impressed with two sprightly displays – and two goals in two games. With playmaker Mesut Özil a definite starter and Thomas Müller also on the list of indispensables, we should see one of Podolski or Schürrle start out on the left.
This then leaves the striker's slot. The matches leading up to the tournament have led us all to believe that the now thirty-six year old Miroslav Klose will be preserved as an attacking second-half off-the-bench option, which leaves plenty of potential attacking combinations. Will the coach stick with his pet plan of putting Mario Götze up top, or will he leave the young FC Bayern München starlet on the bench and start with both Podolski and Schürrle? Even then, there are further permutations. One could go with Müller on the right, Podolski on the left and Schürrle up top, or even switch the versatile Chelsea winger to the right and have the arguably more productive Müller fill the "nine" role.
All of the above assumes that Löw starts with a familiar 4-2-3-1, but popular tabloid Bild has suggested the coach will start with a more elastic 4-3-3 – with Kroos joining Khedira and Lahm behind a triumvirate of Müller, Schürrle and Podolski. This of course means no start for either Götze or Özil. A starting eleven without Özil? I'd have to see that to believe it.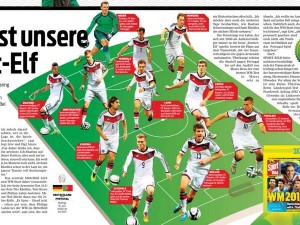 Given the way the team played against Armenia and the impact made by Özil and Klose when they were both on the pitch at the same time, there is a certain logic to having both on the bench as part of an impact strategy. But then one could also say this of Podolski, who in recent games has been far better off the bench than he has been as a starter on account of the additional pace and direct play he brings. I myself have described this role as that of a "disruptor".
Bring on Portugal!
As much as I promised not to get involved in this ongoing discussion until the Portugal game, I suppose I just cannot help myself. Monday cannot come soon enough. In fact, the only thing I'm slightly concerned about is the game being played in the middle of the afternoon.
The drama continues on the Portuguese side too, particularly concerning Cristiano Ronaldo. The Ballon D'or winner would exit the team's latest training session early with an ice pack on his knee, but the management would simply say that this was a precautionary measure as part of a strategy not to overwork him. Sounds about right to me. In the image I have seen of Ronaldo wearing said ice pack with his hands covering his face, one of the coaching staff is smirking. Perhaps it's all a game, a bluff to con foolish journalists like the Independent's Tom Sheen into believing what they think they are seeing.
As much as Ronaldo not playing would provide a major confidence boost to those in the Mannschaft's at times shaky back line, one player does not make an entire team – even if he might have scored all four of his side's goals in their play-off against Sweden. While Portugal are clearly better with Ronaldo in their ranks, even without him they are always going to be a tough nut to crack.