Have no fear, the match reports are coming… But during yesterday's game I just couldn't keep up with the "live" commentary as the goals kept flooding in. As soon as I started to put together the description of one another would go in, and I found myself running the risk of not actually seeing anything at all. So I decided to put the laptop to one side, watch the match and post the occasional tweet.
Was für ein Spiel!
This wasn't just a game of football. It was epoch-changing, a cataclysmic shift. When teams are subjected to a massacre like this, nobody will be saying that their opponents "played like Brazil". Well not any more, anyway.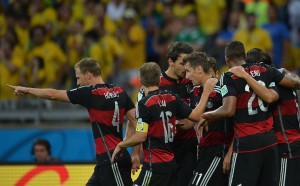 This is not some second-rank nation we are talking about here. This is Brazil, a team that had not been beaten in any competitive match at home for close to forty years. Brazil, five-times World Cup winners. I look at the result, and have to look again and again. It is still scarcely credible, and it will take at least a few days to sink in. 7-1, the biggest semi-final win in the history of the World Cup, against the tournament hosts.
To think that Germany had never beaten Brazil in a competitive match, to score seven against them – I will repeat that: seven, sieben, SIEBEN – was just something else. As DFB President Wolfgang Niersbach would say after the match, it had been football "from another Galaxy". Remember: this wasn't Liechtenstein, San Marino or Armenia. This was Brazil. Brazil. Brasilien.
In all my years following the Nationalmannschaft, I have seen some great results. Great players. Trophies. As an eight year old I would see them win the European Championship in 1980. Then, ten years later, would come the World Cup in Italy. In 1996, I would be at Wembley to enjoy Oliver Bierhoff's Golden Goal to secure a third European title.
But this surpasses all of these.
This is just a dream I don't want to wake up from. I have followed #ger for over three decades, and this is the best moment ever. #gerbra

— Der Chef #GER (@fussballchef) July 8, 2014
Let us forget where we are at the moment, and the site you are reading this on. Just forget that I am writing this as an unashamedly biased fan of the German team. Let's just look at this in pure footballing terms.
On November 25th 1953, England would entertain Hungary at Wembley. On that day, the "Magical Magyars" would tear the home side apart with a display that would change the face of football. Walking away with a stunning 6-3 win against a team that had never been beaten at Wembley by any team from outside the British Isles, it would be a defining moment in the history of the game. For those who would be around to witness the spectacle, Ferenc Puskás, Nándor Hidegkuti and Sándor Kocsis would be names indelibly inked into the memory.
On July 8th 2014 we would see something similar at the Estádio Mineirão in Belo Horizonte. It was enough to watch things unfold on television, but for those who were there it must have been more than magical.
If 1953 had given us the "Magical Magyars", the summer of 2014 would give us "Dynamic Deutschland". Perhaps in sixty years time football fans all around the world will be waxing lyrical about these German players. The Titan Manuel Neuer. The diminutive skipper Philipp Lahm. The engine room of Bastian Schweinsteiger and Sami Khedira. The mercurial Toni Kroos. the tireless Thomas Müller. Suber-sub André Schürrle. The record-breaking Miroslav Klose.
Niersbach would sum things up perfectly:
Das Spiel ist jetzt vier Stunden her. Ich möchte allen Beteiligten sagen: Macht mal die Augen zu, lasst es mal sacken – und dann begreift ihr so langsam, was heute passiert ist. Das ist ein historisches Ergebnis, das ist keine Übertreibung. Ihr könnt euren Kindern und Enkelkindern noch in Jahren und Jahrzehnten erzählen: "Damals, 8. Juli 2014, in Belo Horizonte, ich war dabei. 7:1 gegen Brasilien. Noch in Jahrzehnten wird man fragen: Wie war das möglich?"

(The game is now four hours old. I want to say to all involved: close your eyes, let it sink in and slowly understand what happened here today. This is a historic result, and it is no exaggeration. You can tell your children and grandchildren in the coming years and decades: "July 8th 2014 in Belo Horizonte, I was there. 7-1 against Brazil. Decades from now one will ask: how was that possible?")
Of course, the great Hungarian team that would mesmerise the crowd at Wembley in 1953 would never win the World Cup – stumbling, ironically enough, into an inspired German team the following summer – another defining that would become known as the Miracle of Bern, or Der Wunder von Bern. It is clear now that to truly write themselves into the history books, this current German team has to take this crucial step and claim the golden trophy for themselves.
It naturally follows that as supporters we have must keep our heads firmly screwed on and feet anchored to the ground. This is without doubt a historic moment – capped off by Klose's record breaking strike – but it will all be for nothing if the team doesn't finish the job in the Maracanã on Sunday. After that, we can rightly up the ante in the hyperbole stakes.
The debates about the 4-3-3, Lahm in midfield and the composition of the defensive midfield have been forgotten. Now it is time to celebrate quietly, knuckle down and prepare ourselves for the final push. Auf geht's, Jungs!