Three wins from three and maximum points in a European Championship group phase for the first time – easy. Or not, given that this was yet another tough match that could very easily have swung in the opposite direction.
Less than five minutes after Holger Badstuber had been lucky to get away with a sneaky tug on the shirt of aspiring underwear model Nicklas Bendtner, take out the 't' and the second 'n' to calculate the name of the man who calm finish brough much welcome relief to the followers of the Nationalmannschaft both in the stands in Lviv, out on the streets all over Germany and at home.
Combined with Portugal's 2-1 win over the Netherlands, a Danish winner would have eliminated Joachim Löw's side from the competition – something that to many would have been unthinkable.
OK, it was close and we are all Germany supporters here – but enough with the doom and gloom.
Facts and Stats
This was Germany's twenty-sixth meeting with their northern neighbours, and their fifteenth victory. The two teams now have an equal record in competitive encounters, with two victories each (Germany EC 1988, EC 2012; Denmark WC 1986, EC 1992).
Winger Lukas Podolski made his one hundredth appearance for the Nationalmannschaft, making him at twenty-seven years and thirteen days both the youngest German and the youngest European to achieve the feat. Podolski has racked up his century in just over eight years, and in so doing became the fastest German player to reach the landmark.
This was the youngest German team to take to the field in any major tournament, with an average age of twenty-five years and 107 days. This average would be lowered even more when André Schürrle came on for Podolski midway through the second half.
With his 44th international goal, Podolski capped off his 100th match by moving above the legendary Uwe Seeler and into sixth place on the all-time top scorers list (seventh if you choose to count the fifty-five goals scored for East Germany by Joachim Streich). One more will take him into joint-fifth place with Rudi Völler.
The Team and Tactics
Nationaltrainer Löw would pick the same side that had started the first two matches against Portugal and the Netherlands, with the exception of the suspended Jérôme Boateng who would be replaced at right-back by Lars Bender. The system remained the same, as did the patient approach. As with the opening fixture against Portugal, the flow of the game would largely be dictated by the defensive approach adopted by the Danes – though Thomas Müller could very easily have finished the debate within the first ten minutes with two decent chances, one of which would have to be described as gilt-edged.
With Denmark defending high up the field and prepared to concentrate on the fast break or set-piece Germany were allowed to boss on-field possession. More often that not there would be a series of horizontal passes, only for the final ball to be given away. It was like watching a poor man's tiki-taka at times.
Denmark would threaten the German goal on only a couple of occasions, but would remain a constant threat from set-pieces – and so it proved when they scored their equaliser from an intelligently-crafted corner and header back into the box. This is a major problem for Löw's side, and remains its achilles heel.
Germany's winner was well thought-out or a little bit lucky, dependent on your interpretation. With Portugal leading in the other match in Kharkiv the Danes finally threw everything forward at the end, only to be caught out by the sort of fast break that was a feature of the German game at the World Cup in South Africa two years ago. Mesut Özil skidding low ball was clearly intended for substitute Miroslav Klose, but after it rolled past the striker Bender was on hand to roll it in after making an impressive eighty-yard run.
Might things if finished the way they did had Boateng been there instead of Bender? Who knows?
Conclusion and Player Ratings
Defensively the team were solid once again – position at corners notwithstanding – with Mats Hummels against impressing and new boy Bender doing a more than adequate job covering for the absent Boateng – his evening capped off with the winning goal. After a marked improvement against the Dutch Bastian Schweinsteiger again looked lethargic, but this was more than made up for my the industry of Sami Khedira who along with Hummels had turned in consistently solid performances in all three matches.
Offensively, there were no obvious weak links – though after his goal Podolski did appear to fade into anonymity out on the left. When he was replaced by Schürrle – finally – a lot more started to happen, and the substitute was unlucky not to add to his amazing off-the-bench goalscoring record when he forced Danish 'keeper Stephan Andersen into a fine diving save.
Müller continued to be industrious without being spectacular, and Özil in the middle once was patchy. Does he work as well with Mario Gómez as he does with Klose? That one will just keep on running, probably until Miro decides to call it a day.
Up front, Mario Gómez had a disappointing evening, and there were shades of 2008 as he completely mistimed one volleyed attempt and seemed to stumble his way through proceedings. On the upside, he got a lot to see lot more of the ball, and was usually quick to shore up the defence and show that he is not just a goal-poacher who sits waiting all day for a cross.
With Greece likely to present a similar challenge, the questions will no doubt start to be asked. Does Jogi Lö stick with his chosen lineup – with Boateng back in at left-back, Podolski out on the left and Gómez up front – or does his introduce something a little different in the form of Klose, Schürrle or even Marco Reus? More on that in my next pre-match preview.
Manuel Neuer
For the third match in succession the German 'keeper didn't need to do much, and remains a presence between the sticks. Provided a little entertainment late on in proceedings with a run reminiscent of the not-so-great Colombian showman Réné Higuita to show that he can not only take penalties but play sweeper as well.
Philipp Lahm
A quiet match for the German skipper, who tended to concentrate on his defensive duties. It appears to be a tactic, but there is little in the way of movement or coordination with Podolski. We like to see Lahm offer a threat, but I cannot recall one moment where he even looked like he might get behind the Danish defence.
Holger Badstuber
Arguably lucky to have not given away a penalty after tugging at Bendtner – though the red card some not exactly objective observers were clamouring for might have been a little harsh. Was slightly suspect in the air and allowed himself to be beaten far too easily by Daniel Agger late on. Not the FC Bayern centre-back's best performance so far.
Mats Hummels
The tall and rangy Borussia Dortmund man continues to maintain his excellent form, and provided yet another solid performance that puts him as one of the leading centre-backs of the tournament. Was not as effective coming forward as he had been against the Dutch, but dealt with everything he had to. It is quite safe to say that the Hummels versus Per Mertesacker debate is now over.
Lars Bender
Showed at times that he is not a natural right-back by being caught out of position, but turned in a solid and energetic display in his first full ninety minutes for the Mannschaft. Made a couple of crisp challenges, and made a long run that resulted in his scoring the winning goal.
Sami Khedira
Another sterling display by Germany's defensive midfield linchpin, and made up for the rather subdued Bastian Schweinsteiger. Khedira is the silent machine in this German side, and was the architect of a number of attacks from a defensive position. Almost set up Schürrle with a perfectly-timed through ball, and could very easily have added to his how international tally. In fact my only criticism would be for his finishing, which can be poor at times.
Bastian Schweinsteiger
An ordinary display from Schweinsteiger, who looked increasingly tired as the game went on. It is clear that he is still not a hundred percent fit, and we can only hope that a move to the milder climate of the Baltic coast will be more agreeable. No major errors however, and any failings on Schweinsteiger's part were more than made up by Sami Khedira.
Lukas Podolski
On his 100th appearance, with no goals since the autum of 2011 and his starting place seemingly under threat, it was almost inevitable that Podolski would get himself on the scoresheet. It wasn't the most difficult chance and there was more than a whiff of good fortune about it, but he did what he needed to do by leathering it home in truly Poldi style – with his right foot. After providing us with this hen's tooth, Poldi then retreated back into defensive mode and was replaced by André Schürrle midway through the second half.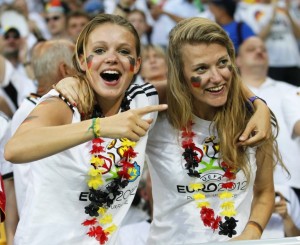 Mesut Özil
Germany's enigmatic playmaker is getting mixed reviews at the moment; to some he is still the best German player out there, while to those more critical he has flattered to deceive. Produced some moments of magic and it was his – albeit fortunate – pass that ultimately decided the match, but is still not the man who can terrify an opposition defence. The biggest theory of course is that he works far better with Miroslav Klose ahead of him.
Thomas Müller
The FC Bayern man is a shadow of the player that took South Africa 2010 by storm, but showed his value for the third match in a row. Müller's "drunken spider" runs and energy – even if he is clattering into his marker most of the time – provide that variation and unpredictability to the German attack. He needs a goal though, and once again had an excellent chance to open his account early on. Was replaced late in by Toni Kroos.
Mario Gómez
It's really hard to rate Gómez given the game he plays, with the plaudits usually coming down to simple goalscoring statistics. After his three goals in the first two game he looked a little leaden-footed, and had two decent opportunities that he might on an other day have finished off. Covered his defensive duties well however, and there is no doubting his commitment. Was replaced by Miroslav Klose late on.
Substitutes:
André Schürrle
Replaced Podolski just after the hour, an made an impact almost immediately. Having picked up a nicely-weighted through-ball from Khedira, the Bayer 04 Leverkusen man was unlucky to see his well timed gently curling shot palmed away by Danish 'keeper Andersen. Was far more dangerous for the thirty or so minutes he was on the pitch than Podolski had been for the first hour.
Miroslav Klose
Came on for Gómez with just under twenty minutes left, but had few chances to make an impact. He did add a little extra zip to the attack however, and could very easily have scored his sixty-fourth international goal had Özil's pass had been delivered as intended.
Toni Kroos
Another little cameo for the creative midfielder, who came on for Thomas Müller as the Mannschaft set about closing out the game.
My ratings:
Neuer (3) – L. Bender (2), Hummels (2.5), Badstuber (3.5), Lahm (3) – Khedira (1.5), Schweinsteiger (4) – Müller (3), Özil (3), Podolski (3.5) – Gómez (3). Subs (up to 75 mins): Schürrle (2.5), Klose (3)
Bild's ratings:
Neuer (3) – L. Bender (3), Hummels (2), Badstuber (3), Lahm (3) – Khedira (4), Schweinsteiger (4) – Müller (3), Özil (3), Podolski (3) – Gómez (4). Subs (up to 75 mins): Schürrle (3), Klose (3)
Kicker's ratings:
Neuer (3.5) – L. Bender (2), Hummels (3.5), Badstuber (3), Lahm (2.5) – Khedira (3), Schweinsteiger (4) – Müller (2.5), Özil (4), Podolski (3) – Gómez (4). Subs: No ratings
There's a general consistency, though once again I have to wonder if these guys are watching the match. Well, either than or they don't Sami Khedira or have no idea what his function in the team is. I'd suspect the latter. I can sort of understand given him a mid-range score, but for Bild to give him a Note 4 while rating Podolski a 3 – I am ever so slightly baffled.
So while Kicker makes young Bender their man of the match – fair enough – and Bild spread their not so generous plaudits around (nobody scored higher than a 3), I have Khedira leading the way. In fact, I would have Khedira as Germany's best performer of the group phase overall, a whisker ahead of Mats Hummels.
UEFA, meanwhile, dished out their MotM award to… Podolski. Erm, right. But then we have to remember that these are the same guys that dish out paltry fines to aggressive Croatian "supporters" while slapping poor old Nicklas "Pants" Bendtner with a 100,000 Euro fine. One only has to wonder what might have happened had Badstuber tugged at the Dane's shorts rather than his shirt… Should the offending boxers have been (inadvertantly) revealed, would both of them have had to pay a second more substantial fine?
On the matter of financial penalties, following their being cashiered for the paper ball attack on the Portuguese during the first match in Lviv the DFB had to reach for their pockets again after a "neo-Nazi" banner was allegedly seen in the crowd. I have not seen said banner – in fact, I don't think anybody outside UEFA towers have – but I do find it slightly odd given that such nonsense is pretty rare amongst German fans these days, unless you choose to stand among the flare-chucking Ultras in Rostock or Berlin.
Nah, the image of the two pretty girls is a whole lot better.
Germany v Denmark: Match Analysis and Player Ratings