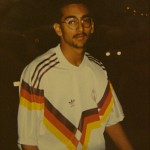 As I am not a particularly great fan of self-congratulatory monologues – they are as tedious for me to write as they are for all of you poor souls to read – I am ever so slightly reticent about writing an "about the author" page; after all, there will always be something that somebody disagrees with or takes the wrong way. Instead I'll choose to dish out the facts and let you do the interpretation bit.
I am a professional front end web developer and project manager – as opposed to being one of those strange fellows who dabble around with back ends – and have worked in the web industry from sometime in 1998 when I decided that working in insurance was starting to mess with my head. Having started by playing around with basic HTML and building a portfolio of small personal project sites I shoehorned my way into doing this stuff for real. Although I enjoy dabbling in the creative side of things, these days any innovative development on these project sites is simply a means to an end: the driving force has always been the content, and to a slightly lesser degree more boring things like usability and cross-browser compliancy.
Given that the emphasis is on standards and gathering an audience interested in the content as opposed to sparkling bells and whistles, one could perhaps call this the "Sepp Herberger approach to web development". Der Ball is rund und das Web ist breit, as the great man might well have said.
These days I am stationed in the suburbs of West London working for a major player in the eGaming industry, overseeing the front-end development of a suite of websites in what is an ever-evolving portfolio. If people are going to put money on it, I will probably end up building the front end for it. It all suits me pretty well, as it is one of the few places in England where one can wear a Germany shirt to work during a major tournament without being glared at, verbally abused or subjected to jealous rants fuelled by forty-something years of hurt. In fact, the only criticism I have ever received has been on my wearing the loose-fitting "Thomas Müller" version of the Nationaltrikot as opposed to the tightly-fitted "Lukas Podolski" design – a decision motivated by the combination of a complete lack of fashion credibility and a firm unwillingness to give up on a diet of Weizen, cured meats and home-made Obazda.
I have over the years been able to carefully manage my spare time – albeit in my own particularly haphazard way. Thankfully many of my interests can be easily extended to the Internet, and this has been best illustrated by my writing a number of historical and information-driven websites over the years. It can be a very bad thing being interested in a number of subjects and well-versed in website development – I am living proof that it leads to hours spent tapping away at a keyboard, often to the annoyance of everyone else.
I have written on a number of subjects – military history, architectural history, philately, social and political commentary, football… Over the years some of these sites have become "best of breed", in that I have acted as consultant on a number of projects and have promised myself that I will write a book or two one day. One such project is a comprehensive account – complete with reports and analysis of all major tournament matches – on the Nationalmannschaft since 1986.
My interest in German football goes back more than three decades; when I was around nine years old, I was transfixed by names such as Karl-Heinz Rummenigge, Bernd Schuster, Hansi Müller, Hans-Peter Briegel and Uli Stielike. It was a love affair that blossomed and had its shares of highs and lows, from the ecstasy of being at Wembley to witness the Euro '96 triumph and the record-equalling third World Cup victory at Italia '90 through to the shame of Spain '82 and the humilation of Euro 2000; it was for me the perfect subject to dedicate a website to. The only issue was finding the time – time that is now increasingly more difficult to find as I am now also writing for the excellent BundesligaFanatic blog – one of a fine team of German football enthusiasts.
I decided to put this site together in the summer of 2010, in the wake of the Nationalmannschaft's exciting charge into the last four at the FIFA World Cup in South Africa. Four years later I would have the pleasure of covering the 2014 tournament in Brazil, where Joachim Löw's side would win an historic fourth world title. During this time, the site had expanded to close to six-hundred pages of content – with enough reports, reminiscences and statistics to fill half a dozen books.
When I am not sitting behind a computer I enjoy travelling (more often than not to places with a military connection), reading (military history, football, rugby… Surprise, surprise) and writing (erm, yep). How my lovely partner Caroline has managed to put up with me for so long is something of a mystery, and I can only put it down to either my natural charm or her willingness to be bored rigid with tales from the Ostfront or obscure anecdotes about Italia '90.
In addition to this boring stuff I also enjoy my role as an armchair sportsman and wannabe home masterchef – at which I cannot be too bad as I haven't poisoned anybody so far. There's nothing better than preparing a rare fillet of duck in a plum sauce with a side of rocket salad and scoffing the lot with a chilled glass of Weihenstephaner while watching the Nationalmannschaft stuff the Oranje.
OK, so that's that out of the way – enjoy the site!
Mit freundlichen Fußballgrüßen!


(For those of you that may be interested in such trifles, the photograph on this page was taken twenty-three years ago at a tram stop in the Czech city of Plzeň a few hours after Germany had beaten England 2-1 to win the US Cup in Detroit. Just thought I'd share that one.)